Rana Pratap Sagar Dam or the Maharana Pratap Sagar Dam, is named after the great rajput warrior Maharana Pratap of Chittorgarh, Rajasthan. This dam is also known as Pong Dam  and is located at a height of 450 m, covering an area of nearly 45,000 hectares. The pong dam was built in 1975 on the river Beas in Kangra in Himachal Pradesh and is the highest earth-filled dam in India. The Pong Dam Lake is surrounded by rugged ridges, forests and mountains which are snow covered during winters giving a beautiful vista to the surrounding areas.
Pong Dam Declared as Wildlife Sanctuary
Pong Dam was declared as a wildlife sanctuary way back in 1983. Today the Pong Lake spread over 450 sq km is a for not only bird watchers, anglers and wildlife enthusiasts but hordes of tourists as well. The Pong Dam is the nestling ground and habitat for more than 230 species of birds. Some of the species are fowls, peafowl, grey and black partridges. Then there are water fowls like bar headed, pintails, common pochards, coots, grebes, cormorants, herons, storks. Other species are the ruddy shellduck, common teal, shovellers, moorhen, stints, lapwing, plovers, shank, snipe, gull, terns, egrets, kingfishers, kites, mallards, gadwall and marsh harriers. Thousands of migratory birds that come from colder regions like Siberia and colder regions can be seen here. Besides birds there are many species of animals like the sambar, barking deer, wild boars and leopards. The Govt of Himachal Pradesh has also pressed into service anti poaching team as poaching in this vast expanse cannot be ruled out.
Fishing in Pong Dam Reservoir
For anglers the Pong Dam Reservoir is a paradise as this also serves as a major fishing site of the state. It is also worth noting that many fishermen earn their livelihood by catching fish in Pong Dam. The Singhara, Rahu, Katla and Mahasheer are in abundance and fetches good price and is in high demand. During covid19, when corona cases in Himachal Pradesh was high, these fishermen remained jobless for some time. However, the fisheries department released Rs 2,000 to each to the affected fisherman as compensation which is laudable.
Fishing Banned during Breeding Season
Illegal fishing is strictly banned in the Pong Dam reservoir and the Himachal Pradesh Department of Fisheries has geared up its machinery to keep check on illegal fishing. There is a special patrolling party which conduct round-the-clock patrolling around the pong dam reservoir. During the breeding season also fishing is banned and it is a non bailable offense if one is caught during this season.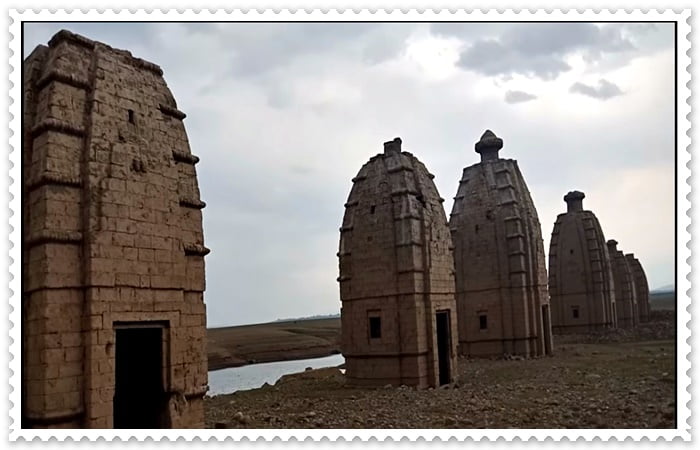 Bathu Temple Rana Pratap Sagar Reservoir
Bathu temple in District Kangra is a unique temple and hidden treasure. This temple remains submerged in Rana Pratap Reservoir for about eight months of the year. The temple complex is a cluster of 6 different temples which traces its history to the Mahabharata times. The figures of Goddess Kali, Ganesha and Lord Vishunu canbe seen carved on the stones. It is also believed that the Pandavas tried to build a staircase to heaven in this very place. Bathu temples are located around three kilometers from Dhameta, a small town in Kangra. This temple complex remains submerged under water during monsoon July until February. The temple can be visited from March onwards till June end just before the onset of monsoons.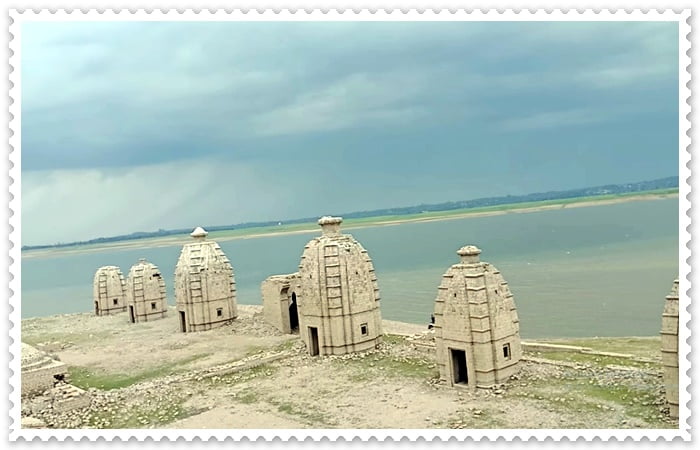 What is so Unique About Bathu Temple
Inspite of the temple remaining submerged for such a long time, there is just no major damage to the structure of the temple. It is believed that this is due to a particular type of stone used to build the temple called bathu, thus the name bathu temple.
Best Time to Visit Pong Dam
The best time to visit the Pong Dam is any time of the year except breeding season. Summers can be avoided as temperatures tend to get a bit high.
Where to Stay in Pong Dam
There might be a rest house and some other accommodation nearby. However the best option is to go to Kangra which is only 40 kms from Pong Dam.
Fishing Sports Equipments