Chamera Lake in District Chamba, Himachal Pradesh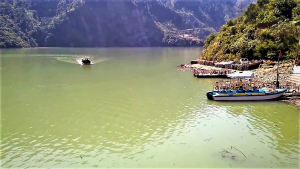 The Chamera Lake is fed through the year from the Ravi river. The water of this lake can also be used for irrigation for the neighboring locations. The region is surrounded by mountains and valleys surrounded by beautiful pine woods. Throughout winters it snows in the high reaches and so the surrounding mountains and hills are covered in snow making it a stunning view.

chamera dam on river ravi in Himachal Pradesh
Dalhousie to Chamera Lake
The lake is situated just 35 kilometers from the famous hill station of Dalhousie and is observable in the Chamba Pathankot highway as you drive towards the beautiful hill station of Dalhousie. It's only 35 kilometers from Dalhousie, 38 km from Chamba, and 102 km from Pathankot that's the closest railhead too. Chamera Lake can readily be reached via the HRTC buses, LOCAL taxi/jeep, and own automobiles.

Chamera Lake Mountains nearby
Himachal Pradesh Water Sports Centre
Himachal Pradesh Department of Tourism has established a water sports center close to the lake with a goal to promote water and therefore boost tourism. Those who enjoy water sports can also enjoy these varied water sports such as fishing and boating, provided by the Himachal Tourism in Chamera Lake. You may spend a night here since there are numerous hotels nearby.
Other Places to Visit Nearby 
There are several places in and around Chamera Lake for tourists.  Some of these are Daikun Peak, Ganji Pahari, Khajjiar, Kalatop Wildlife Sanctuary, St Johns Church, Gandhi Chowk Shopping Market in Dalhousie, Ragunath Temple and many more.
Weather in Chamera lake 
The weather of the places is just like the rest of the Himachal Pradesh weather. It is the start of spring from February and March, Summer months start from May onwards and this is the best time to visit Himachal. During the winter months ie from November to Febrary it snows in many parts of Himachal Pradesh with all heavy snowfall in all the hil stations in this state.