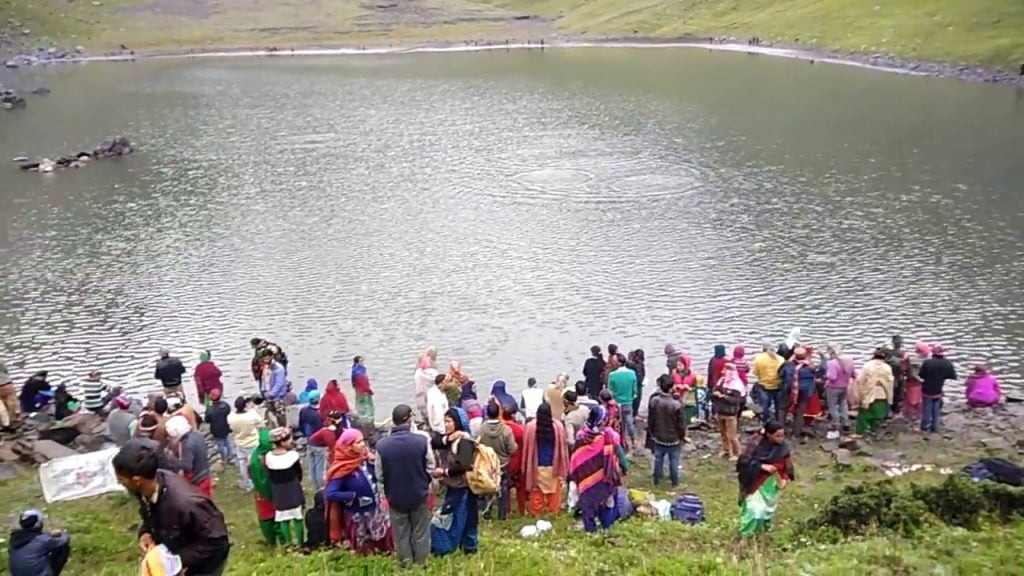 Khundi Maral Lake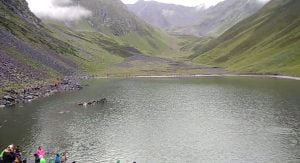 Khundi Maral Lake is a high altitude lake located at an altitude of 3750m in Churah Tehsil of Chamba District.  The lake is spread in an area of 3000 sq mt.  The lake has three approaches; Chamba via Saho, Chajnju via Churah and via Lith from Bharmour.  The lake is situated in a green saucer at the mountain juncture in the inner folds of Chamba.   The circumference of the lake is around 2 km.  This lake is also known by its other names like Mahakali Lake and Chaurasi Ka Dal.
During September, when the Manimahesh Yatra starts, pilgrims also visit Khundi Maral lake in their best colourful attire.  These pilgrims come from Saho Gudiyal, Lith Belj and Chaju Loh Tikri.    The lake is sacred to Goddes Maha Kali who it is believed emerged after splitting a hard rock at this place.  The Goddess owns a large flock of sheep which can be seen grazing at the slopes of the lake.
How to Reach Khundi Maral Lake. 
Khundi Maral Lake can be reached from Chamba by taking a bus or a taxi upto Dantuyi Mandir and thereafter drek the following day.  Here is the itinerary.
Day 1 :   From Chamba town take a bus to Nakrod.  The distance from Chamba to Nagrod is 60 km.  From Nakrod one has to take a shared taxi or jeep to reach Datuin Mata Mandir.  The total distance is 30 km. 
Day 2 :  The trek for Khundi Mata lake starts at the Datuin village.    On the way, you meet waterfalls, streams, glaciers and alpine meadows that are simply breathtaking.   You can even meet the shepherds on the way and spend a few moments at the shepherd huts.  After crossing over a few wooden and glacial bridges before you finally reach the beautiful lake.  What an exhilarating experience once you are near the lake.  Look around and you can see the snow-clad peaks.   The Chaurasi Pass merges with the Kali Cho Pass trail on the other side of the valley which is the Ravi valley.   The total trek from Datuin to the Khundi Maral lake is 16 km.
Day 3 : Khundi Mata Dal Parikrama, The shrine of the mata is situated near the lake.  Next, you start your trek back to Datuin covering a distance of 16 km or do the return trek through Saho.
Day 4 : Saho to Chamba by bus