Welcome to the captivating world of Chakund Lake, located in the picturesque village of Saho in Chamba, Himachal Pradesh. This article takes you on an exciting journey of exploring the beauty and adventure around this magnificent lake. Chakund Lake is located at an altitude of 3000 meters and offers a mesmerizing view of the snow-capped peaks of Pir Panjal. This enchanting lake is located just a few kilometers from Saho village in Chamba district of Himachal Pradesh. The lake owes its origin to the glacial slopes of the five-fingered peak that marks the boundary between Saho and Lilh/Jhumar in Chamba. The five-fingered peak merges seamlessly with the icy cliffs of the mighty Pir Panjal range and offers a breathtaking spectacle on its western edges.
Chakund Lake Trek: An Adventurous Journey
To reach Chakund Lake, one has to embark on an exciting trek that starts from Saho village. Saho is a small hilly village in Chamba district, located 18 km from Chamba and about 73 km from Dalhousie. The hike to Chakund Lake starts at an altitude of 3100 meters. The best time for the hike is from December to May when the snow line is easily accessible. However, this hike is challenging for hikers as it involves an ascent of about 1700 meters over a distance of 10-15 km.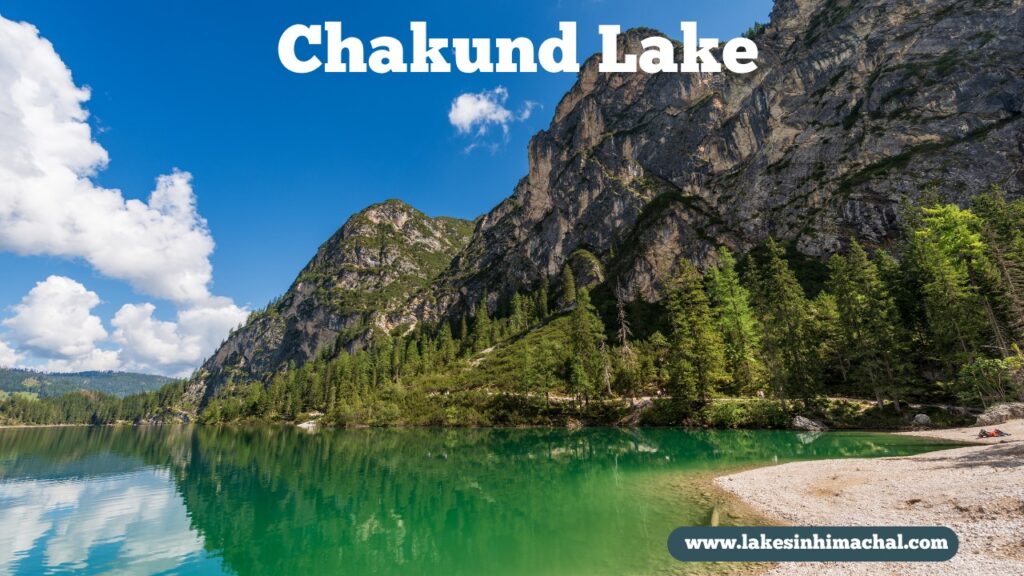 Jalpa Mata Mandir
The hike begins with a steep trek along zigzagging paths leading to the Jalpa Mata temple, which serves as the first resting place. From here, hikers can enjoy a panoramic view of the villages near Saho. The next leg of the trek leads to the Nag Devta Temple, and finally reaches the breathtaking Chakund Lake. This exciting journey offers encounters with local shepherds who live a semi-nomadic lifestyle due to the heavy snowfall in the upper regions.
Beautiful Waterfall
At the top of Lake Chakund, you can explore a magnificent waterfall. An overnight stay at a campsite near Chakund Lake provides the perfect opportunity to relax amidst the tranquil surroundings. During the months of May to October, you can observe lush wet grasslands, grazing sheep and buffaloes that add to the beauty of nature.
How to reach Lake Chakund
Chakund Lake can only be reached by trekking. The nearest village is Saho, which serves as the starting point for the trek. The nearest town is Chamba, which is only 25 km away. From Dalhousie it's about 75 km and from Pathankot, the nearest railroad station, about 145 km.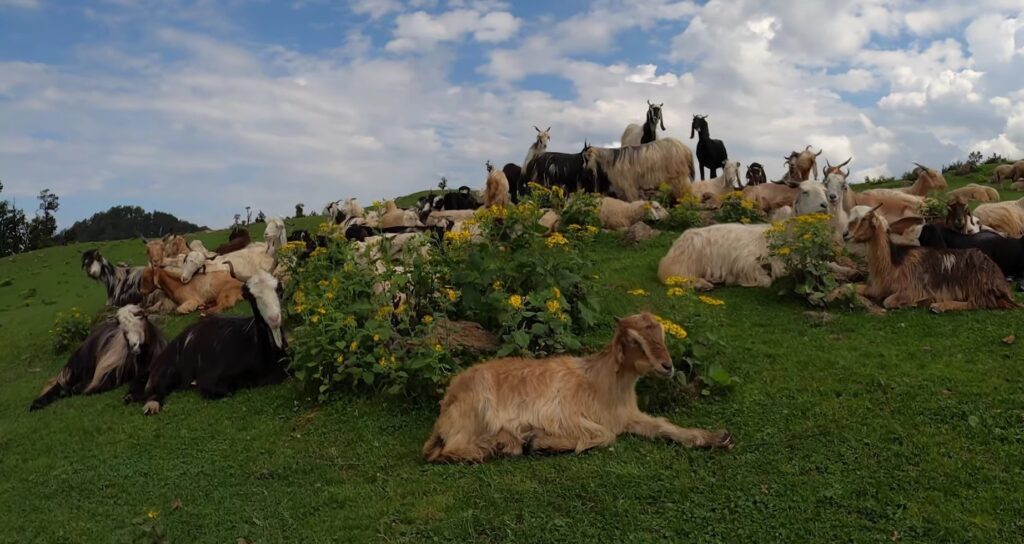 Places of interest in Chamba
While visiting Chamba, you shouldn't miss the opportunity to explore its numerous attractions. Some of the places that are a must visit are
Khajjiar Lake.
Khajjiar is also called the mini Switzerland of India. For a quiet and tranquil place for a peaceful vacation this is the best place. Khajjiar has one of the most beautiful meadows and dense green forests.
There is also a small lake called Khajjiar Lake and a temple of Khajji Nag Devta located near the lake. The place is popular for adventures sports like paragliding, horse riding and zorbing.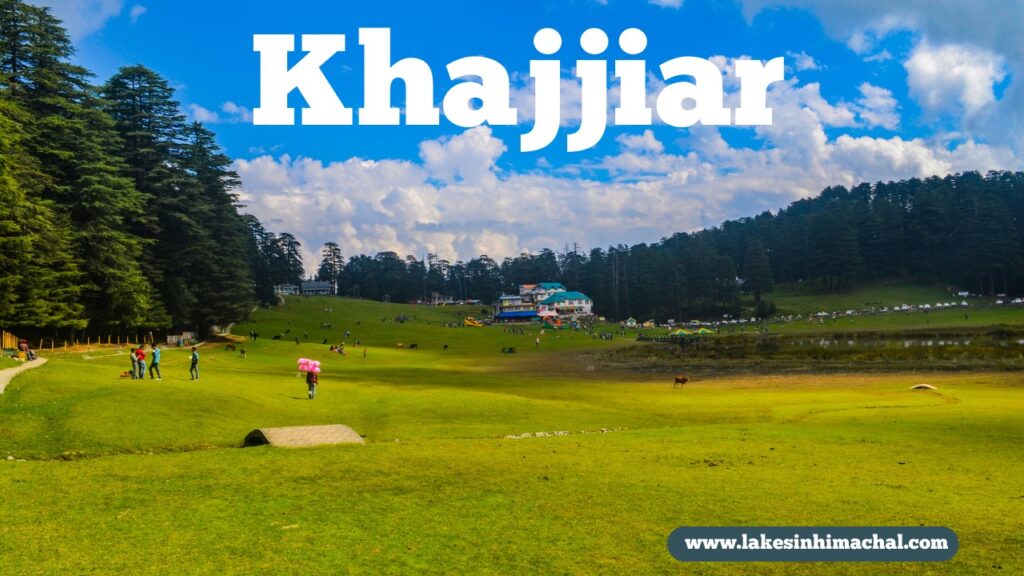 Kalatop Wildlife Sanctuary.
This is a paradise for observing native bird species. Located near Khajjiar this is also popular for a trekking trail between Kalatop to Khajjiar passing through dense forests of Kalatop.
Chamundi Devi Temple
Chamundi Devi temple is located on a hill top in Chamba District. This ancient temple was destroyed in an earthquake and was rebuilt. From the height of the hill it offers a breathtaking view of the Chamba Valley.
Chamera Lake
This is a picturesque place to admire the beauty of the surrounding area. Chamera Lake is also a popular destination for water adventure sports like boat rides, speed boating, motor boating, river rafting and angling. Other adventure activities that one can enjoy are kayaking and canoeing.
Laxmi Narayan Temple
Laxmi Narayan Temple in Chamba is known for its great historical significance and architectural marvel. The entire complex consists of six different temples, three of each dedicated to Lord Vishnu and Lord Shiva. These temples are built in the North Indian style of temple architecture which is Shikara style of architecture. It is said that the temple was built in the 10th century AD by founder of the city Raja Shahil Varman.
Manimahesh Lake
Manimahesh lake is a high altitude lake with great religious significance. The lake is located in the Bharmour subdivision of Chamba district of Himachal Pradesh. This holy lake is considered only second in significance to the Lake Mansarovar in Tibet. The name Manimahesh literally means "Shiva's jewels".
Bhuri Singh Museum
Bhuri Singh Museum named after the Great King Raja Bhuri Singh is located close to Chaugan town of Chamba district, Himachal Pradesh. The museum holds few great and valuable collection of carved doors from the old palaces, showing the richness of the Chamba history, incredible frescoes artworks, antique copper plate grants, old miniature paintings, remarkable title deeds and ancient inscriptions on the medieval antiquity of Chamba.
Akhand Chandi Palace
Akhand Chandi Palace is an epitome of grandeur and regal charm. Famous for its unique architectural style, the palace was constructed by Raja Umed Singh, the king of Jodhpur in 1765 AD. Situated amid picturesque and tranquil settings, it is one of the largest monuments in Chamba. It was once the residence of the royal family of Chamba.
Rang Mahal
The Rang Mahal is an iconic red palace that represents architectural brilliance. It is famous for the beautifully painted vases on red surface with floral, animal, bird and geometric designs painted in black. Many of these sites have layers representing Harappan culture, Painted Grey Ware culture (PWC) associated with vedic period and post-vedic Rangmahal culture.
Chaugan
Chaugan is the ultimate shopping destination for local handicrafts and souvenirs. Located in the centre of the township, it is a hub of all social and cultural activities. Laid during the British era in 1980, Chaugan has a terraced green grass surface which is 800 m long and 80 m wide. Today, the historic ground of Chaugan often hosts cricket matches of state level and is also a popular picnic spot in Chamba. The famous Minjar Mela (fair) is held here.
Hariraya Temple
Hariraya temple is located in Chamba and is dedicated to Lord Vishnu. It houses an amazing temple of Lord Vishnu who is also known by the name of Hariraya. This temple is a eleventh-century marvel and stands in the traditional Himachali style of architecture. The temple is visited by the devotees extensively.
Church of Scotland
A stone building that exudes architectural beauty. The ihamba Church steals the attention of millions of tourists. Situated in the main Chamba market, this church was built by Raja Sham Singh and honored to the Church of Scotland mission for the use of the community of Christian in Chamba.
Champavati Temple
It is an important pilgrimage site located in Chamba having historical significance.
Conclusion
With its breathtaking views and adventurous trekking, Lake Chakund offers an unforgettable experience for nature lovers and adventurers alike. The journey to this natural wonder reveals the splendor of the surroundings and introduces you to the vibrant culture of the local herders. In addition to the allure of Lake Chakund, attractions in Chamba offer a wide range of experiences, from tranquil lakes to ancient temples and historical sites. So pack your bags and embark on an extraordinary journey to Chakund Lake and the charming town of Chamba, where the wonders of nature and cultural heritage are waiting for you to explore.
If you like the article please give it a thums up ! Thank You !