Nestled in the heart of the Chamba district of Himachal Pradesh, Manimahesh Lake is a place of unparalleled beauty and serenity. This stunning high-altitude lake is situated at an altitude of 4,080 meters above sea level and is considered one of the most sacred lakes in India. The lake is surrounded by snow-capped mountains, lush green forests, and breathtaking natural scenery. In this article, we will explore the fascinating history, stunning natural beauty, and spiritual significance of Manimahesh Lake.
Brief History of Manimahesh Lake
According to Hindu mythology, Manimahesh Lake is believed to be the abode of Lord Shiva, and it is considered one of the most sacred pilgrimage sites in India. The lake is named after the Manimahesh Peak, which is situated nearby and is believed to be the home of Lord Shiva. The lake is surrounded by several other peaks, including the Kailash Peak, which is the highest peak in the region.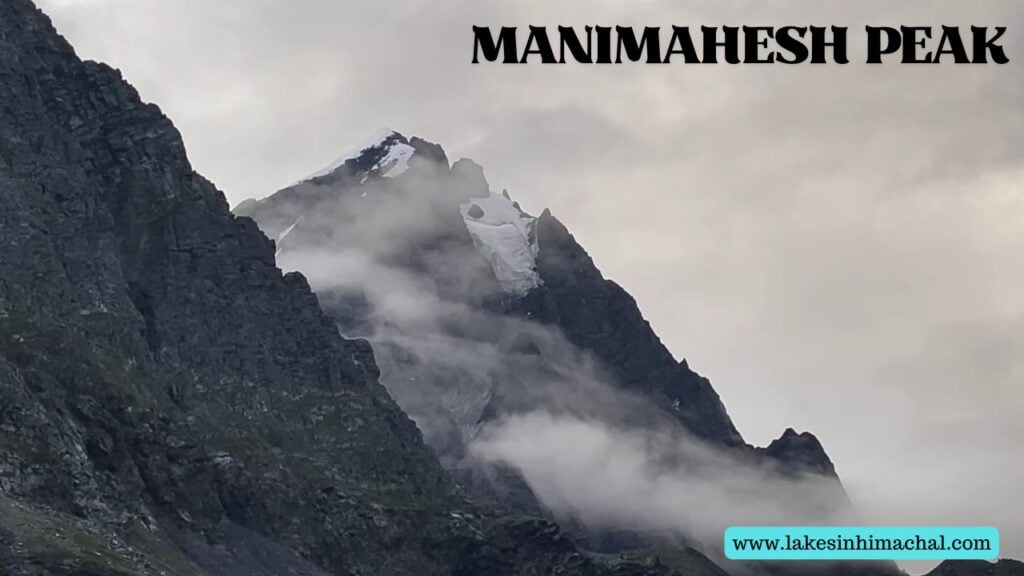 The Natural Beauty of Manimahesh Lake
Manimahesh Lake is a natural marvel that is surrounded by stunning natural beauty. The lake lies in the middle of a small valley surrounded by mountains all around covered in snow with the Manimahesh Peak visible in front. The waters of the lake is crystal clear, you can even see what's beneath the surface of the lake. Reflections of mountains that float over the lake create a beautiful and peaceful atmosphere that is perfect for meditation and self reflection.
Manimahesh Ganga
Manimahesh lake is also the source of the Budhil river, which is also known as Manimahesh Ganga'. Budhil river in itself is a tributory of the Ravi river in Himachal Pradesh.
Spiritual Significance of Manimahesh Lake
Manimahesh Lake is considered one of the most sacred pilgrimage spots in India and is frequented by a large number of pilgrims each year. It is believed to be the home of Lord Shiva and that people who take a bath in the holy water of the lake are blessed with prosperity and luck. The annual Manimahesh Yatra held every year in August and September draws devotees from all across India.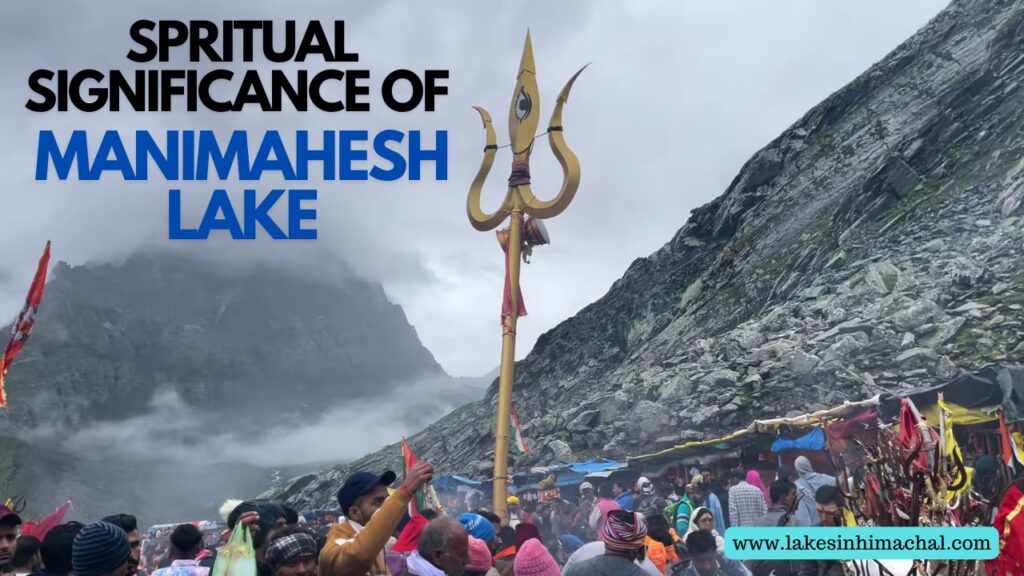 Manimahesh Story of Shiva and Parvati
According to belief Lord Shiva lived here with his wife Parvati. The ganga water cascading down from his matted locks formed the Manimahesh lake. The lake is in the form of a saucer and has two distinct pieces. The larger section is filled with cold, freezing water which is called the 'Shiv Karotri' (the bathing area of Lord Shiva). Men bathe here in the Shiv Karotri lake.  The smaller one is called the Gauri Kund.
Gauri Kund Manimahesh
The smaller lake is supposed to be hidden behind bushes and has warm water.  This small lake is referred to as Gauri Kund which means the lake of Goddess Parvati, Lord Shiva's consort. Goddes Parvati used to bathe in this lake.  Today women take bath in Gauri Kund, which is covered by a stone wall from all sides but is wide open.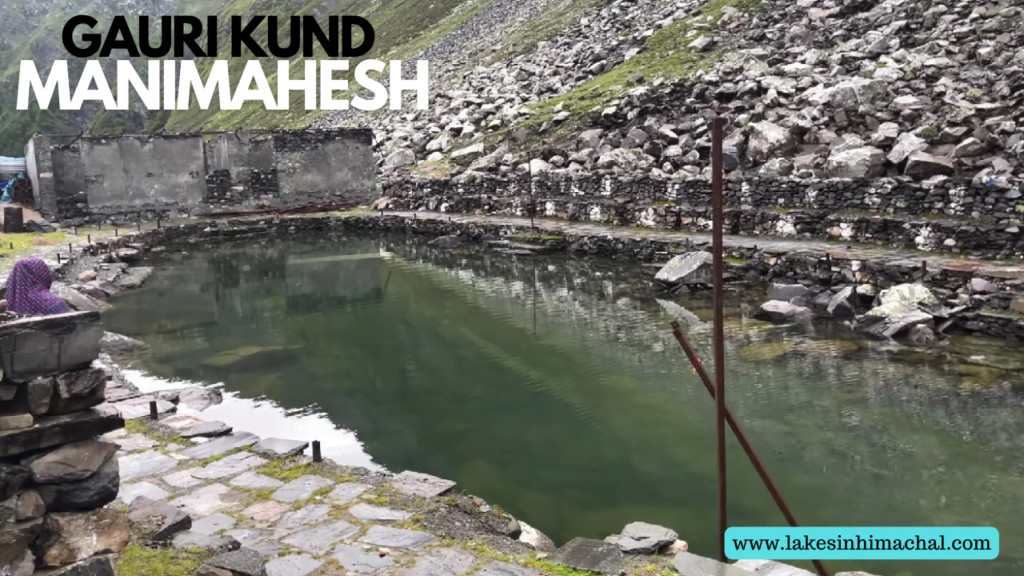 How to Reach Manimahesh Lake
Manimahesh Lake is situated in the Chamba district in Himachal Pradesh, and is easily accessible via the roads. The closest airport is Gaggal Airport in Dharamshala, which is situated around 180 km of the lake. The closest railway station  is in Pathankot. From Pathankot one has to reach Chamba first, which is 120 km away, and the journey can be done either by taxi or HRTC buses. Then from Chamba take a bus or taxi upto Bharmour which is 60 km from Chamba. Next you have to take a shared taxi from Bharmour to Hadsar which is another 13 km. Hadsar is the last road head and from there one has to trek about 20 km to reach Manimahesh lake.
Manimahesh Yatra
Manimahesh Lake is considered very sacred by the people of Himachal Pradesh and other nearby areas.  A pilgrimage trek is carried out every year in the months of August and September, which coincide to the month Bhadon according to the Hindu calendar. It is also celebrated on the day of the new moon. This pilgrimage (Manimahesh Yatra) has been declared as a state level pilgrimage event by the of Himachal Pradesh Government. Manimahesh Yatra is surely a must-do pilgrimge as well as an exciting trekking adventure.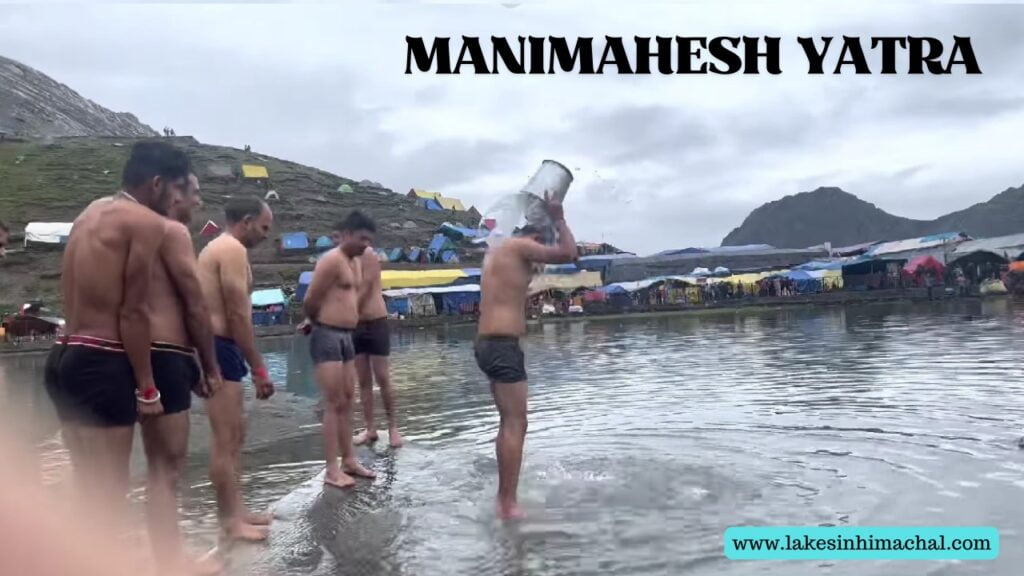 Manimahesh Yatra Routes
The Manimahesh lake can be approached via three different routes or paths. Pilgrims coming from Lahoul and Spiti come via the Kugti pass. The starting point being the Biyadi Pull or Bridge, near Trilokinath. Pilgrims in Kangra and Mandi come to Manimahesh yatra, trekking through the Karwarsi pass or Jalsu pass passing through Tyari village, near Holi at Bharmour. The simplest and popular route is off course by Chamba through Bharmour. The most popular is the Bharmour-Hadsar-Manimahesh route that entails a 13 kilometres trek from Hadsar village into the Manimahesh Lake. The maximum elevation touched during this trek is 13,501 feet and it requires two days with an overnight stay at Dhancho.
Manimahesh Helicopter Booking
It is best to trek on your feet and come to the holy lake of Manimaesh Lake.  However, those who cannot and still want to come here for a holy dip or darshan, helicopter services might be available. Helicopter reservation for Manimahesh Yatra as well as Kedarnath Amarnath Yatra, Kedarnath Yatra as well as Mata Vaishno Devi Yatras is possible through a company called Himalayan Heli Services. Please check out their website for further details. (No promotion).
Best Time to Visit Manimahesh Lake
Apart from the Manimahesh Yatra period (August/September), the best season to travel to Manimahesh Lake is during the summer months which is from May to July, when the weather is pleasant and flowers are blooming. The winter months, October to February is is also a good time to see the Manimahesh Chamba as the mountains surrounding it are covered by snow creating a beautiful scenery. The lake, however, is not accessible during winter months due to heavy snowfall.
Things to Do at Manimahesh Lake
There are many activities you can indulge in when you are Manimahesh Lake. You can take a dip in the icy freezing waters of the lake.  It is believed that one should take minimum 8 dips in the lake which is something impossible to do.  What people do is to take a bucket and throw water on yourself 8 times.  After you have taken the dip, it is time to smear your forehead with ash and then go to the small Manimahesh Mandir (temple) to offer prayers to Lord Shiva.
Next you can roam around the periphery of the lake and spend some doing photography or take some nice videos of the location. There are also numerous camping spots close to the lake should you decide to camp for the night, sleeping under the stars.
Accommodation Options at Manimahesh Lake
As far as lodging options in Manimaesh is concerned, you can stay only in tents. There are various campsites that provide accommodation in tents and the price starts from Rs 100 to 200 only per person. These camps provide you with sleeping bags or blankets.  There are also some langars that run free kitchen.
Safety Tips for Visitors
When visiting Manimahesh Lake, it is important to take certain precautions to ensure a secure and enjoyable experience. Here are some tips to be followed :- 
Wear warm clothes as the weather is unpredictable at high altitudes.
Do not drink Lake water as it might not be safe to drink.
Bring enough water and food supplies  with you.  There may not be many options for food near the lake, especially when the weather is bad or there is a huge crowd. You should have some emergency rations or eatables with you all times.
Manimahesh Lake: Weather and Climate
The weather conditions in the Manimahesh Lake region can be extremely unpredictable due to the altitude and mountainous terrain. The region is subject to heavy snowfall during winter and the lake stays frozen during this time. The months of summer from May through July is the ideal timee to visit Manimahesh lake as the weather is warm and flowers are in full bloom. . The monsoon period from August and September bring heavy rainfall and it is therefore not advisable to travel to Manimahesh during that time.
Nearby Places to Visit
There are many beautiful places near the Manimahesh Lake region that are worth exploring. One such place is the Bharmour town, which you have already crossed on your way to Manimahesh lake.  On your way back you must surely explore this town. Bharmour is known for its ancient temples, famous being the the Chaurasi Temple complex, which houses 84 ancient temples. Another nearby attraction is the Kugti Wildlife Sanctuary, located about 35 kilometers from the lake. The sanctuary is home to several endangered species, including the snow leopard and the Himalayan black bear. The Chobia Pass, located at an altitude of 4,880 meters, is another popular destination for trekkers and adventure enthusiasts. The pass offers stunning views of the surrounding mountains and is considered one of the most challenging treks in the region.
To conclude
Manimahesh Lake is a place with unsurpassed natural beauty and spiritual significance. Whether you are an avid nature enthusiast or spiritual seeker, this magnificent high-altitude lake will surely leave you awestruck. The peace and tranquility of the lake makes it a perfect place for people seeking peace and quiet. Manimahesh Lake is one place that should be on your list of places (bucket list) to visit whether for tourism purposes or as a pilgrimage.
Manimahesh Trek Route
Day One: For all those coming from outside Himachal Pradesh, one has to reach Pathankot either by Bus or Train. There are local Taxis and buses that are available at Pathankot and one can easily reach Dalhousie that is 80 kilometers. Night halt can be at Dalhousie.
Day Two: Dalhousie into Bharmour.
A day or two can be spent at the beautiful hill station of Dalhousie. Thereafter one can begin the journey for Bharmour passing through the lovely Kalatop Wildlife Sanctuary as well as the very popular hill station, Khajjiar that's also known as mini Switzerland. Reach Bharmour which is 86 km from Khajjiar. Being a hilly road, the drive from Khajjiar will take anything between 3 to 4 hours.
Day Three: Bharmour into Dhancho.
The following day take a taxi that will take you out of Bharmour into Hadsar that is 14 kilometers. It is from Hadsar that the trek begins. The entire distance from Hadsar into Manimahesh is 13 kilometers that may be carried out in a single day or just like a lot of men and women remain overnight in Dhancho. There are quite a few waterfalls within this trek however a massive waterfall in Dhancho known as Dhancho waterfall is very mesmerizing.
Day Four: Dhancho into Manimahesh.
The trek for your Manimaesh Lake is just 7 kilometers from Dhancho. Spend the remainder of the day taking parikarma of the lake, carrying a dip, also appreciating the picturesque beauty around.
Day Five: Manimahesh to Bharmour
An individual can reach Bharmour right after initially descending down and trekking until Hadsar and from there to Bharmour via a shared Taxi.