The Suraj Tal Lake in Himachal Pradesh
Suraj Tal lake which means lake of the Sun God lies just below the Baralachala Pass in Lahoul & Spiti District of Himachal Pradesh.  It is 65 km from Keylong, the district HQ of Lahoul & Spiti.  It can be reached via the NH-21 which is also known as Manali-Leh Highway.  This lake and the area around is a major destination of trekkers in the region.  Suraj Tal is just short of 3 km from Bara Lacha Pass which is 4890 meters (16,040 ft) from sea level. From here the roads bifurcate to Spiti, Ladakh and Zanskar meet, depending on whichever direction you are headed.
Chandrabhaga River
The Chandra river originates from chandratal lake in Spiti and Bhaga river originates from Suraj Tal Lake. When  they merge at Tandi Pul in Lahoul,  together they form the Chandrabhaga river in Himachal Pradesh territory.  Eventually it is this Chandrabhaga river into which other rivers and tributaries in Lahoul valley merge before becoming the mighty Chenab river after it enters Jammu and Kashmir. 
Deepak Tal Lake
There is another small lake near Suraj Tal known as Deepak Tal.  Deepak Tal is about 24 km from Jispa, which is also appx 24 km from Keylong. The area around Deepak Tal is a beautiful place where trekkers/cyclists spend the night before their uphill journey to Bara Lacha Pass.  The water body remains calm, reflecting the serene surroundings of snow capped peaks around.
Weather in Suraj Tal
The region receives snowfall all throughout the year.   During winters there is heavy snowfall in this region.  Summers are pleasant.  As the Surajtal lake is on the way to Ladakh while coming from Manali, it travellers and explorers come here throughout the year. Travelers opt for the road trips from Manali to Leh and pass through this area on cycles, motorcycles, their own vehicles and taxis/ buses on their way to Leh crossing and passing over Baralacha la.
How to Reach Surajtal Lake
The stunning Suraj tal lake lies 65 km from Keylong, on your way towards Leh Ladakh. Keylong is the district headquarters of Lahaul Spiti district and a small beautiful town in itself. It is located on the National Highway NH 21, which is popularly known as Leh-Manali highway. Suraj Tal is around 3 km just before you reach the Baralacha la pass.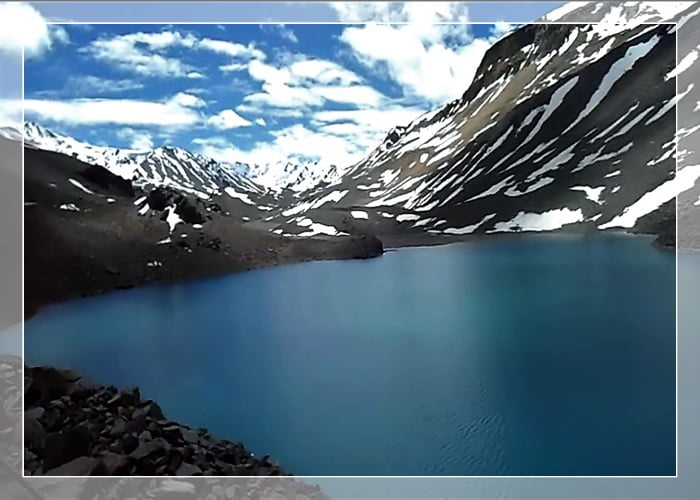 Chandratal to Suraj Tal Trek
Chandratal is a popular destination for trekkers and campers. The vast flowerbed meadows on the banks of the lake are the camping sites. From Chandertal one can trek to Baralacha la and onward to Suraj Tal and further onward to Ladakh and Zanskar. The Chandra Tal to Bara Lacha trek can be done in 3 days. On the first day you trek from Chandra Taal to Tokpo Gongma covering a distance of approx 15 km in 8 hours. The second day trek from Tokpo Gongma to Tokpo Yongma takes 6 to 7 hours covering a total distance of 10 to 12 km. The third day trek is from Tokpo Yongma to Bara Lacha and takes 5 hours. Once, you reach the Manali-Leh highway, you can further trek 5 km and reach Sarchu. After a hot meal, you can decide either to return back to Manali or to further proceed towards Ladakh or Zanskar.