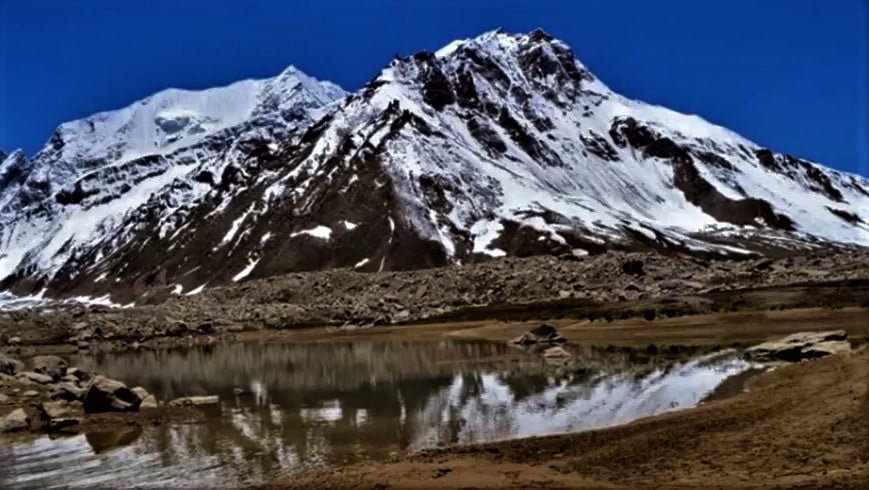 Neelkanth Mahadev peak at an altitude of 17500 ft and Neelkanth Lake are situated in Lahaul valley of HP.  Neelkanth, which means blue-throated, is dedicated to Lord Shiva.  A glacial Lake named Neelkanth Lake is situated at the foot of Neelkanth Peak.  This area is often visited by men who have not been blessed with a son.  A bath in the lake and a prayer to the Neelkanth Mahadev is said to grant their wishes.  Women are not allowed by the local people to visit this place.  One can spend some time near the lake and explore the nearby areas. How to reach this place.  
HRTC (Himachal Pradesh Roadways Transport) runs a daily bus service between Manali to Udaipur/Tindi.  One can get down at Thirot, 30 km approx before Udaipur.  Taxi service is also easily available.  Spend the evening in Thirot and explore the small town.  There is a PWD Rest House as well as some small hotels/guesthouses.  Thirot is divided into two parts by a river called Thirot Nallah.  Abridge is built on this river.  A hydel project is also built upstream.  It is towards the source of this river that you will trek the next day to reach Neelkanth.  On the way, you may also have to cross a number of small streams and glaciers.  Though the climb is a bit stiff, it is worth the effort because at the end you reach a place so divine and heavenly. 
Other Place To explore nearby
After your trek to Neelkanth and back, your next halt should be Trilokinath, 15-20 km from Thirot towards Udaipur.  You reach Arat, cross over to the other side of  Chandrabhagha (Chenab) and reach Trilokinath, a famous pilgrimage of both Hindus and Buddhists. From Trilokinath, Udaipur is just 15-20 km, where you can seek blessings of the ancient Mrikula Devi temple.  Udaipur is also the place where again two rivers join together, Mayar Nallah and Chandrabagha.  You move further on to Tindi, cross the HP & J&K border at Sansari Nallah and beyond to Gulabgarh, Kishtwar, and Jammu.
LOCATION OF NEELKANTH MAHADEV LAKE
No comments:
Post a Comment