If you are looking for a holy place to visit and have a an authentic spiritual experience then Jwalaji Temple Kangra is the right place for you. Jawalaji Devi Temple is among the most popular tourist destinations in district Kangra, Himachal Pradesh. Jwalaji Temple, also known as Jwalamukhi Temple is dedicated to Goddess Jwalamukhi and is often referred to as the Flaming Goddess also. The temple is believed to be one of the 52 Shakti Peethas or holy shrines, where the body parts of goddess Sati fell when she died. It is among the most revered Shakti temples of India. Jawala Ji Temple is situated in the middle of Shivalik range in Kangra valley, which is known as "Kalidhar".
History and Significance of Jwalaji Temple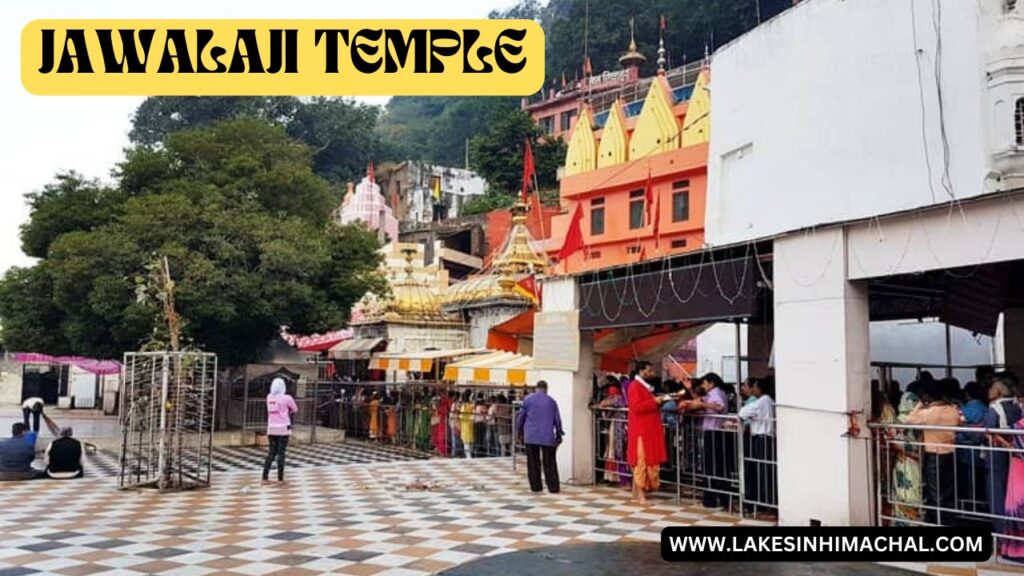 This temple was destroyed numerous times over the course of history, particularly during the Kangra Earthquate in 1905. The temple was rebuilt during the reign of Maharaja Ranjit Singh in the early 19th century, and later by Rajput rules of the region.
Architecture of Jwalaji Temple Kangra
Jwalaji Temple is a beautiful illustration of the traditional Indian temple architecture. This temple is divided into four areas that include the main shrine, the outer courtyard, the inner courtyard as well as the Priest's Quarters. The temple is constructed from stone and features an exterior of yellow and red. The main entrance of this temple has a large gate constructed from silver and brass. In fact there are two gates. One right after you enter the path leading to the temple which is lined by hundreds of shops on either side of the path selling various offerings and puja samagri. The second gate is when you are near the main temple complex and climb the stairs.
The inner courtyard of the temple houses an enormous brass bell that rings to announce the call of the goddess for prayers (puja). The main shrine is home to the goddess's flame and is believed to be a manifestation of her power. The outer courtyard is very spacious for the devotees to congregate. There are other small temples built within the complex. From here the view of the surrounding place is simply mesmerizing.
Festivals and Celebrations at Jwalaji Temple
Diwali The festival of light is celebrated with great joy in the Jwalaji Temple. The temple is decorated with a myriad of diyas, or lights and a there is a huge fireworks to celebrate the festival.
Other Temple in Jawalaji
There are few other temples situated in the Jawalaji town, which are popular with and devotees who come from nearby places as well from far away places. These are :-
Mata Tara Devi Temple
Mata Tara Devi Mandir is located on the top of a hill, just above jawala Ji Temple. You have to climb about 100 steps to reach the door of the temple, which begin near the gate to the back of back of Mata Jawala Ji Temple. You can enjoy stunning panorama from Jawala JI Town from the Tara Devi Mandir.
Mata Ashtabhuja Temple
Mata Ashtabhuja temple is only 1 kmwalking distance from Maa Jawala Ji Temple. The temple is a relic of the past and has a stone statue of an eight-armed goddesses. There are other smaller shrines nearby. Locals and people from other areas from Himachal Pradesh, visit this temple to pray to Maa Ashtabhuja.
Shri Raghunath Ji Temple
Often referred to as "Teda mandir," Raghunath Ji temple stands slightly tilted to one side following the 1905 earthquake. Lord Rama, Sita Mata and Laxman are believed to have stayed at this place for some time. It is also believed that the temple was constructed during the time of the Pandavas. The temple is situated about 3 km away on a hill above Maa Jawala Ji Temple. The route towards Teda Mandir passes thrugh Tara Devi Temple.
Nagini Mata Temple
Nagini Mata Temple is situated 4 km away from Maa Jawala Ji Temple on a hill. A magnificent fair is held each year during the mont of July and August.
Arjun Naga Temple
The Temple is located near Maa Jawala Ji Temple in Jawalaji, Himachal Pradesh. To reach the temple you have to climb about 200 steps. These steps start right from the front gate of Mata Jawala Ji Temple.
How to Reach Jwalaji Temple Kangra
By Air
The nearest airport to Jawalaji is located in Gaggal located about 50 kilometers away. The other airports in the vicinity are Chandigarh (200 km), Shimla (160 Km) and Kullu (250 km).
By Train
The nearest railhead of narrow gauge to the shrine is Jawalaji road Ranital located 20 km away from the temple. The closest broad gauge railhead is Pathankot which is located at a distance of 120 kms.
By Road
Jawalji can be easily reached  by road from Delhi, Chandigarh and Dharamsala. Regular HRTC buses as well as the other buses of other state transportation, as well as private buses are available from Delhi, Chandigarh and other areas of Himachal, Punjab and Jammu and Kashmir.
Parking Facility Near Jawalaji Temple
If you are coming by your own vehicle to visit Jawalai temple and wondering where to park your vehicle, then you need not worry as there are many parking options near the temple. Right on the highway there is a multi level parking facility where they charge Rs 50 for parking vehicles. From there the entrance of the temple is just walking distance. There are other parking facilities near the entrance of the temple but this is the best.
My Travel Diaries THE LONELY TREKS & TRAVELS
Tips for Visiting Jwalaji Temple
There are certain dos and don'ts which you must follow when visiting a religious place like Jawalaji temple. Some of these are :
Dress appropriately and respectfully. Women should cover their heads before entering the temple. Even male members should also cover their head as it shows respect to the shrine.
Try to visit the temple as early as possible to avoid the crowd.
Photography is not allowed inside the main sanctum where the idol of Jawalaji is kept and the flames are burning eternally. There is however no restriction to take photographs of the temple and the complex from outside.
Plan your visit during the festivals of Navratri or Diwali to experience the grand celebrations.
Jawalaji temple visit with Family
We visited Jawalaji in the month of November 2021. We were on a holiday trip of 3 days in Dharamshala. On the day of our return back to Delhi we started from Dharamsala at 6 am and reached Jawalaji temple by 7 am. After parking our vehicle in the parking lot near the bus stand, we went for darshan of Jawalaji mata. This is a paid parking having ample parking space. After Darshan and seeking blessings from Jawalaji Mata and some photography, we were back by 740 am on the national highway speeding on our way to Delhi. This was the best way to end our trip of Dharamshala. So, what are you waiting for. Plan your visit to Jwalaji Temple and immerse yourself in the holy and ancient cultural atmosphere of Jawalaji.
Conclusion
Jwalaji Temple Himachal Pradesh is a must-visit destination for anyone interested in spirituality and Indian culture. With its rich history, beautiful architecture, and grand celebrations, the temple offers a unique and authentic experience which is sure to leave a lasting impression on you.
DISCOVER THE DIVINE BEAUTY OF MATA SUNDARI TEMPLE TRILOKPUR
Why is Jwala Ji Temple famous?

Jawalaji Devi Temple is among the most famous pilgrimages for Hindus in Himachal Pradesh, North India. The temple is dedicated to Goddess Jwalamukhi and is often referred to as the Flaming Goddess also. Flames can be seen inside the temple that has been burning since thousands of years.
How far is Kangra Devi from Jwala Ji Devi?

Kangra is very near to Jwala Ji Devi temple located at a distance of 35 km only. It takes about 1 hour to cover the distance.
How does Jwala Ji burn in Himachal?

At Jwalaji temple, several flames burn continuous in rock crevices. These flames have been burning naturally for thousands of years.
How to visit Jwala Devi Temple?

Jwalaji Temple is located in the town of Jwalamukhi, approx 34 kilometers from Kangra. The closest airport to Jwalamukhi is Gaggal Airport in Kangra, and the closest railway station is located in Pathankot. You can easily get a taxi or private/HRTC bus from the nearest towns.
Is Jwala Devi a Shakti Peeth?
Yes, Jwala Devi temple is believed to be one of the 52 Shakti Peethas or holy shrines, where the body parts of goddess Sati fell when she died. It is considered among the most revered Shakti temples of India.