St Michael's Cathedral is located in the popular hill station of Shimla in Himachal Pradesh. This church is a remarkable testimony to colonial times and architectural excellence. Dating back to 1886, the Victorian-era Catholic church has become a landmark of Shimla, the erstwhile summer capital of British India. With its impressive architecture and spiritual atmosphere, St. Michael's Cathedral continues to captivate visitors from near and far.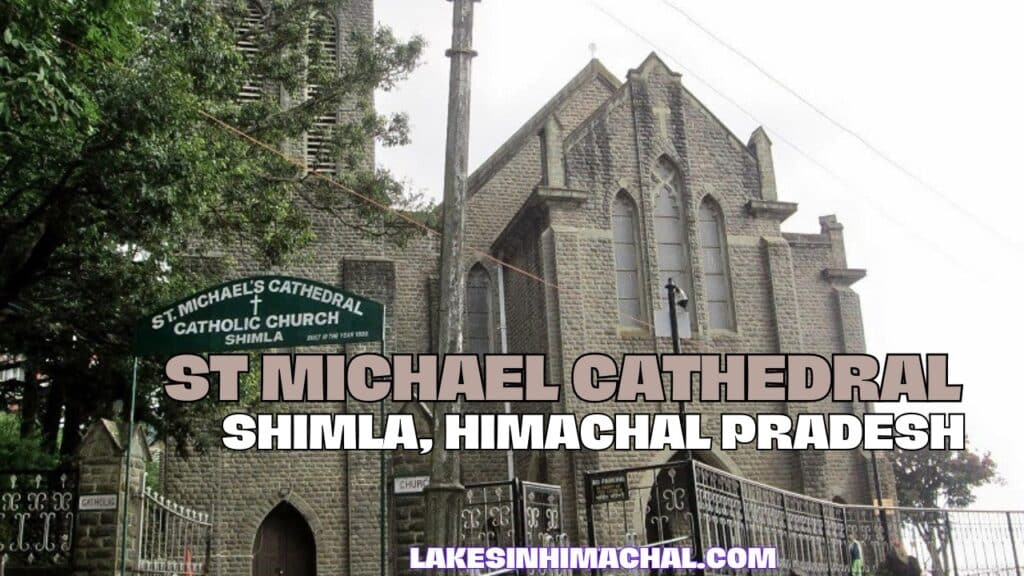 The Architecture: A blend of Gothic and Victorian styles
St. Michael's Cathedral was designed under the direction of Henry Irwin, the then Superintendent Engineer and architect of PWD in Shimla, and is a charming blend of Gothic and Victorian architectural styles. The interiors of the cathedral are adorned with the characteristic features of the French Gothic style, creating a fascinating atmosphere for worshippers and visitors alike. The magnificent church building consists of a nave, sacristy, confessional, baptistery and two aisles and can accommodate up to 400 people during services. The cathedral houses a magnificent organ, considered the best in northern India, which adds to the architectural splendor of the church.
Magnificent Church Interiors
The aura of spirituality that surrounds St. Michael's Cathedral attracts tourists and devotees who seek solace and reflection within its sacred walls. A visit to the cathedral reveals exquisite details, including a stunning glass tapestry and a precious ancient statue of "Our Lady of Guadalupe," a gift from Mexico. The gilded walls and intricate mirror work enhance the beauty of the church and provide a tranquil setting for prayer and contemplation. An important house of worship, St. Michael's Cathedral is the site of various religious ceremonies, including marriages, baptisms, first communions, confirmation masses and confessions.
Cultural Significance and Influence 
St. Michael's Cathedral occupies a prominent place in the cultural landscape of Shimla. Under the jurisdiction of the Shimla-Chandigarh Diocese, it serves as the spiritual center for a large Catholic community spanning Himachal Pradesh, Haryana, and Punjab. The cathedral plays an important role in religious life, uniting the faithful and fostering a sense of unity. In close proximity to the church is an old library, built in 1910 in the Elizabethan style. It houses a remarkable collection of books on Christianity and ancient writings that provide a deeper understanding of the faith.
Surroundings and Local Experiences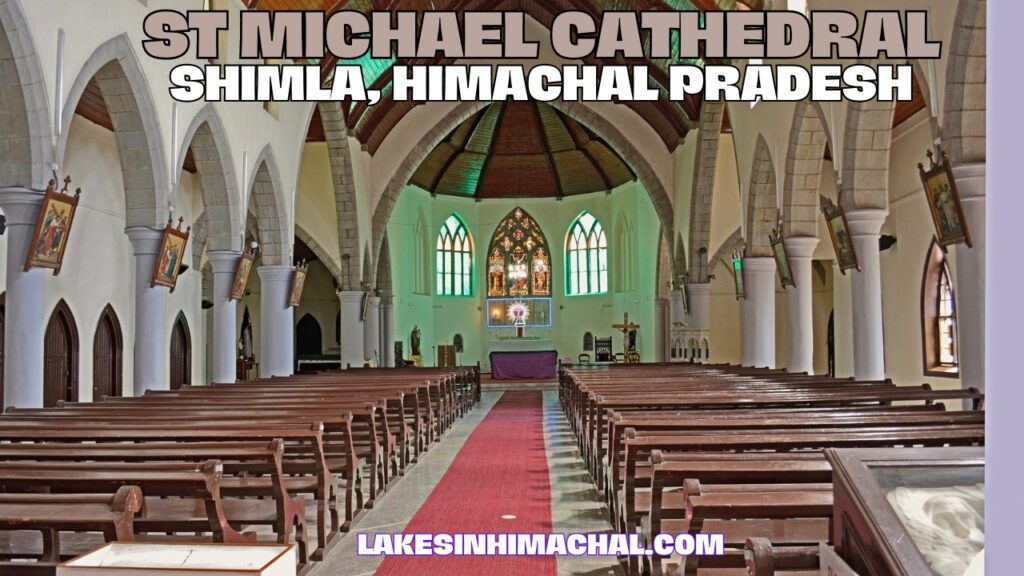 St. Michael's Cathedral is ideally located near the bustling Lower Bazaar and Lakkar Bazaar. Visitors can explore these lively markets while immersing themselves in the cultural richness of Shimla. Authentic traditional handicrafts and fresh produce await those who wish to take home unique souvenirs of their visit to this charming hill station.
Places of Attraction in Shimla and Nearby Places
Shimla is the capital of the state of Himachal Pradesh India and is also a popular hill station in India.  There are so many places to visit and enjoy your holiday here.  Some of the popular places that a tourist can visit are given below.
The Mall Road
Viceregal Lodge
The Ridge
Kali Bari Temple
Annandale Grounds
Scandal Point
Taradevi Temple
Chadwick Falls
Summer Hills
Chail
Narkanda
Naldera
Rothney Castle
Kufri
Theog
Lakkar Bazar
Jakhu Ropeway
Gorton Castle
Gaiety Theatre
Bantony Castle
Retreat Building
How to Reach Shimla
Shimla can be reached easily by road, train and by air.  There is a small airport in Shimla.  You can check the timings and flight details from the website of AAI. Shimla is also connected with train service from Kalka on narrow gauge.  Most of the people however come by road.  Regular bus services are available from Chandigarh, Delhi and other cities.
Conclusion
St. Michael's Cathedral in Shimla is not only a magnificent architectural masterpiece, but also a place of spiritual devotion and cultural significance. Its striking design, which combines Gothic and Victorian elements, inspires a sense of awe and reverence. When visitors step through the doors, they are transported to a bygone era of colonial charm and religious fervor. A visit to St. Michael's Cathedral is an opportunity to experience the seamless fusion of history, art and faith, making it an essential part of any Shimla itinerary.