Chander Naun Lake, also known as Chandernahan Lake lies in the Chanshal range of Rohru Tehsil in District Shimla.  Chander Naun lake is a high-altitude lake situated at 4,260 meters above sea level. Surrounded by snow all around, the lake is the source of the river Pabbar.  The lake is fed by many springs. 
Trek to Chander Naun Lake and the Seven Lakes
Chander Naun Lake can only be reached by trekking. The trek to the lake starts from a village called Janglik from where one has to trek to Dera Thatch. From Dera Thatch, the trek takes you to Lithum Thatch where you can camp for the night. The next day you can start your trek and the scenery on the way will blow your mind.  This place is breathtaking, with beautiful meadows, streams, waterfall, and snow-capped mountains around you. As you trek further, the trek gets a bit harder walking on a rocky surface. However, you are amply rewarded with the beautiful vista all around you and several small lakes on the way. There are in fact seven lakes in all including the Chander Naun lake. One reaches the place after an arduous trek.  Though the trek is difficult, it is worth the effort.  The greenery and scenic beauty all around are simply mesmerizing and out of this world.
Chandernahan Lake trek, Shimla : Detailed Itinerary
Chander Naun Lake, also known as Chandernahan Lake, lies in the enthralling Chanshal range of Rohru Tehsil in the District of Shimla. This hidden gem, situated at an impressive altitude of 4,260 meters above sea level, promises a truly unforgettable experience once you reach there. You will be captivated by its pristine beauty, as this high-altitude lake lies cloaked in a dazzling blanket of snow. Notably, it serves as the humble source of the magnificent river Pabbar, nourished by a multitude of natural springs.
Janglik Village to Lithm Thatch
Your adventure begins in the picturesque village of Janglik, where the trail to Chander Naun Lake unfolds before you. Winding your way through awe-inspiring landscapes, your first destination is Dera Thatch, a haven amidst nature's embrace. Here, you can revel in the splendor of Lithum Thatch, where you may choose to rest for the night, gazing at the star-studded sky above.
Lithm Thatch to Chander Naun Lake and 7 Lakes
As dawn breaks, a world of breathtaking wonders awaits you. Traverse the trail that meanders through nature's grandeur, revealing magnificent meadows, babbling streams, cascading waterfalls, and majestic mountains veiled in glistening snow. Though the path grows more challenging, with rocky terrain demanding your perseverance, fear not, for the rewards are unparalleled with an extraordinary picture that unfolds.  Soon you are near Chander Naun Lake, as well as a collection of seven exquisite lakes. Each step brings you closer to this paradise, where the culmination of your arduous trek unveils a sight that transcends imagination.
A Dance of Elements: Weather in Chander Naun Lake
During the months of May, June, September, and October, Chander Naun Lake graces visitors with agreeable weather conditions. Yet, one must remain vigilant, for the mountains possess an unpredictable temperament. Afternoons may surprise you with sudden rain showers, reminding you of nature's untamed spirit. Adequate preparation becomes paramount, necessitating suitable attire and equipment. Be equipped with sturdy trekking shoes, rain gear, and warm clothing, ensuring you are ready to embrace whatever weather may greet you along the path.
The Best Time for Chandernahan Lake Trek
To truly relish the essence of Chandernahan Lake Trek, seize the opportunity during the summer months, from May to June, and the idyllic period from September to the end of October. These chosen months gift you with pleasant weather, offering moderate temperatures and pristine skies, perfect for traversing the trail. Lush greenery adorns the surrounding valleys and mountains, painting a vivid tapestry of tranquility and natural splendor. However, exercise caution and avoid the months of July and August, as monsoon rains can impede your journey.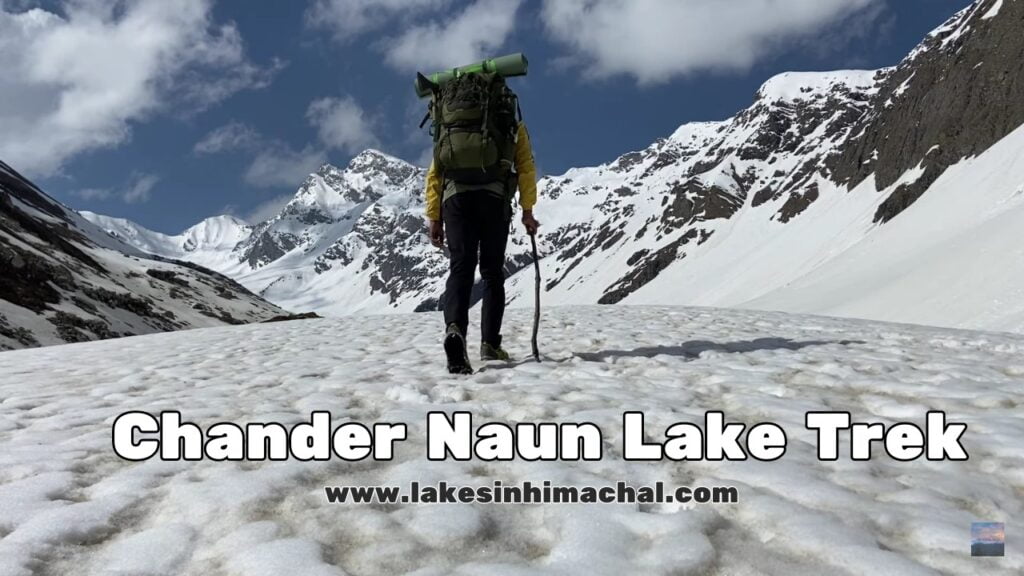 How to Get to Chander Naun Lake
To reach Chander Naun for the trek, first, you need to get to Shimla, which is the nearest big town. Shimla is the capital of Himachal Pradesh state. From Shimla, you have to go to Rohru, which is about 105 km away. The HRTC (Himachal Road Transport Corporation) runs buses from Shimla to Rohru at 12:45 pm, 3:00 pm, and 4:00 pm. The bus is a small one with only 29 seats, and the fare is INR 270. On the way, you'll pass through interesting towns and villages like Kufri, Theog, Kotkhai, and finally Rohru.
Once you reach Rohru, you can take a cab or a shared taxi to get to Janglik. You can find out about other transport options when you reach Rohru. The distance from Rohru to Janglik is only 40 km. The trek to Chander Naun Lake starts from the village of Janglik."
Embrace the Call of Adventure
Chander Naun Lake, nestled in the heart of the Himalayas, beckons to the intrepid souls yearning for a unique and awe-inspiring experience. Let this hidden sanctuary unravel its secrets as you embark on a journey that blends the elements of nature, physical endurance, and spiritual rejuvenation. Allow yourself to be spellbound by the serenity and magnificence of Chander Naun Lake, for its essence transcends words and resides solely in the realm of unforgettable memories.
Suggested Reading :
For the Chander Naun Lake Trek, you need sturdy Trekking Shoes that will be your loyal companions on this journey. Don't forget to embrace the unpredictable mountains by also packing rain gear, protecting you from nature's tears, and warm clothing, a shield against the cold that dwells at higher altitudes.
You may check the following link for the Best Trekking Shoes.