Sissu Himachal Pradesh
Sissu is a small town in Lahaul Valley, Himachal Pradesh located high above on a big patch of ground on the banks of Chandra River.  Sissu is also known as Khagling in the local dialect.  It is about 90 km from Manali on your way to Keylong and thence onwards to Leh.   Sissu to Keylang distance is 30 km and Leh is 380 km.   The famous temple of  'Raja Geypan' is situated in Sissu.   The locals as well as Himachalis from far and wide while passing through Sissu make it a point to offer their obeisance to Lord Ghepan who is known to shelter the people of the Lahoul valley.  Besides the temple, there are many attractions in Sissu like the village, waterfall, Sissu Lake, and Ghepan Lake.  Let us have a closer look at all these.
Sissu Village
Sissu village, which is no longer a village but has today turned into a small town is worth a visit.  One advantage of this place is that it is on the national highway that connects Manali to Leh.  This village is surrounded by greenery all around with dense willow and poplar trees, high mountains, a waterfall, and a lake.  The famous Ghepan peak is visible in its splendor in the background.   One can see that the nearby fields are green with potatoes, peas, barley, and buckwheat.   Wild roses and other alpine flowers in different colors of red, white, yellow, and blue can also be seen spread on the slopes of Sissu.  This town and its surrounding also has beautiful camping sites due to the lush greenery and peaceful location.  
How to Reach Sissu
Sissu can be easily reached from Manali via the Atal Tunnel. The Manali to Sissu distance via the Atal tunnel is only 25 to 30 km.  This tunnel connects two districts or rather two valleys viz Kullu Valley with Lahoul Valley, thus keeping Lahoul Valley accessible throughout the year.  Earlier the only way to reach Lahoul was via the  Rohtang pass.   This pass, however, remained closed due to heavy snowfall in winter thus cutting off Lahoul Valley from the rest of the state for more than six months in a year.  The Government made helicopter service available for the local people in those days.  With the opening of the Atal tunnel, things have become much easier now.
The Lahoul Valley
With the opening of the Atal Bihari Tunnel in Manali, Lahoul Valley is open to tourists throughout the year unlike in the past when the area was cut off from the outside world during winters. Sissu has now become a tourist attraction as it is the first town you reach after making an exit from the tunnel. It has now become super easy to reach Lahaul Valley and thus the influx of tourists. It takes around 30-40 minutes to cross the tunnel and then you are in totally different geographical conditions. When you are in the mountains the main attraction is nature, the mountains, waterfalls, rivers, snow, and green meadows. This is what you find in Sissu.
Attractions in Sissu
Sissu Waterfall

There is a magnificent waterfall known as the Sissu Waterfall on the other side of the river Chandra.  On the Manali Leh highway just 2 km before Sissu town, there is a small bridge on the river Chandra.  No vehicles are allowed on this bridge.  Cross this bridge and trek for about an hour.  This is one of the major tourist attractions in the area and one can reach there trekking on foot only.   From a distance, one can see the waterfall cascading from the high cliffs in a spectacular fashion.  As you reach the waterfall, you come across greenery all around, mostly vegetable plantations by the locals.  Nonetheless, one feels refreshed at this place and at peace with the beauty of nature. 
Sussu Waterfall and Trek to Sissu Waterfall! Yes you can trek to this beautiful waterfall and see it from close range. Please checkout my channel MyTreks&Travels. Dont forget to subscribe to my Channel.
Atal Tunnel 
One of the world's longest Highway tunnels, Atal Tunnel is 9 km long. It connects Manali to Lahaul Spiti valley throughout the year unlike in the past when the area was cut off from the outside world during winters, except through helicopter service. The Atal tunnel cuts through the mountain below west of the Rohtang pass. Atal tunnel reduces the road distance between Manali and Leh by 46 km and the duration of the time by about 4 to 5 hours. The foundation of this tunnel was laid by former Prime Minister Atal Bihar Vajpayee in 2002. After his party ceased to be in power this tunnel was forgotten by the Congress party. It was the dynamic leader of the century and Hon'ble Prime Minister of India, Shri Narendra Modi who got this tunnel completed in record time. This is what he said,
"Unprecedented pace was given to the project. Every problem faced by the BRO was resolved. The result was that while earlier 300-meter tunnel work was being accomplished every year, it reached 1,400 meters a year. In six years, we completed the work of 26 years."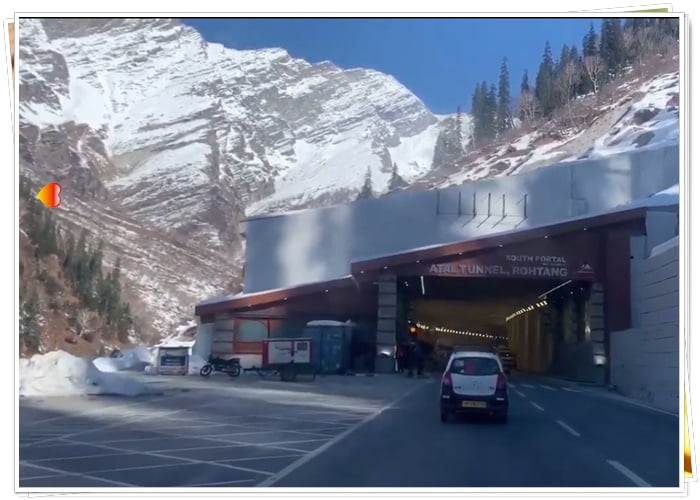 An achievement that would make every Indian proud.
Sissu Lake 
Just on the banks of the Chandra river, is situated a man-made lake called the Sissu lake.  Long time ago it was just a swamp with greenish water with algae floating on it.  Now it has been converted into a tourist attraction with boating facilities.  The size of the lake has also become bigger than it was earlier.  Next to the lake is a huge parking lot where you park your vehicle.  There are a lot of eateries nearby for the benefit of tourists and of course locals.  During winters Siberian ducks and geese on their way to Siberia come to and halt on this lake. Trout fish can also be found in this lake as well as in the river.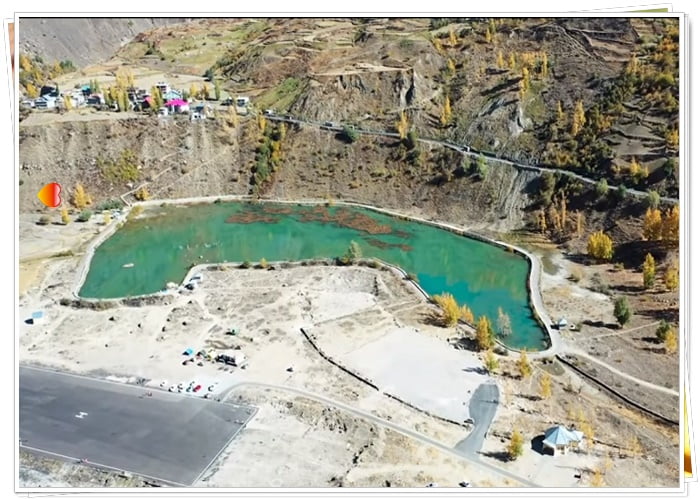 Ghepan Lake
Hidden away higher up in the mountains of Sissu lies the captivating Ghepan Lake, a treasure that unveils itself only to those willing to embark on a challenging trek. Located majestically atop the Sissu mountains, Ghepan Ghat Lake sits at a breathtaking altitude of 4140 meters (14000 feet) above sea level, glistening like a tranquil neon-blue jewel in a picturesque valley. Your journey to Ghepan Ghat Lake commences in Sissu, setting the stage for an adventure like no other.
Stretching out gracefully, this long and inky-blue lake is cocooned by towering mountain peaks on all sides. In the heart of this pristine expanse lies a tiny island, bursting with a riot of colorful flowers. As your gaze shifts upwards, you'll spot substantial snow patches on the mountainsides, serving as nature's generous reservoirs, supplying life to the lake.
Ghepan Lake Trek
For the intrepid local adventurers, conquering Ghepan Lake can be accomplished within a single day. However, enterprising trek operators extend the voyage to span anywhere from 3 to 5 days, weaving a unique tapestry of experiences while ensuring their livelihood. Your adventure begins approximately 8 kilometers from Sissu, accessible by a scenic drive that hints at the grandeur awaiting you.
The trek introduces you to a diverse landscape, leading you through farmlands, meadows, and rustic shepherd huts crafted from stones, each bearing stories of a bygone era. The journey involves traversing several small rivers, adding an element of excitement to your expedition. Along the way, be prepared to be spellbound by the barren mountains adorned with snow-capped peaks, cascading glacial waterfalls that descend from their lofty heights, and lush green meadows adorned with a vibrant tapestry of wildflowers.
As the trail winds its way through dense forests, you'll find yourself immersed in a serene oasis of oak, pine, and deodar trees, providing a welcome respite from the relentless sun, and inviting you to embrace the sheer beauty of nature's sanctuary. Finally, when you reach the lake, one is simply stunned by this exquisite marvel of nature. Ghepan Lake and its accompanying trek promise an unforgettable journey, revealing nature's secrets and inviting you to become a part of its mesmerizing story.
Recommended for your Trekking Needs :
Sissu Weather
The weather in Sissu is more or less like Manali except that in winter it snows more in Sissu. However, once you reach Sissu, the landscape and the scenery of Sissu and for that matter Lahaul is completely different from Kullu Valley.
Hotels in Sissu
Accommodation and stay in Sissu are not going to be a problem as scores of hotels, guest houses, and homestays have sprung up in Sissu.  Hotels in Sissu can be booked online from any booking site.  If you are in Sissu for just a day, a better option would be to stay in a hotel in Manali and come for a day tour of Sissu and go back to Manali.
To Summarize
In conclusion, Sissu, also known as Khagling, is a hidden gem located in the picturesque Lahaul Valley of Himachal Pradesh. This charming town not only boasts breathtaking views of the Chandra River but also holds spiritual significance with the revered temple of 'Raja Geypan.' As travelers journey from Manali to Keylong and Leh, Sissu offers a tranquil stopover where locals and Himachalis alike pay their respects to Lord Ghepan, the guardian of Lahoul Valley. Beyond its spiritual allure, Sissu enchants visitors with its natural beauty, including the captivating waterfall, Sissu Lake, and Ghepan Lake. This unassuming town, with its rich cultural heritage and mesmerizing landscapes, invites all who pass through to pause and embrace the serenity of this Himalayan treasure.