Raja Gheypan Temple is located in the remote village of Sissu in District Lahaul and Spiti in Himachal Pradesh. This ancient temple is an important cultural and historical landmark of the entire Lahoul the region. In this article, we will explore the Raja Ghepan temple's history, architecture, festivals of the local Lahouli people and other places of interest nearby.  Let us first know a little bit about the Lahoul and Spiti district and then we will provide some helpful tips for visitors planning to explore the area.
Lahoul and Spiti District Himachal Pradesh
Lahaul and Spit is a tribal district in Himachal Pradesh India.  Lahoul and Spiti are two different valleys.  Lahoul is surrounded by majestic snow-capped mountains, glaciers, rivers, and waterfalls making it a perfect destination for nature lovers and adventure enthusiasts. Lahoul is also known for its rich cultural heritage, with Hinduism and Buddhism religion being followed with the latter being the predominant religion practiced here. Lahoul and Spit are also home to several monasteries and ancient temples.  One such temple is the Raja Ghepan temple located in Sissu.
Raja Ghepan Temple History
The famous temple of  'Raja Geypan' is situated in Sissu.  Raja Ghepan (Gyephang in the local dialect) is the most revered and presiding deity of Sissu and the entire Lahaul Valley.  As per the legend and belief of the people of Lahoul, Raja Gheypan was a powerful king who once ruled over the entire Lahaul region.  The locals believe that Raja Ghepan killed demons that was troubling the people at that time.   Not much is know as to who built this temple.   Apparently the people built this temple in his honour and named after him.  Few decades ago this was a small temple.  Now it is surrounded by various constructions.  The temple's architecture and design are a beautiful blend of traditional Lahauli and Tibetan styles.
As a mark of respect and reverence, all vehicles passing through the temple of Raja Ghepan on their way to other places of Lahoul stop here and pay their respects to Raja Geypan who is known to shelter the people of the Lahoul valley. Every three years a procession of the deity is taken out.  Earlier animal sacrifices were given but the same is now banned by the Government all over Himachal.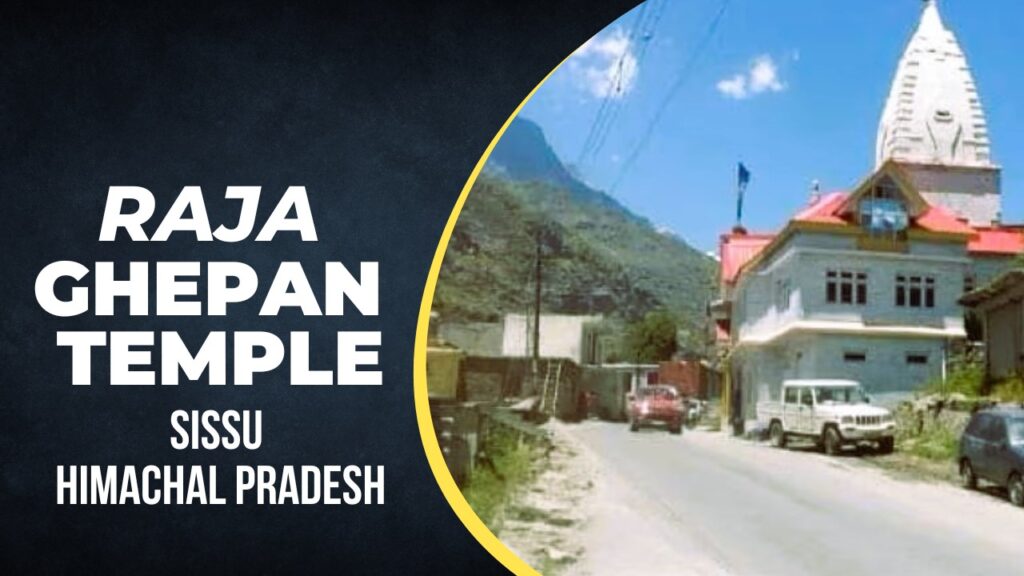 Raja Ghepan Deity of Sissu
The temple is a hub of cultural and religious activity throughout the year. The most significant festivals celebrated here are the Chaam Dance Festival and the Lahaul Festival. Visitors can witness traditional dances, music, and other cultural performances during these festivals. The temple also serves as a significant center for preserving Lahauli culture and traditions. Just opposite the temple, there is a museum that houses traditional artifacts throwing light on the history of the region.
Sissu Village
While you are in Sissu visiting Raja Ghepan temple, how about roaming the streets of Sissu Village?  You will notice that Sissu village is taking the shape of a town rapidly, with the influx of tourists.  All this happened due to the opening of the Atal Tunnel which connects Kullu Valley with Lahoul Valley and remains open throughout the year.  Sometimes, when there is excessive snowfall in this region, the Atal tunnel is kept closed due to safety reasons. There was a time not many years ago when the entire Lahoul region would remain cut off from the outside world for almost 6 months as the only approach road was via Rohtang Pass which remained closed in winter due to heavy snowfall.
Sissu village is home to about 200 residents with some outsiders also living due to their work or business. It is also one of the very few villages in the region that still maintain its traditional way of living. The village is renowned for its rich cultural heritage and architecture as well as music and traditional celebrations with Raja Ghepan at its centre.
Chandrabha River
Sissu is nestled between stunning lofty mountains on both sides with the Chandra River flowing in between the valley.   The village is located on the right bank of the Chandra River that flows towards Tandi where it meets the Bhaga River coming from Bara Lacha La.  One interesting fact is that Chandra River originates from Chandratal Lake whereas Bhaga River originates from Suraj Tal.  After merging with the Bhaga River at Tandi, this river becomes the mighty Chandrabha River.  This very river when it enters Jammu and Kashmir at the Himachal and J&K border once again changes its name to the mighty Chenab River. Interestingly the state of Punjab got its name from its five rivers Satluj, Ravi, Beas, Chenab, and Jhelum. Most of the rivers however originate from Himachal Pradesh.  
Outdoor and Adventure Activities in Sissu
Sissu Village also offers numerous opportunities to explore and have fun. Sissu is also an excellent location for those who enjoy nature. The forests of Sissu are rich in medicinal plants. In recent times the region has also become a hot spot for bird watching with a wide variety of birds, such as those of the Himalayan Monal, which is found in the region. Another bird is the Siberian ducks found in the Sissu lake. Visitors can simply enjoy the breathtaking views of the surrounding mountains and valleys. The region is also popular for some trekking routes, hot springs, and Buddhist monasteries. Some attractions in Sissu besides the Raja Ghepan Temple are :-
Sissu Lake
One of the main tourist attractions in Sissu Village is the Sissu Lake which is a natural water body located at 4000 meters above sea level. All around the lake is covered by breathtaking beautiful mountain ranges.  This place is an ideal spot for picnics, camping, and trekking. Sissu Waterfall on the other side of the river is a popular attraction and is a popular short trek. In April and September, wild Siberian ducks and geese can be found here.  One can also find snow trout in the Sissu lake.
Recommended: Best Camping Tents
Sissu Waterfall
Right across Sissu on the other side of river Chandra can be seen a beautiful waterfall from afar. This waterfall is known as the Sissu waterfall and it is a famous tourist attraction in the area.   From a distance, one can see the waterfall cascading from the high cliffs in a spectacular fashion. 
Sissu Trek
Sissue provides some nice trekking options. One is the Geypan Lake trek which is not for the first timers. The other trek that can be done by anyone and is quite thrilling is the Sissu waterfall trek.  To reach the waterfall one has to reach there by trekking on foot.  The trek starts near the lake from where one has to cross over a bridge.  Once on the other side of the bridge trek for about 2 km and then ascent to the waterfall starts.  As you reach the waterfall, you come across greenery all around, with beautiful wildflowers.  Occasionally you can turn around and soak in the beauty of the surrounding gigantic mountains. Once you reach the waterfall the feeling is simply out of this world. One feels refreshed and at peace with the beauty of nature. 
Sissu Handicrafts
Lahoul is famous for its traditional handicrafts.  These items include tribal textiles and embroidery, metal crafts, tribal jewelry, cane and bamboo products, stone pottery, tribal paintings, gifts, and novelties.  Visitors looking for Sissu handicrafts may be able to buy these eco-friendly, organic, and natural products in Sissu.
Traditional Lahouli Village Life
In the end, it's important to mention the fact that Sissu Village is also an excellent place to experience the traditional Lahouli lifestyle. Sissu Village has some homestays and guesthouses that allow visitors to stay in the homes of local families and feel their warmth and hospitality. It's a wonderful method to get to know more about the history and culture of the area and to fully immerse yourself in the traditional way of life of the region.
Sissu Weather and Climate
The climate in Sissu is typical of high-altitude regions which experience cold winters as well as cool summers. The temperatures in Sissu can vary from 10 degrees to 20 degrees during summer months.  During winters the temperatures can fall to as low as minus 30 degrees celsius.
Places of Interest near Sissu
There are many other towns and villages nearby which are worth a visit in Lahoul and Spiti. Some of these places to visit in the region are as follows:-
Keylong
Keylong is the District HQ of Lahoul and Spiti and is the gateway for entering Ladakh. The distance from Sissu to Keylong is only 30 km. Due to dry cold weather, Keylong does not have much of a greenery. Keylong is famous for its monasteries that are famous for both art and Buddhist faith.
Triloknath
Triloknath is a village situated approximately 60  km away from Sissu. Trilokinath is revered equally by Hindus and Buddhists. While the Hindus see the Triloknath deity as Lord Shiva, the Buddhists worship Trilokinath as the Avalokiteshwara. The temple is considered one of the most sacred spiritual sites in the region and is visited by thousands of pilgrims each year.  The Chandrabhagha river flows down below.
Koksar
Koksar is a small town located about 15 km away from Sissu.  It is situated along the banks of the Chandra River and offers numerous trekking routes. Before the Atal tunnel came into operation, Koksar used to be the first town after you reached the Lahoul valley via the Rohtang pass.
Tandi
Tandi is a tiny village located about 25km from Sissu.  Tandi is situated along the banks of the Chenab River.  From Tandi there are two roads, one goes towards Keylong and onwards to Ladakh.  The other road goes towards Trilokinath and Udaipur and onwards to Doda and Kishtwar in J&K.
Udaipur
Udaipur is the second biggest town in Lahoul located about 45 km from Sissu. Udaipur is famous for the temple of Markula Devi, which is dedicated to goddess Kali. It is believed that the temple dates back to the 11th century.  Some believe the temple was built by the Pandavas.  Inside the temple, one can see some beautiful and intricate wood carvings depicting scenes from the Hindu epics.
Ghepan Lake, Sissu
Gepan Lake is a high-altitude lake located at an elevation of 4,500 meters above sea-level, surrounded by breathtaking mountains high above Sissu.
One can go to Gepan Lake by trekking only. This is one place meant for avid hikers and nature lovers since it provides breathtaking views of the mountains and glaciers. The trek from Sissu to Gepan Lake is considered moderately difficult as it requires high endurance and a good fitness level.
Recommended : Best Trekking Shoes
Where to stay Sissu, Sissu
Most of the people after visiting Sissu and after darshan at the Raja Ghepan Temple go back to Manali where they have a hotel booking for a few days. However, if you wish to explore Lahoul further then you can stay at Sissu. There are a variety of lodging options available in Sissu that can accommodate various budgets and preferences. If you're looking for budget-friendly guesthouses a cozy mid-priced hotel, or a genuine homestay, you are certain of finding something that will meet your needs in this exotic location.
Tashi Yangkhil
Sissu Camp
Himalaya Retreat
La Hault
Sissu Huts
Sangam River Camps
Bulevar Alpine
How to Reach Sissu
By Air
The nearest airport to Sissu is the Bhuntar Airport, located at a distance of 80 km in the Kullu District of Himachal. The distance from Bhuntar (Kullu) can be covered in 2 to 3 hours by passing through Rohtang Tunnel (Atal tunnel).
By Road
If you are coming from Delhi, take NH1 up to Ambala, then NH 22 to Chandigarh, passing through Rupnagar, Kiratpur Sahib, and entering Himachal at Swarghat.  From there take NH 21 and go to Bilaspur, Sundernagar, Mandi, Kullu, Manali, and then  Sissu.  The distance between Delhi to Manali is 560 km and Chandigarh to Manali by road distance is 300 km.  Stay at Manali and go to Sissu from Manali, passing through Solang Nalah and Atal Tunnel.  Distance from Manali to Sissu is 40 km approx.  In the evening one can return back to Manali.  However, I would suggest staying for a day or two at Sissu.
Distances
The following are the distances shown on Google Maps which may slightly vary with the physical road distance measurements.  Please note that the time taken is shown if there is no vehicular traffic.  However, Manali to Sissu road or to other places of Lahoul being one of the busiest roads during tourist season, the time taken to cover the following distances may be much longer.
Manali to Atal tunnel distance – 29 km distance and takes 45 mins.
Manali to Rohtang Pass Distance – All vehicular traffic passes through the Atal tunnel and the time taken is 29 km.
Manali to Sissu distance – 40 km distance which takes 1.5 hours by car.
Manali to Keylong Distance by Tunnel – 70 km distance and takes 2 hours approx.
Sissu to Keylong – 30 km which can be covered in 45 min.
Sissu to Jispa – 52 km and taken 1.5 hours passing through Keylong.
Conclusion
Raja Gheypan Temple is an important cultural and historical landmark of the entire district of Lahoul & Spiti in Himachal Pradesh.  Though the size of the temple is small but has great significance here.  May Raja Ghepan bless everyone with health, wealth, and long life.