There are a number of lakes in Kullu District namely Brighu Lake, Beas Kund, Serolsar, Dashaur Lake and Mantalai Lake. There is another very small lake in Manali region called the Rani Sui Lake. This hidden gem is located in the higher reaches of Manali, in Kullu District of Himachal Pradesh, India.  Lush green forests and towering peaks surround it, breathtaking a breathtaking view of the surrounding area. If you want to escape from the hustle and bustle of city life and escape to a peaceful place, then this is where yu should come.
Rani Sui Lake Altitude
The Rani Sui Lake is situated at a height of 4,300 meters. The lake is fed from the waters of the melting snow from the surrounding mountains that is why the waters of this lake is crystal. The area around the lake is surrounded by dense forests, making it an ideal place for bird-watching or simply basking in the sun amidst the beautiful nature.
Legend and History
Rani Sui Lake also holds cultural importance for the locals of the region. According to legend, lake was named after a beautiful princess who was the daughter of the King of this area. The lake is considered to be a sacred site by the local people who believe that taking a dip in the lake can bring good luck and prosperity.
Rani Sui Lake Trek
The trek to this alpine lake is one of the most beautiful treks in Manali valley. The trail passes through dense forests of evergreen trees like Deodar, Kail, Horse chestnut, Walnut and Maple, with beautiful alpine meadows in between the trees every now and then.  Those looking for more adventure can proceed from Rani Sui Lake to Kalihani pass and beyond to Bara Bhangal range.
Once we gain the maximum altitude, we will get some awesome views of the Manalsu glacier, Hanuman Tibba, Rohtang pass, Deo Tibba and the Dhauladhar and Pir Panjaal ranges.
The most striking feature of this trail is that it meanders through thick and lush green cedar and pine forests and is a never ending carpet of rich and fertile meadows. This makes it extremely picturesque and a camera's delight when the flora is in full bloom. 
Rani Sui Lake Trek : Itinerary
The trek can be covered in Two Days, though locals are able to cover it in one day.  Here is a brief itinerary which is used by most of the trekkers and trekking operators
Day 1 : Manali to Lama Dugh 
The starting point of the trek is Hadimba Temple also called Dongri Mata Mandir. One must fill up water bottles at Dongri as there is not water source till you reach Lama Dugh.  As soon as you start your trek, the steep climb starts.  The climb is a bit strenuous but enjoyable as with every few steps you gain height and get lovely views of the surrounding snow clad mountains.  As you gain more height the magnificent peaks of Indrasen, Deo Tibba and Bara Shigri glacier can be seen and savoured.   Finally, you reach an alpine meadows which is the Lama Dugh.   Lama Dugh is a lovely camp site with trees of varied kinds surrounding it from all sides. One can enjoy the magnificent view that nature has spread all around. Total time taken 6 hours.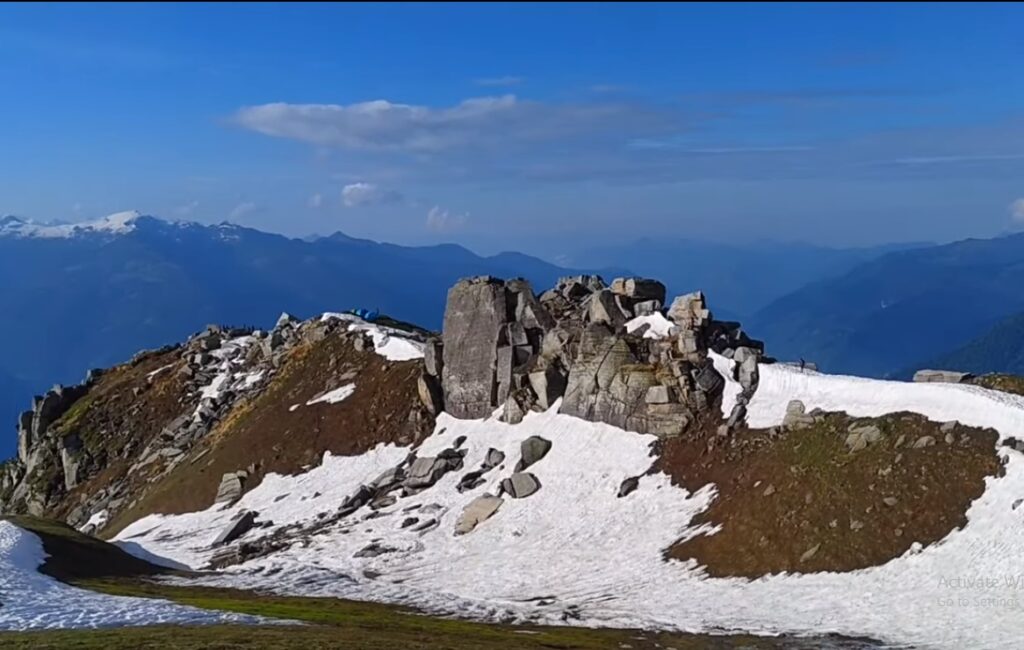 Day 2 : Lama Dugh to Rani Sui Lake
After breakfast the trek for Rani Sui Lake commences. The ascent is gradual but at one place the trekking begins to be steep at the ridge below Khanpari Tibba (4000m). However, from this vantage point, one can enjoy the magnificent view of the Manali Valley with Beas river meandering through it and the whole of the Kullu Valley.  Finally one reaches the Rani Sui Lake which is a small beautiful oval shaped lake.  Total time taken 7 hours to cover this trek. 
Day 3 : Rani Sui to Manali 
After breakfast one can start the decent back to Manali.  The gradual climb down is through alpine meadows, forests and rock formations at some points.  The first habitation is the village Parsha and from there down to the town of Kalath on the National Highway.  Kalath is famous for hot sulphur water springs.  One can enjoy hot water bath just like in Manikaran or in Vashisht.  From  Kalath one can reach take a local bus and reach  Manali in half an hour.
The Famous Hill Station of Manali 
Manali is one of the most famous hill stations in India. Manali is part of Kullu District in Himachal Pradesh.  The beautiful town is situated in a valley on either side of the river Beas.  The main town is however located on the left side of the river while facing North.  Manali to Kullu is connected with excellent road network on either side of the river Beas. 
Adventure Sports in Manali 
Besides the natural which is in ample measure all around, the tourists come here to enjoy all kinds of adventure activities like sightseeing, paragliding, rafting, kayaking, and mountain biking. Those seeking more adventure can look for hiking, trekking and also mountaineering,
Places of Interest in Manali 
There are so many things to do and see in Manali.  There are a number of Hindu Temples like Hadimba Temple, Vashisht Temple and Manu Temple.  In fact, one can plan "The Three Temple Visit" having unique and different architecture and settings.  Then there are Buddhist Monasteries like the Gadhan Thekchhokling Gompa, built in 1969 by the Tibetan refugees in India.   There are other monasteries like  the Himalayan Nyingamapa Gompa as well as a Gurudwara and a Church.  There are hot water sulphur water springs in Vashisht and Kalath. 
Other places of interest for tourists are Naggar Castle, Kothi, Solang Nala, Rahallah Falls, Marhi and off course the Rohtang Pass.
How to reach Manali
by road
Manali is easily approachable from Delhi, Chandigarh and other major cities and towns. Himachal Pradesh has excellent road network and Manali being one of the most sought after tourist destination in India, is easily approachable by both road and air. Delhi to Kullu distance is 500 km approx with Manali to Kullu distance being just another 40 km. HRTC and Punjab Roadways run frequent delhi to manali bus services, passing through Kullu. Chandigarh to Manali bus service is also excellent and distance is around 300 km. From my personal experience overnight journey is advisable as you can spend half of the long journey that takes 12 to 15 hours from Delhi, sleeping.
by air
The nearest airport is located at Bhuntar, Kullu which is about 55 kms from Manali.  Air India is the only airline that operates Delhi to Kullu flight.  The flight timing is 830 am.   Please check the air india website for further details.  Cabs and taxis are easily available from the airport for Manali.
by train
Jogindernagar in Kangra is the nearest rail head in Himachal Pradesh.  You can take this route if coming from Pathankot.  Chandigarh and Ambala are the nearest cities connected by train. From there one can take bus or taxi to reach Manali.
To Conclude
Manali is one of the most famous tourist destinations in North India.  There are many places of interest like Solang Valley, Atal Tunnel, Naggar Castle, Nicolas Roe rich Arts Gallery, temples and monasteries.  Speaking of lakes, besides Rani Sui Lake, there are few more alpine lakes like the Brighu Lake, Beas Kund Lake and Dashaur lake. There is no dearth of activities one can enjoy in Manali.  However, one advisory which I would like to give is do not travel during the monsoons ie July and August.  Have a safe trip.