Nako Lake, is a high altitude lake is situated in District Kinnaur in Himachal Pradesh. This lake is situated at a height of about 3,662 meters (12,014 ft) above sea level. Nako Lake is a picturesque water body which is highly revered by the local people and revered as a sacred site.  The entire lake area is surrounded by willow trees that grow fast in these areas and also poplar trees. Situated near the village is a small and beautiful village which is also called Nako Village. It is custom in the villages of Spiti, being a Buddhist area, to have a Monastery in the center of the village. Nako also has a Monastery that is dedicated to the local deities. In all, there are four Monasteries in this village. During winters the Nako Lake Kinnaur freezes and converts into a thick sheet of ice.  Despite being a hidden gem and located at a distance from the nearest big town, Nako Lake attracts visitors from all over the world.  People come here to seek peace and tranquility away from the hustle and bustle of city life.
Let us now take a deep dive into the beauty of Nako Lake and explore its natural beauty, physical attributes, the local legends and myths if any, the nearby attractions, accommodation and dining options, and any other tips for travelers coming here.
Nako Lake – Location
Nako Lake is situated at an altitude of 3,662 meters  (12,014 ft) above sea level in  Kinnaur District of Himachal Pradesh. The lake is located about 115 km from the District HQ which is Reckong Peo and about 365 km the state capital Shimla.  
Best Time to Visit Nako Lake
The best time to visit Nako Lake is during the summer months which is from May to June when the weather is pleasant and the lake is not frozen.  One can visit Nako Lake during other seasons as well except rainy season.  Some tourists come here during winters to see the lake in its frozen form.
Beauty of Nako Lake
Nako Lake is a small beautiful freshwater lake, surrounded by a village called Nako village, with mountains on all sides. The size of the lake is around 500 meters long and 200 meters wide which is not big enough.  The depth of the lake is however estimated to be around 60 meters and quite high.  In the crystal-clear water of the lake the reflections of the surrounding mountains can be seen which creates a stunning view.
Cultural and Religious Significance of the Nako Lake
Besides its natural beauty, Nako Lake is important in the local culture, mythology and beliefs.  The locals who follow the Buddhism believe that the lake was created by the gods, and thus a sacred site where the gods and goddesses reside. It is also said the Guru Padmasambhava mediated near the lake.  His footprints are preserved in a temple near the lake which can be seen even today.  People also believe that has healing properties and locals often perform rituals and prayers to the gods for good health and prosperity.
Nako Village
Around the lake there is a small beautiful village called Nako village.  The houses in the village are made up of mud and stones that have white walls and blue-black framed windows and doors.  The village has a sizeable number of cattle.  Water and fodder can be seen kept for animals in the streets.  People of Nako village grow grains, potatoes and peas as their primary crop.  While you are here experience the mind soothing calmness of the village under the clear night sky full of sparkling stars.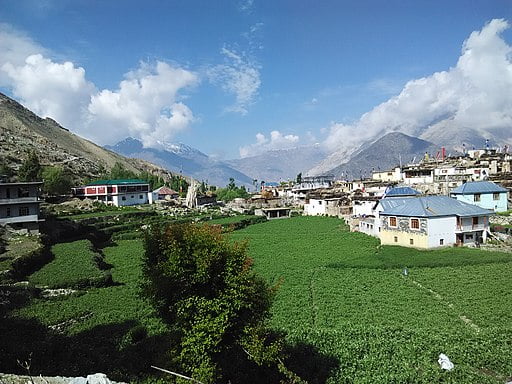 Activities at Nako Lake
You can indulge in hiking, camping activities in Nako Village or spend few hours by the Nako Lake enjoying the beauty of the place and doing some much needed soul searching.  Thereafter visit the local monastery called Gompa.  How about talking to the locals and  if there is a local festival and cultural events it is a must visit opportunity to get a glimpse into the local culture and traditions.
Surrounding Attractions
Apart from Nako lake and the beautiful Nako village, the region offers a range of attractions that are worth exploring. This being a Buddhist region, there are number of monasteries in the region which give the visitors a glimpse into the local culture and history.  Tashigang Gompa is one popular monastery.  The villages and hamlets around give an opportunity to the visitors to interact with the locals and experience their way of life.
Tashigang Gompa
The famous Tashigang monastery is situated nearby and is 4 hrs walk from Nako Lake. Nako village is a good place to stay if you wish to see this monastery and the places nearby. Guru Padmasambhava is said to have meditated in this place and given discourse to his followers. There is a waterfall nearby that has water falling like milk. Pilgrims come from as far from places like Ladakh, Spiti, Kullu, and beyond.
Places to Stay in Nako
There are several lodging options available for the visitors coming to visit Nako Lake.    From budget guesthouses to home stays, there is something for everyone. Sonam Homestay Nako is a popular place to stay.  
Weather in Nako
Nako Lake experiences a typical Himalayan climate. The weather in Nako Lake canbe divided into the various seasons as follows.
Summer (April to June)
The summer months in Nako and for that matter in the entire Spiti Valley is pleasant, with temperatures ranging from 10°C to 25°C.  During this period, the weather is generally clear with sunny days, making it an ideal time to explore Nako lake, village, monasteries and also enjoy outdoor activities such as trekking and camping.
Monsoon (July to September)
Monsoon is one season that visitors should avoid coming to this region when the Nako receives moderate to heavy rainfall.  The temperature in Nako Lake during this time ranges from 10°C to 20°C. Visitors should be cautious during monsoons as landslides and roadblocks are quite common.
Autumn (October to November)
The autumn season is cool and pleasant, with temperatures ranging from 5°C to 20°C and is also the time when one can visit this region. The weather remains generally clear and it is an ideal time to explore and enjoy outdoor activities in Nako Lake and nearby areas.
Winter (December to March)
The region around Nako Lake experiences harsh winters, with temperatures dropping to sub zero to as low as -15°C.  The area receives heavy snowfall during winters and the Nako lake freezes during this time. Visitors deciding to come during winters should be prepared for the extreme weather conditions and be appropriately dressed accordingly.
How to Reach Nako Lake
Reaching Nako Lake is a bit of a challenge of a challenge as there is no airport or railway station in the near vicinity.  The nearest airport is located in Bhuntar, District Kullu, and is far away 245 km appx away. Similarly, the nearest railway station is in Shimla, the capital of Himachal Prades at a distance of around 365 km away. Therefore the most convenient way to reach Nako Lake is by road. There are two ways to come to Nako; one is via Shimla and the other route is via Manali.  There are also HRTC buses and taxis that are available from Shimla, Rampur, and Reckong Peo.
Shimla to Nako Lake (The route – Shimla – Narkanda – Kumarsain – Rampur – Sarahan – Karchham – Rekong Pio – Pooh – Nako Lake)
Nako Lake can be reached by road from Shimla side, which is located at a distance of around 365 km away. Visitors can either drive their own vehicle or can take a taxi or a bus from Shimla to Reckong Peo (District HQ of Kinnaur District).  After a night's halt at Reckong Peo, visitors can take a taxi or a bus to reach Nako Lake, which is around 116 km away. Though the road journey from Shimla to Nako Lake is a bit long but the scenic route with fantastic well maintained roads more than compensates that.   One can enjoy stunning views of the mountains and valleys as you pass along the way.
Manali to Nako Lake (The route – Manali – Atal Tunnel – Gramphoo – Batal – Kunzum Pass – Kaza – Dhankar – Tabo – Nako Lake)
Nako Lake can also be reached from the Manali side, as well and the distance between the two places is around 200 km.  Visitors drive their own vehicle or take a taxi or a bus from Manali to Reckong Peo.  From Reckong Peo Nako lake is about 120 km away and one can take a taxi or a bus to Nako Lake.  The road journey from Manali to Nako Lake is absolutely fantastic and crossing the Atal Tunnel which is 9 km long is an amazing experience.  All along the way, visitors can enjoy stunning views of the mountains, valleys, waterfalls and rivers.  From Manali you drive along Beas river and in Lahoul you drive along the Chandra river. The road from the exit point of Atal tunnel towards Spiti is narrow and winding, and caution is advised if driving own vehicle.
Tips for Travelers
Visitors coming to visit Nako Lake should keep in mind the following tips to ensure a safe and enjoyable trip.
Don't forget to carry warm clothing and sturdy shoes fit for hiking.
To avid altitude sickness and stay hydrated drink plenty of water.
Respect and follow local customs and traditions.
Be sensitive to the environment and avoid littering and throwing garbage, especially non bio degradable items like plastic bottles, wrappers etc.
Be cautious while hiking, boating if any.
Always carry a first aid kit and necessary medicines.
Other lakes Nearby Nako Lake
Nako Lake is surrounded by several other lakes that are worth exploring.  Some of these other lakes nearby Nako Lake that visitors can consider visiting are :-
Dhankar Lake is a glacial lake located around 12 km from Nako Lake.  It is situated at an altitude of 4,270 meters.  While here visitors can visit the famous Dhankar Monastery, which is a popular tourist attraction in the area.
Chander Naun Lake is a high-altitude glacial lake located at an altitude of 4,260 meters in the Spiti Valley. This lake is located at a distance of around 80 km from Nako Lake and is a popular destination for trekkers.
Suraj Tal is a high-altitude lake located at an altitude of 4,890 meters in the Lahaul and Spiti district of Himachal Pradesh. The lake is about 130 km from Nako Lake and is also a popular destination for tourists.