Beas Kund
Beas Kund or Lake, located at a height of 12772 feet is a calm and tranquil lake at the Solang Valley of Manali, District Kullu in Himachal Pradesh. The Beas Kund height is at an elevation of 3810 m (12772 feet ). Sheltered supporting an igloo-like rock formation, Beas is the river originating from this Kund. It's also a sacred spot for the Hindus along with also a popular trekking destination.
Beas Kund is a perfect base camp for climbing nearby peaks Shitidhar, Friendship summit, and Ladakhi summit. About West side of Beas Kund is the glorious summit of Hanuman Tibba in 5990m, which accessibility through a very small pass above this particular lake. The area also offers stunning views of this lofty Pir Panjal range of hills.
The mythology Beas Kund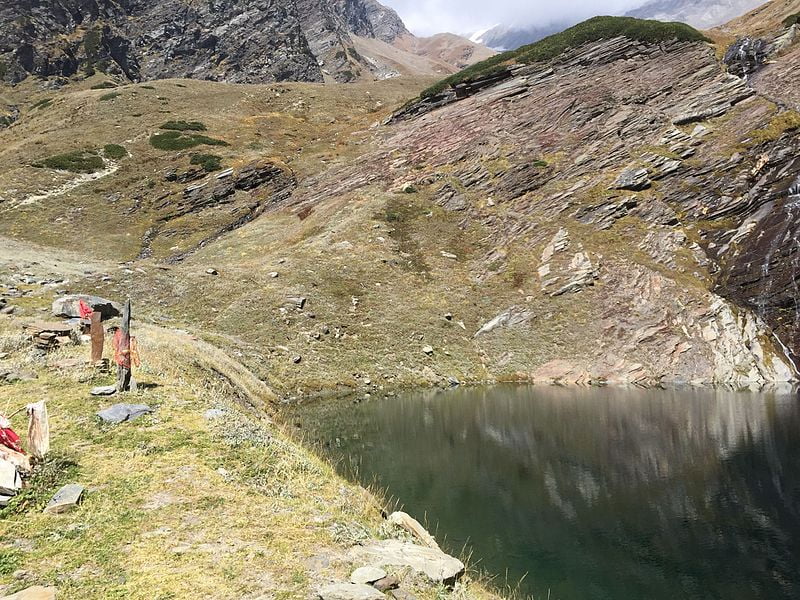 The name of the lake Beas is based on the name of the sage Vyas who's the author of Mahabharata, the fantastic Indian epic. It is believed that he used to take his bath in this lake.
Beas Kund Trek
Beas Kund trek is just one of the hottest and beautiful treks in Kullu Valley. This is a simple trek and doesn't call for any high altitude experience. Beginning from Manali and passing beautiful Solang Valley, through forests of spruce and silver walnut to alpine meadows through Dhundi and Bakarthach where Spartan Gaddis graze their cows, one eventually reaches Beas Kund Lake. The lake is located in a rugged terrain devoid of plant, with crystal clear water of Beas peeking from behind a roundish igloo-like stone.
The waters of the Beas Kund are so cold that it might numb your palms. Down below the Beas river Manali in summer becomes hazardous since the river current is very powerful. The Beas Kund Trek as well as Brighu Lake Trek are summer treks which are ver ideal option for beginners due to its brief duration and effortless difficulty level.
Beas Kund Trek : Itinerary
For the locals the Beas trek is done in a matter of just one day. However to enjoy this beautiful trek you need at least three days from Manali to Manali. The detailed itinerary would be as follows.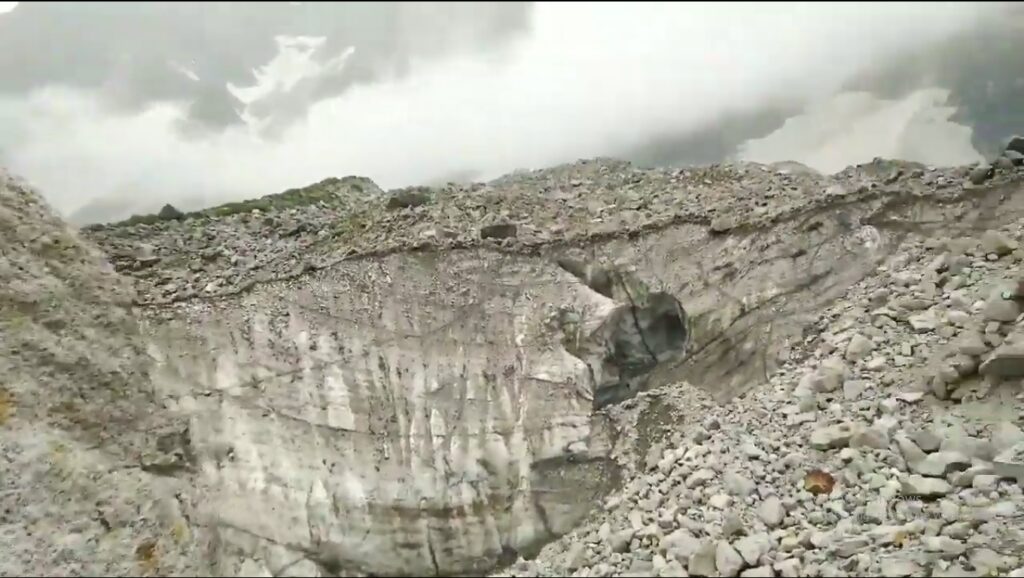 Day 1 : Solang Valley Manali and Dhundi.
The distance between Manali to Solang Valley is just 15 kms and can be reached in 30 minutes in taxi, local bus or own vehicle. Distance from Manali to Beas Kund distance is only 15 to 20 km. Solang valley temperature during summer is very pleasant with day temperatures going upto 25 degrees. During winters, the Solang Valley temperatures plummet to minus 10 degrees. Solang weather during summer remains fantastic with slight chill.
The actual trek starts from Solang Valley from where you trek towards Dhundi. The trail will take you get narrower with pine forest on one side. After trekking for a short distance, you will come across your first adventure of the trek, crossing a stream. You will keep following the scenic trail until you make your way to the campsite Dhundi which is a tiny village located on the bank of the Beas River. Stay overnight at Dhundi.
Day 2: Dhundi to Beas Beas Kund and Back
This Is the toughest and the most crucial part of the Beas Kund trekking since it'll take you near the origin of the river and then back to Dhundi. Just as you reach a bit higher from the beginning stage, amazing views begin emerging. After sometime as you gradually get altitude, the tree line ends, and grasslands carry over.
After walking for another few hours you will eventually reach the lake. Beas Kund is a small alpine lake, where the waters look bright blue. There are many small streams collectively making up the main river. You could also find vibrant purple wildflowers growing on the grasslands across the lake. Night stay at Dhundi in tents.
Day 3: Dhundi to Solang Valley and back to Manali
After having breakfast at the campsite and exploring and some photography one can start making your way back to Solang Valley. Today's hike will be relatively easier as you will mostly be trekking downhill. Soon you will reach Solang Valley. Spend some time here before heading back to your hotel in Manali.
Best Time to Visit Beas Kund
During winters, the Beas Lake remains covered under a thick sheet of snow. It is therefore not advisable to visit Beas during winters. However, during summers ie from May onward (except during rains) till November end, one can easily come to Beas Kund on a trek and camp here on the lush green meadows.
It rains during August and September and therefore advisable to keep off Beas Kund Trek.
How to reach Manali by road
The distance between Manali and Delhi is 550 kms approx with Chandigarh, Mandi, Kullu being the major cities on the way. HRTC and Punjab Roadways run frequent delhi to manali bus services. Manali to chandigarh distance is around 300 kms. Chandigarh to Manali bus service is excellent and is available from Sector 17 Chandigarh. Overnight journey is advisable as you can spend half of the long journey that takes 12 to 15 hours, sleeping in the bus.
How to reach Manali by air
The nearest airport is located at Bhuntar, which is about 55 kms from Manali. Cabs and taxis are easily available from the airport for Manali.
How to reach Manali by train
Chandigarh and Ambala are the nearest cities connected by train. From there one can take bus or taxi to reach Manali.
Distances from Manali to Major Cities and Towns
Manali is easily approachable from Delhi, Chandigarh and other major cities and towns. Himachal Pradesh is connected with excellent road network and Manali being one of the most sought after tourist destination in India, is easily approachable by road and air.
Kullu to Manali distance is only 40 kms. While coming to Manali you first reach Kullu which is also the District HQ. The famous Manikaran town is just 80 km and takes just 2.5 hours. Just before Manikaran is the Kasol town. The distance from Manali to Kasol is just 76 km. Nearest airport to manali is at Bhuntar, Kullu at a distance of 50 kms. The distance from Manali to some of the distances from major cities and nearby towns are as under :-
Chandigarh to Manali distance is 300 kms approx and takes 8 to 9 hours via NH 154.
Delhi to Manali distance is about 550 kms approx and takes 14 to 16 hours via NH 44.
Manali to Shimla distance is 250 kms approx and takes 7 .5 hours via NH 205.
Manali to Dharamshala is about 470 km and takes 10 hours via NH 44 and 503.
Manali to Leh distance 427 km and takes 12 hours appx via manali Leh highway.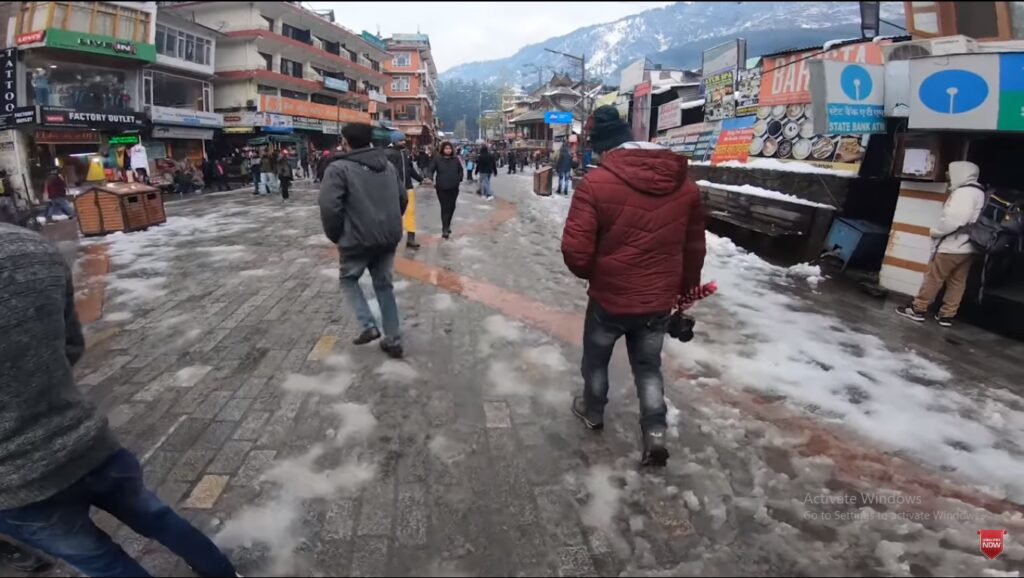 Places to Visit in Manali
While you are here for the Beas Lake trek, you would definitely be interested in places to visit in Manali. Manali is famous for its natural charm and unparalleled beauty. The height of Manali is 2050 mtrs (6726 ft) It is also known for the adventure opportunities as it is the starting point for many trekking destinations. After a tiring day of travel and some rest, the first thing one can walk down the famous Mall road Manali for a stroll or ice cream. There are so many tourist places to see and things to do in manali which are as follows.
Hidimba Devi Temple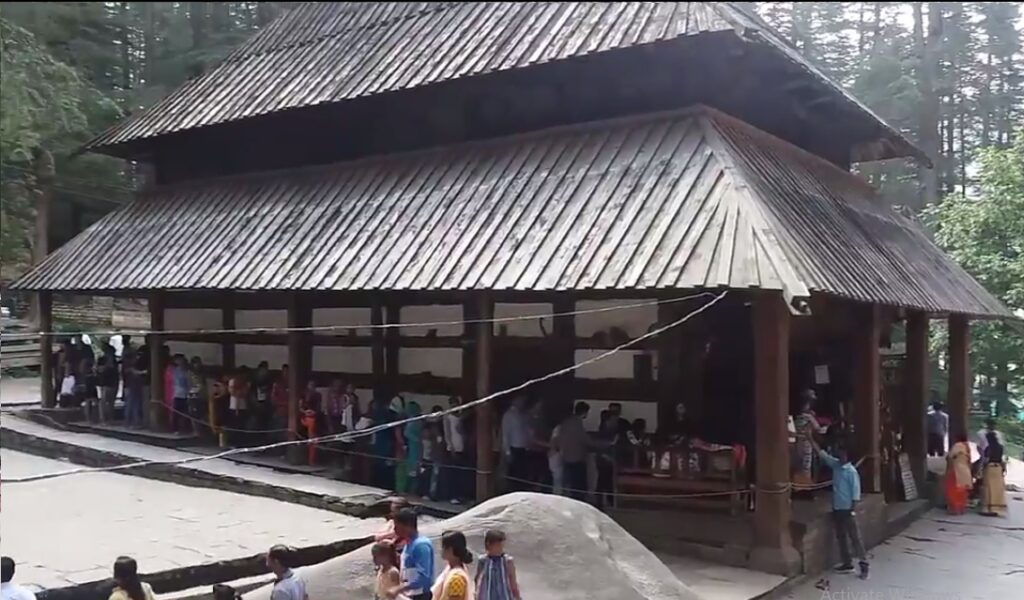 One of the Hottest places in any Manali sightseeing itinerary is the Hidimba Devi temple, devoted to Mata Hidimba, wife of Bhima from the Mahabharata. The temple is assumed to be over 400 years old and has been among the most well-known Manali sightseeing places.
Inspired by beautiful Cedar forests in its foothills, the Hidimba temple was built on a large rock that protrudes from the ground. The design includes beautifully carved wood and stonework, that is reminiscent of the Japanese pagodas.
Solang Valley
Solang Valley is situated at a distance of about 13 kilometers from Manali famous for its breath-taking natural scenery. It is a favorite destination for adventure sport seekers and honeymooners. If you would like to be in the lap of nature, there is no better place than the beautiful Solang. If you want to do paragliding in Manali, this is the place. The altitude here is also perfect for skiing and playing in the snow. In summer, activities such as paragliding, horse riding, and paragliding take over this region. Solang valley is also the start of trekking for Beas Kund. There are a number of solang valley resort for tourists. Newly married on manali honeymoon package mostly come to this place and stay here away from the hustle and bustle of the town.
Solang Valley Weather
Solang valley temperature during summer is 25 degrees in day and sub zero during night. The solang valley weather remains very pleasant during summer.
Jogni Waterfalls
Away from the hustle and bustle of the Manali town is located a beautiful waterfall called the Jogni or Jugni Falls. The falls is just 3 km from the major market at Manali and can be reached directly by car. The route of the trek takes you through orchards, pine forests, and lots of small streams and lasts for about 20 minutes. One can also go to the top of this Jogni Falls and see from there the natural scenery that envelops the whole area.
Old Manali
If you want to see the old-world charm of the place that will transport you into a bygone era of the 60s, then head to Old Manali. This village has got the standard idyllic village vibe with shops and restaurants that have names that sound like they popped out of the Hollywood movie set for its Wild West. A number of those exotically named cafes that are worth looking out for their food really are — Lazy Dog, Red House Café, Bob Dylan's Café, Café m 1947, and Pizza Olive. Incidentally, these are a few of the hottest one of Manali areas to see.
Tibetan Monastery
The Gadhan Thekchholing Gompa, popularly known as the Manali Gompa was constructed with Tibetan refugees from 1960. For people looking for a sense of calmness and solitude, there's not any greater place than that. The Buddhist philosophy of non-violence finds its expression in the design and the paintings which are inside the monastery.
Nehru Kund
Nehru Kund is named because of Pandit Jawahar Lal Nehru, the first Prime Minister of India. He would drink water from this spring during his stay at Manali and today this underground stream of crystal clear cold water attracts a whole great deal of tourists. The origin of water at the Nehru Kund is assumed to the Bhrigu Lake, a lake which is in a height of 4300 meters. Nehru Kund is on the way while going to Solang Nalah on the Manali Leh National Highway.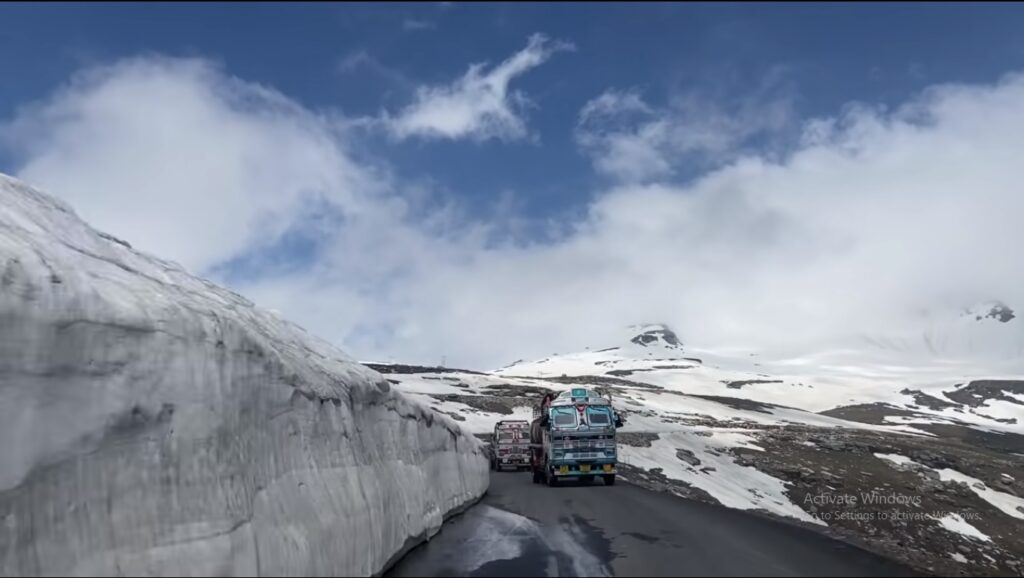 Rohtang Pass
Rohtang, which means mountain of bones, is a gateway to Lahaul and Spiti Valley in Himachal Pradesh. The Rohtang Pass is situated at 3978 mtrs (1350 ft) at a distance of 51 km from Manali. However, a visit to Rohtang Pass needs special permission from the Indian Army since this region of the road is covered in snow throughout the year making travel by road impossible until and unless the area has been cleared by the Indian Army. Thus, the Rohtang Pass is only open from April to October for tourists. With the opening of Manali to Leh tunnel, the rush of people going to Rohtang will be drastically reduced which is better for the climate of the region. Rohtang Tunnel is also now a tourist attraction and gateway to Lahoul Spiti and Ladakh.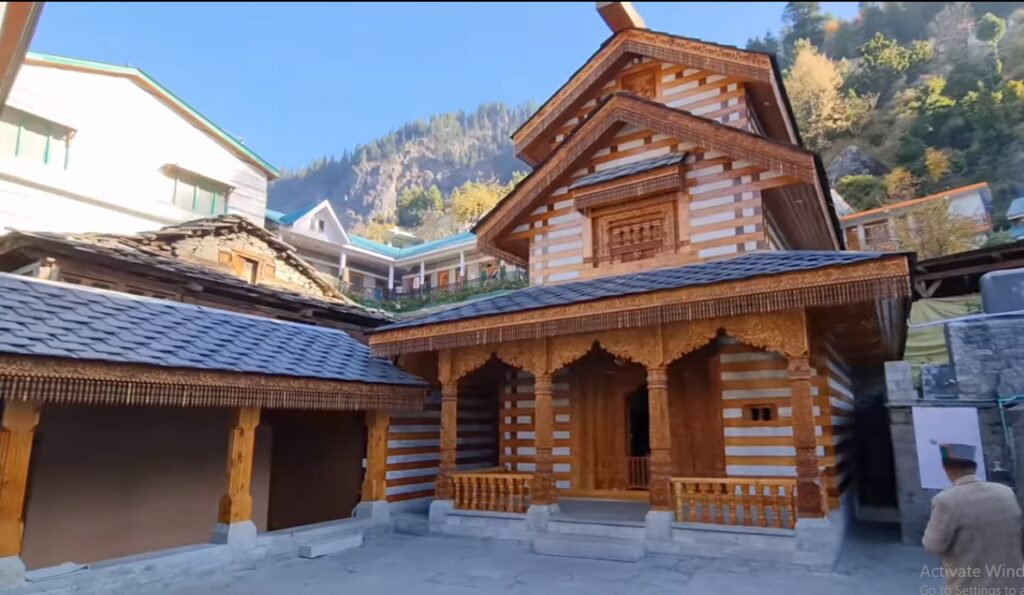 Vashisht temple
Vashisht Baths
Vashisht village is located at a distance of 7 km from Manali town. This village is famous for Vashisht Temple and the Bath located within the temple premises. The hot natural sulfur water from underground springs has medicinal properties. These sulfur water springs can heal many skin diseases as well as joint pains. There were separate bathing pools made by the local authorities for men and women.
Manu Rishi Temple
The ancient Manu temple is devoted to Sage Manu and is located in Old Manali village. The brilliant fashion of Architecture extends a glimpse into history and spirituality combined. The arrangement of the temple is that of a Pagoda. Dedicated to Sage Manu, the name of Manali has also been derived from the name of the Sage.
Best time to visit Manali
Manali is open for tourists throughout the year. The best time to visit Manali is during the summer months starting from May onward till October. Though it is extremely cold in winters, tourists still come here in droves and get to see snowfall in Manali.
Kullu Manali Weather
Manali weather is a subtropical highland climate with warm summers, relatively cold winters, and a high diurnal temperature variation. The Manali temperature ranges from −7 °C (19 °F) to 30 °C (86 °F) over the year with the hottest day crossing 30 °C (86 °F) and the coldest day going below −7 °C (19 °F). The average temperature during the summer months is between 10 °C (50 °F) to 30 °C (86 °F), and between −7 °C (19 °F) to 15 °C (59 °F) during winters. Manali experiences snowfall between the months of December and beginning of March with higher reaches getting snowfall even later than that. Overall the weather in Manali can be enjoyed any time of the year.