When it comes to breathtaking natural beauty, Brighu Lake in Manali is an absolute gem that leaves visitors spellbound. Surrounded by majestic mountains and nestled amidst the lush greenery, this picturesque lake offers an unforgettable experience for those seeking tranquility and a close connection with nature. In this article, we will explore the wonders of Brighu Lake and delve into the captivating features that make it a must-visit destination.
The Magnificent Brighu Lake
Bhrigu Lake is a high-altitude lake situated at an altitude of 4,235 m (1400 ft appx)  above sea level in the Kullu District of HP. Brighu Lake's height is somewhat equal to the height of Rohtang and it is situated to the east of Rohtang Pass. It is said that the name of the lake is derived from the famous saint Bhrigu who is said to have meditated there.  Therefore, Bhrigu Lake is considered to be a sacred place.  
Suggested Reading :
The Ultimate Guide to Choosing the Perfect Pair of Trekking Shoes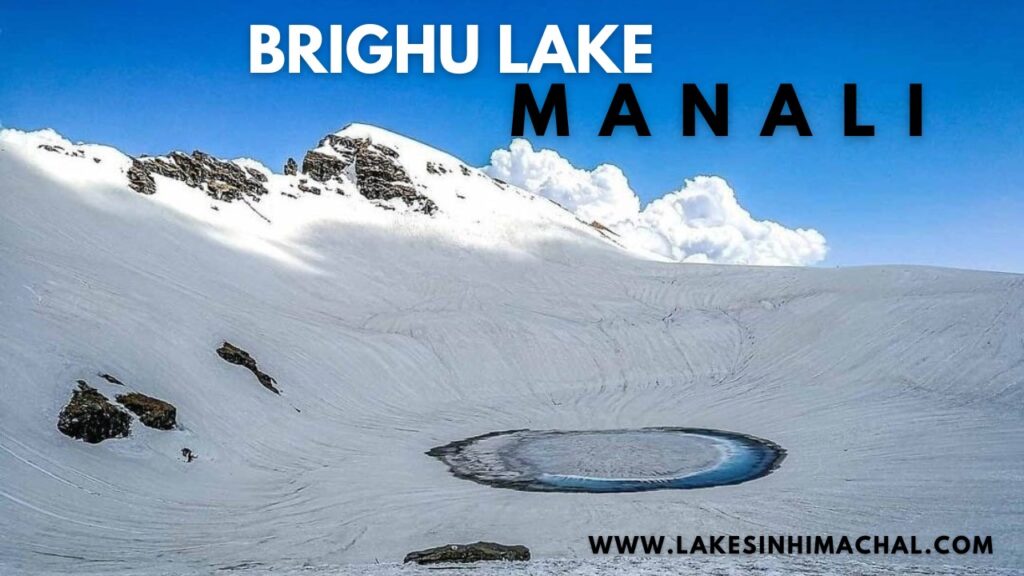 A Nature Lover's Paradise
Brighu Lake is known for its pristine beauty and untouched surroundings. The crystal-clear water of the lake reflects the surrounding snow-capped peaks, creating a mesmerizing spectacle. The tranquility of the lake combined with the serene ambiance makes it an ideal spot for meditation and self-reflection.
Brighu Lake Trek
Bhrigu Lake is also a popular trekking destination for trekking enthusiasts.  For the locals, it is a one-day trek.  Others can do the trek in two or three days enjoying the panoramic beauty all around.  The trek starts from Gulaba, which is an hour's drive from Manali on the Manali-Leh highway.  From Gulaba, Brighu Lake is 6 km easy to moderate trek.  The trail takes you through beautiful meadows, pine and cedar forests, and small streams.   The views all around are simply mesmerizing. There are the snow-clad majestic peaks of Hanuman Tibba, Makarbeh, Shikharbeh, and other mountains. After a gradual and easy climb, we reach the beautiful Brighu Lake, which lies behind a mountain ridge.  The serenity, calmness, and vista around the lake are simply out of this world.  One can pitch his tent near the lake and spend the night.
Suggested Reading :
Choosing the Perfect Tent for Outdoor Adventures
Brighu Lake to Manali via Pandu Ropa
You can return from Brighu Lake passing through Panduropa village and Vashist village.  Passing through a small meadow, we reach the village of Panduropa.  Pandu stands for Pandavas and ropa for rice fields.  Folklore has it that the place was once the rice fields of the Pandavas (from the epic Mahabharatha).  The trail then meanders along meadows and enters thick forests.  After a steep descent, we emerge into apple orchards and finally reach the famous Vashisht village.  After relaxing for a few minutes, you can take a hot sulfur water bath near the Vashist temple.  Thereafter enter the temple and take blessings.  From Vashist take an auto or simply walk to reach Manali.
Bhrighu lake Weather and Best Time to Visit
Brighu lake trek season starts form May onwards.  It lasts from May (except during rains) till November, when one can easily do this popular trek to Brighu Lake and camp there in the nearby lush green meadows. During winter, the lake remains frozen and covered under a thick sheet of snow. It is therefore not advisable to do the Brighu Lake Trek during winter.
It rains during August and September and therefore it is advisable to keep off Brighu Lake Trek during this period as well.
Exploring the Surroundings
Brighu Lake and the Beas Kund lake treks are among the popular treks in Manali. You can stay in Manali and from there do these treks. There are other places of interest for those seeking outdoor adventure and thrills.
Rohtang Pass: Gateway to Adventure
Situated just 14 kilometers away from Brighu Lake, Rohtang Pass is a must-visit destination for adventure seekers. Offering a multitude of activities such as skiing, snowboarding, and paragliding, Rohtang Pass promises an adrenaline-packed experience amidst the breathtaking Himalayan landscape. Rohtang Pass Kullu Valley and the Lahoul Valley and is the gateway to Lahoul.  
Solang Valley: The Adventure Hub
Approximately 20 kilometers from Brighu Lake, Solang Valley is renowned for its adventure sports and picturesque beauty. Visitors can indulge in activities like zorbing, horse riding, and cable car rides while reveling in the stunning views of snow-clad mountains.
Pandu Ropa Trek
Pandu Ropa is a hidden gem and less explored place in Manali.  For those seeking an exhilarating day hike, Pandu Ropa beckons with its unparalleled beauty near the village of Vashisht. The trail unfolds amidst vast meadows, adorned by stunning alpine forests, while the snow-capped Himalayas provide a breathtaking backdrop. Reach the summit, and a mesmerizing 360-degree panorama of the Manali and Kullu Valleys will unfold before your eyes, leaving you awestruck by nature's grandeur.
The trek to Pandu Ropa starts from near the  Vashisht Temple, in Vashisht Village, Manali.  One can reach Vashisht easily by by taxi, autorickshaw, or private vehicle. 
Camping in Pandu Ropa: Unleashing the Wilderness
As you delve into the wonders of Pandu Ropa, a plethora of camping sites dot the landscape, inviting you to experience the unparalleled thrill of spending a night under the starry Himalayan sky. Amidst the great wilderness, let the serenity of the surroundings embrace your senses and create memories that will last a lifetime.  The months of May, June, September, and October are ideal for the Pandu Ropa trek and camping, as they offer favorable weather conditions. However, it is advisable to avoid the monsoon season in July and August.
Manali Town: Hottest Tourist Destination in India
After exploring the natural wonders, one must stay for a day or two in Manali, the hottest tourist destination in India.  The town offers a blend of traditional and modern attractions, including ancient temples, bustling markets, and cozy cafes. Don't miss the chance to savor local delicacies like Himachali cuisine and Tibetan dishes in Manu Market. While in Manali don't forget to visit the 3 temples Hadimba Temple, Manurishi Temple and Vashisht  besides several Monasteries.
Suggested Reading :
How to Reach Brighu Lake
Brighu Lake is located in Manali, District Kullu, Himachal Pradesh.  Manali serves as the base camp for the Brighu Lake.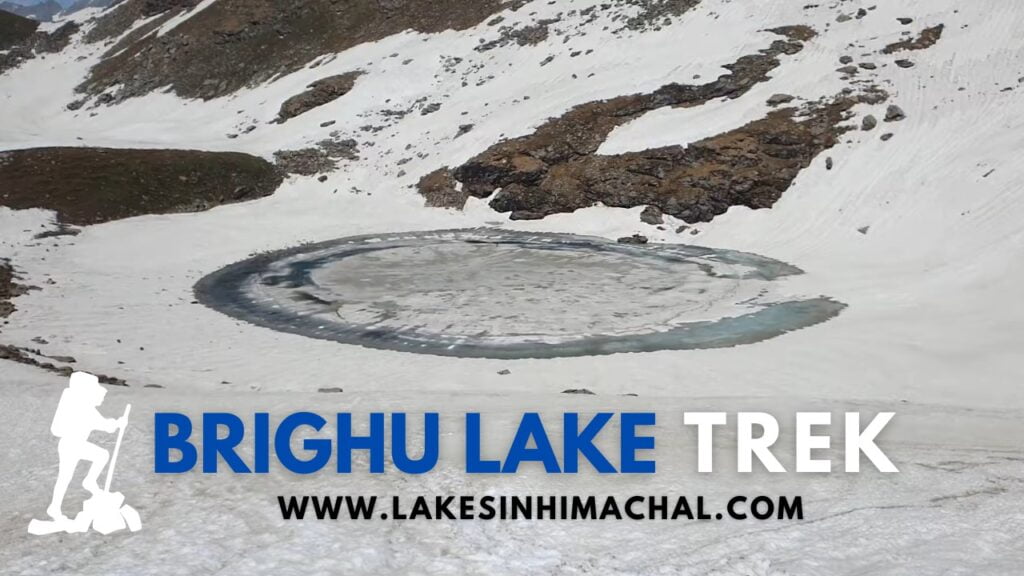 By Air
The nearest airport to Brighu Lake, or for that matter, Manali, is Bhuntar Airport, just 10 km before Kullu, which is well-connected to major cities in India. From the airport, one can hire a taxi or take a bus to reach Manali, which serves as the base point for the trek to Brighu Lake.
By Train
The nearest railway station is Jogindernagar Railway Station. From there, one can hire a taxi or take a bus to reach Manali. However, it is advisable to check the train schedules in advance, as the connectivity to Jogindernagar might be limited.  Chandigarh and Ambala are the nearest major cities connected by train. From there, one can take a bus or taxi to reach Manali.
By Road
Manali is easily accessible by road from various cities in northern India. State-run buses and private taxis are available for transportation to Manali. Manali is 550 km from Delhi, with Chandigarh, Mandi, and Kullu being the major cities on the way. HRTC and private bus operators run frequent bus services from Delhi to Manali.  Delhi to Chandigarh is 300 km away and from there Manali is 300 km away.  Chandigarh to Manali bus service is excellent and is available from Sector 17 Chandigarh. An overnight journey is advisable as you can spend half of the long journey, which takes 12 to 15 hours, sleeping on the bus.
Distances from Manali to Nearby Places and Other Major Towns and Cities
Kullu to Manali distance is only 40 km. While coming to Manali you first reach Kullu which is also the District HQ. The famous Manikaran town is just 80 km and takes just 2.5 hours. Just before Manikaran is Kasol town. The distance from Manali to Kasol is just 76 km. The nearest airport to Manali is at Bhuntar, Kullu at a distance of 50 km. The distance from Manali to some of the distances from major cities and nearby towns is as under:-
Manali to Gulaba distance – 13 km (by road). The trek to Brighu Lake starts from here.
Manali to Bhrigu lake distance – 22 km
Manali to  Kullu Distance – 40 km
Manali to Kasol Distance – 76 km
Manali to Manikaran Distance – 80 km
Chandigarh to Manali – 300 km
Delhi to Manali distance – 550 km approx
Manali to Shimla – 250 km
Manali to Dharamshala – 470 km
Manali to Leh distance – 427 km
To Sum Up
Brighu Lake is truly a true masterpiece of nature in Manali, District Kullu in Himachal Pradesh. Its ethereal beauty and tranquil surroundings make it an ideal destination for nature enthusiasts, adventure seekers, and those seeking solace. Whether you are trekking through the rugged terrains or simply gazing at the serene waters, Brighu Lake in Manali promises an experience that will leave an indelible mark on your soul. So, pack your bags, embark on this extraordinary journey, and let the magic of Brighu Lake unfold before your eyes.
Hiking in Manali A Day Adventurous Trek From Manali to Kala Patthar
AutoRickshaw Ride from Mall Road to Hadimba Temple, Manali in Rs 50/-
Frequently Asked Questions