Brighu Lake 
Bhrigu lake is a high altitude lake situated at an altitude of 4,235 m (1400 ft appx)  above sea level in Kullu District of HP. Brighu Lake height is somewhat equal to the height of Rohtang and it is situated to the East of Rohtang Pass. It is said that the name of the lake  is derived from the famous saint Bhrigu who is said to have meditated here.  Therefore, Bhrigu Lake is considered to be a sacred place.  During local festivals, the local devta (gods) also take a dip in its sacred waters.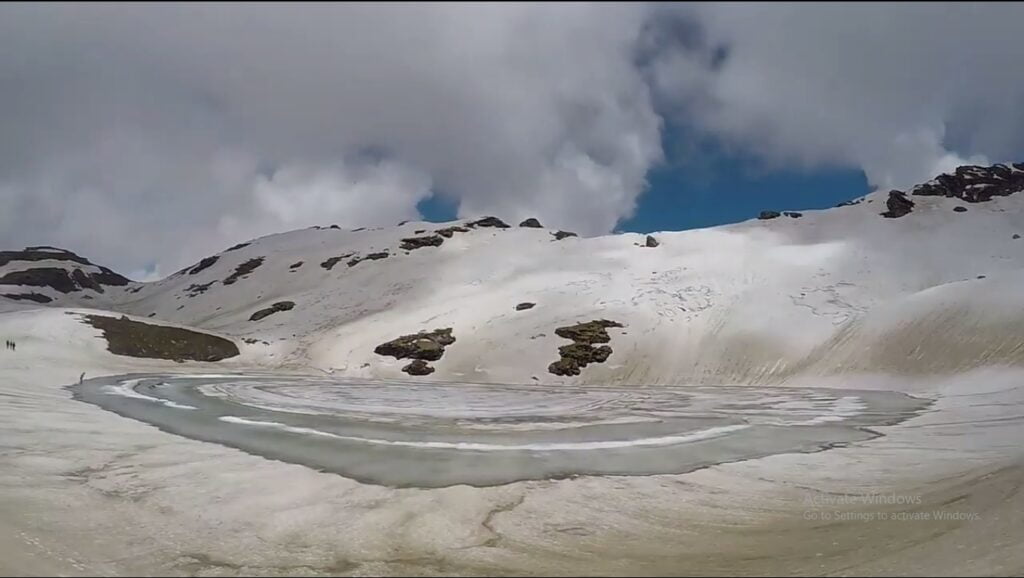 Brighu Lake Trek 
Bhrigu Lake is also a popular trekking destination for trekking enthusiasts.  For the locals it is a one day trek.  Others can do the trek in two or three days enjoying the panoramic beauty all around.  The trek starts from Gulaba, which is an hour's drive from Manali on the Manali-Leh highway.  From Gulaba, Brighu lake is 6 kms easy to moderate trekking.  The trail takes you through beautiful meadows, pine and cedar forests and small streams.   The views all around are simply mesmerising. There is the snow clad majestic peaks of Hanuman Tibba, Makarbeh, Shikharbeh and other mountains. After gradual and easy climb, we reach the beautiful Brighu Lake, which lies behind a mountain ridge.  The serenity, calmness and vista around the lake are simply out of this world.  One can pitch his tent near the lake and spend the night.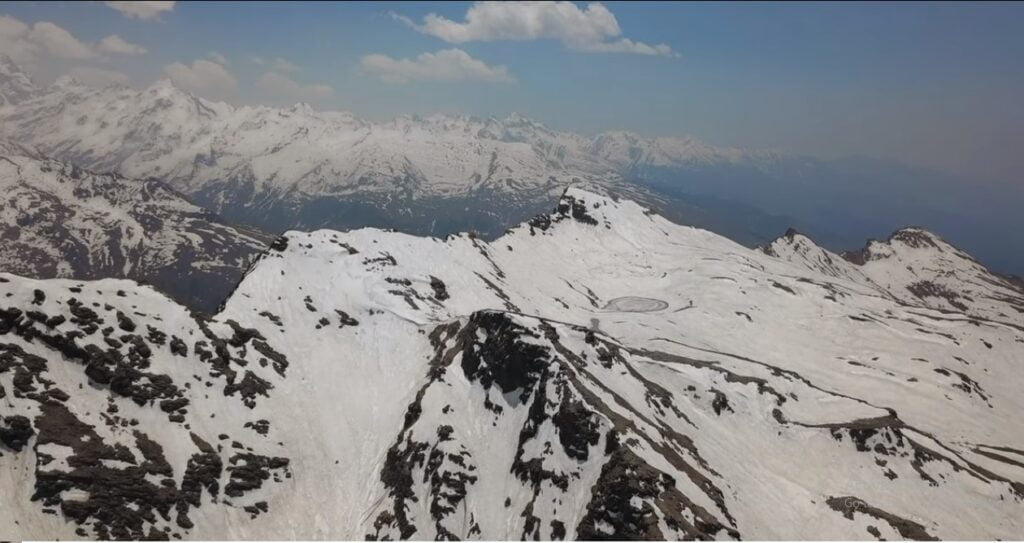 Brighu to Manali
You can return from Brighu lake passing through Panduropa village and Vashist village.  Passing through a small meadow we reach the village of Panduropa.  Pandu stands for Pandavas and ropa for rice fields.  Folklore has it that the place was once the rice fields of the Pandavas (from the epic Mahabharatha).  The trail then meanders along meadows and enters thick forests.  After a steep descent we emerge into apple orchards and finally reach the famous Vashisht village.  After relaxing for a few minutes, you can take a hot sulphur water bath near the Vashist temple.  Thereafter enter the temple and take blessings.  From Vashist take an auto or simply walk to reach Manali.
Best Time to Visit Brighu Lake
During winters, the Brighu Lake remains covered under a thick sheet of snow. It is therefore not advisable to do the Brighu Lake Trek during winters. However, during summers ie from May onward (except during rains) till November end, one can easily do this popular trek to the Brighu Lake and camp there on the nearby lush green meadows.
It rains during August and September and therefore advisable to keep off Brighu Lake Trek. Brighu Lake and the Beas Kund lake treks are among the popular treks in Manali. You can stay in Manali and from there do these treks.
How to reach Manali by road
The distance between Manali and Delhi is 550 kms approx with Chandigarh, Mandi, Kullu being the major cities on the way. HRTC and Punjab Roadways run frequent delhi to manali bus services. Manali to chandigarh distance is around 300 kms. Chandigarh to Manali bus service is excellent and is available from Sector 17 Chandigarh. Overnight journey is advisable as you can spend half of the long journey that takes 12 to 15 hours, sleeping in the bus.
How to reach Manali by air
The nearest airport is located at Bhuntar, which is about 55 kms from Manali. Cabs and taxis are easily available from the airport for Manali.
How to reach Manali by train
Chandigarh and Ambala are the nearest cities connected by train. From there one can take bus or taxi to reach Manali.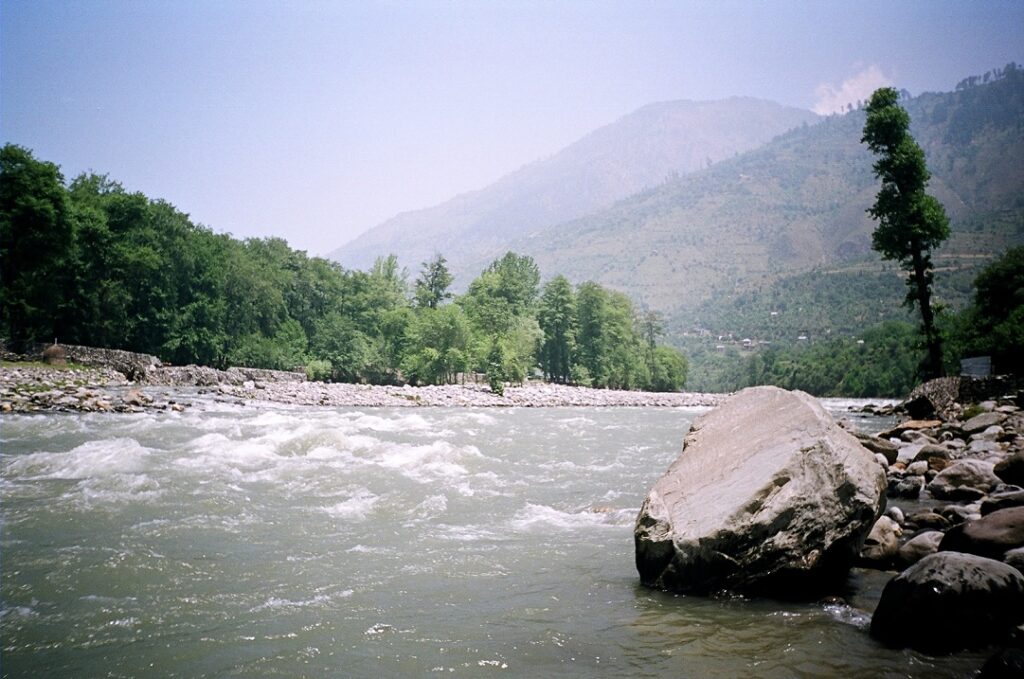 Distances from Manali to Major Cities and Towns
Manali is easily approachable from Delhi, Chandigarh and other major cities and towns. Himachal Pradesh is connected with excellent road network and Manali being one of the most sought after tourist destination in India, is easily approachable by road and air.
Kullu to Manali distance is only 40 kms. While coming to Manali you first reach Kullu which is also the District HQ. The famous Manikaran town is just 80 km and takes just 2.5 hours. Just before Manikaran is the Kasol town. The distance from Manali to Kasol is just 76 km. Nearest airport to manali is at Bhuntar, Kullu at a distance of 50 kms. The distance from Manali to some of the distances from major cities and nearby towns are as under :-
Chandigarh to Manali distance is 300 kms approx and takes 8 to 9 hours via NH 154.
Delhi to Manali distance is about 550 kms approx and takes 14 to 16 hours via NH 44.
Manali to Shimla distance is 250 kms approx and takes 7 .5 hours via NH 205.
Manali to Dharamshala is about 470 km and takes 10 hours via NH 44 and 503.
Manali to Leh distance 427 km and takes 12 hours appx via manali Leh highway.
Hiking in Manali A Day Adventurous Trek From Manali to Kala Patthar
AutoRickshaw Ride from Mall Road to Hadimba Temple, Manali in Rs 50/-