Discover the pristine beauty of Lam Dal Lake in the charming district of Chamba in Himachal Pradesh. This ancient town is known for its temples, forts and breathtaking landscapes, and Lam Dal Lake is one of its hidden treasures. Let us embark on a journey to explore this captivating mountain lake and its fascinating surroundings.
Beauty of Chamba
Chamba, an ancient town in the heart of Himachal Pradesh, is a testimony to the splendor of nature. With its temples, forts and breathtaking landscapes, Chamba captivates the visitors. The town is located on the banks of Ravi river.  This culturally rich town was founded by Raja Sahi Varman in the 9th century.  Nature has blessed Chamba abundantly with mountains, forests, waterfalls and numerous mountain lakes.  Lam Dal Lake  is a testament to Chamba's natural wonders.
Lam Dal Lake: Chamba's Hidden Jewel
Lam Dal Lake is located at an altitude of about 3,960 meters above sea level, just 45 kilometers east of Chamba. Although the road distance may be longer, the lake is easily accessible due to its proximity to the city. With a circumference of about 2.5 kilometers, Lam Dal Lake is the longest and largest lake in the district. Another popular trekking destination, Kareri Lake, is only 3 kilometers away, via Benaili Pass in Kangra District.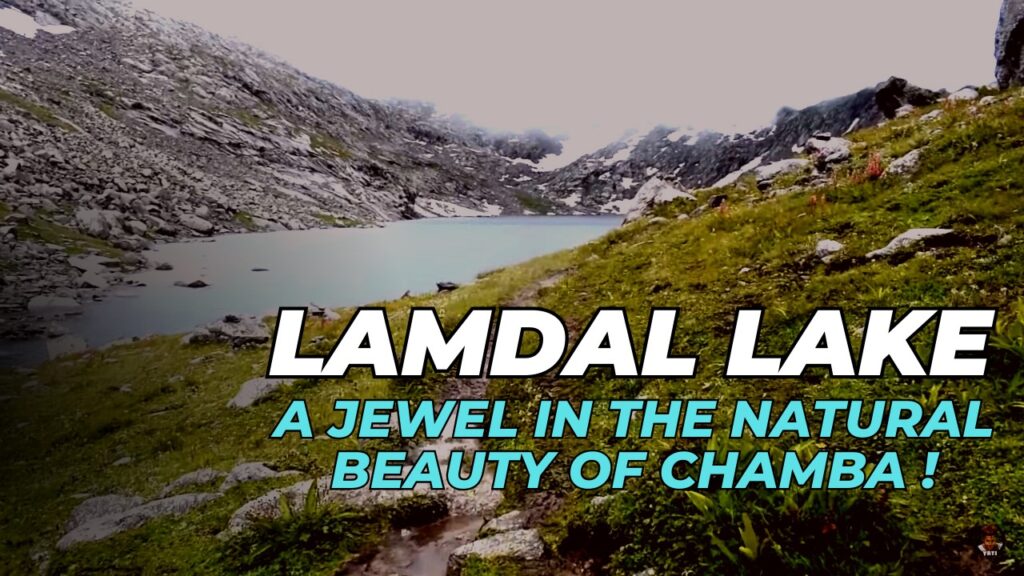 Bharmour: Gateway to Lam Dal Lake and Ancient Temples
Bharmour, known for its Chourashi temple complex with 84 ancient temples and the Bharmani Mata temple, is the closest town to Lam Dal Lake, about 60 kilometers from Chamba. For acclimatization, many experienced trekkers recommend a hike to the Bharmani Mata Temple, which is located on a ridge and offers magnificent views of the surrounding countryside. There are regular bus services between Chamba and Bharmour, and comfortable accommodations are available in Bharmour for a pleasant stay.
Chhatrari: A picturesque Tranquil Village
On the way to Lam Dal Lake is Chhatrari, a charming village 38 kilometers from Bharmour. Chhatrari is located at an altitude of about 6,000 feet and is connected to Bharmour by a passable road. The village is predominantly inhabited by the Gaddis, a semi-pastoral tribe known for raising sheep and goats. Chhatrari is also known for its 680 AD Shakti temple, made of wooden structures and slate roofs. The temple's exterior walls are decorated with bright plant colors depicting various Hindu deities. A stone idol of Gugga, the legendary sculptor of Himachal Pradesh, is also located near the main deity. Hikers can reach Chhatrari directly from Bharmour by car or trek via Gehra. With a Forest Dak Bungalow and a PWD guest house, Chhatrari offers comfortable accommodation options for those who wish to stay here.
Barie and Drakund: Where the wilderness beckons
From Chhatrari, continue your journey to Barie, a small village 12 km away, where the passable road ends and the trek proper begins. There are no accommodation facilities in Barie, so it is recommended to spend the night in tents. For acclimatization, it is also worth visiting Samra if time permits. Continue to Drakund, which is located 10 kilometers from Barie. After passing through the village of Barie, you will meet the Lam Dal Nallah, a pristine stream that will take you through a densely forested area. The trail gradually climbs and leads you to Drakund. Spend a relaxing night at Forest Dak Bungalow or choose your own accommodation.
The Land of Seven Lakes: Exploring the Pristine Wonders
Set out early in the morning for a hike into the Land of the Seven Lakes. Lam Dal, Naag Dal, Kali Kund Dal, Chander Koop Dal, Dham Ghodi Dal, Sukh Dal and Naag Chatri Dal adorn this magnificent landscape. In the immediate vicinity is the Baneli Pass, also known as the Minkiani Pass. Although the distance to be covered is only 12 kilometers, amateur trekkers need about five to six hours for the trek. The journey begins with a gradual climb through a quiet forested area that transitions to steeper terrain and expansive grasslands. As you continue, boulders of varying sizes pave the way. The hike is challenging, but once you reach your destination, you will be rewarded with a sense of accomplishment and can enjoy the breathtaking views.
Lam Dal Lake A Spiritual Retreat
Lam Dal Lake, the largest of the seven lakes, is of great religious significance. On its shore stands a small but beautiful Shiva temple. In August and September, pilgrims flock to this sacred site to bathe in the holy waters and then pray in the temple. Apart from spiritual worship, the area remains secluded from the rest of the world. Occasionally, one encounters shepherds from the Gaddi tribe grazing their goats and sheep here. The crystal clear water of Lam Dal Lake, which springs from the west-flowing Lama Dal River, gives it a tranquil atmosphere. Among the other lakes, Kalikund, which lies 150 to 200 meters below the Lam Dal, enjoys the same reverence among the devotees. Chander Koop Dal, located at an altitude of 4,100 meters, captivates with its fascinating ice formations. Naag Chatri Dal, located on the other side of the Dhauladhar range near Indrahara Pass, has its own religious significance.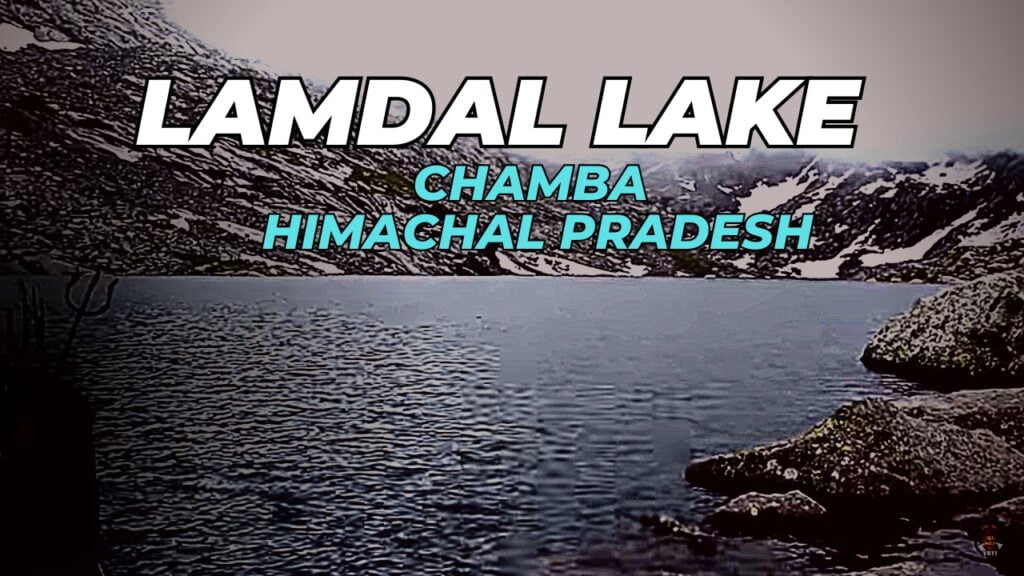 Returning Back from Lam Dal Lake : Options 
After exploring Dal Lake and its neighboring wonders, two options await your return. You can return the same way, via Drakund, Barie and Chamba. Or you can cross the Baleni Pass into Kangra district and walk to McLeodganj via Kareri Lake and Kareri village. From McLeodganj, take a bus back to Chamba to end your unforgettable adventure.
Conclusion
Dal Lake in the heart of Chamba enchants travelers with its serene beauty and spiritual significance. This hidden gem, surrounded by magnificent landscapes and neighboring lakes, offers a journey filled with tranquility and awe-inspiring views. Plan your expedition to Lam Dal Lake and immerse yourself in the untouched natural wonders of Chamba.
Lam Dal Trek Expedition to the paradise of Chamba
Lam Dal Lake can only be reached via a moderate to difficult trek that begins in Chamba and ends in Dharamsala, if you wish. You can also do the trek in the reverse direction, i.e. starting from Dharamsala and ending in Chamba.
Day 1 : Chamba to Chhatrari
First of all, take a cab or any other means of transportation to Chhatrari, a small and beautiful village located 38 km from Chamba. The village is famous for the ancient Shakti temple. Continue towards Dunali village and then proceed to Barie village. Night stay in Barie village.
Day 2 : Barie to Drakund
The day trek starts from Barie village. After crossing Barie village, you will follow the Nallah. The hike will take you up and down a difficult trail until you reach Drakund, the next camp site. The distance from Barie to Drakund is 11 km. Drakund is a beautiful camp site. Overnight stay in Drakund.
Day 3: Drakund – Lam Dal
After breakfast we will hike to Lamdal lake. The distance from Drakund to Lam Dal lake is 13 km. The trail goes uphill through scree and nallahs. After hiking for 5 to 6 hours, we first the land of 7 lakes.  Names of some of these lakes are Nagara Dal lake and Kali Kund Lake.  From Kali Kund lake which is the 6th lake you have to walk bare foot to LamDal Lake which is at a short distance of only 300m  This glacial lake known as Lam Dal is also known as Lama lake. The locals and believers take a dip in this lake whenever they come here, especially on auspicious occasions.
Day 4 : Lam Dal – Chander Koop Lake
After spending a night at Lam Dal Lake, you can visit Chander Koop Lake. The 4100 meter high Chander Koop (Moon Lake) is a beautiful lake with floating ice blocks, which is why it is also known as Iceberg Lake. The distance between Lam Dal and Chander Koop Lake is 12 km, but it only takes 3 to 4 hours or less to cover the distance. You can continue to Kareri Lake, which is 12 km away, or return and stay overnight at Lam Dal after visiting Chander Koop Lake.
Day 4 : Lam Dal – Kareri Lake (12 km hike)
After visiting the two big glacial lakes Lam Dal and Chander Koop, you can visit other small lakes in the area and finally reach Kareri Lake.The distance from Lam Dal Lake to Kareri Lake is only 12 km. From Kareri Lake, you can walk to Kareri village and take a cab to Dharamsala. If you are too tired, you can stay in Kareri village.
Day 5 : Back Home
Back to your next destination or back home.
Suggested Reading