Experience the irresistible appeal of Guru Ghantal Monastery, a stunning Buddhist monastery in the beautiful Lahaul Valley of Himachal Pradesh. With its long history and stunning location, this ancient monastery is a spiritual haven for those seeking peace and a cultural experience. Let us explore this sacred sanctuary and discover its features, myths and nearby attractions.
One of the oldest Monasteries in Himachal Pradesh
Guru Ghantal Monastery, a long-standing legacy of Guru Rinpoche, is located on a quiet hill overlooking the village of Tunde. It is considered one of the oldest monasteries in Himachal Pradesh. According to legend, the monastery was founded by the famous Guru Rinpoche around the time of his death in the 8th century AD. The importance of the monastery was further highlighted in 1857 when historians discovered an ancient copper chalice dating back to the first century. This amazing find testified to the sophisticated technology and spreading Buddhist culture of the time. Guru Ghantal Monastery is surrounded by majestic mountains and sand dunes swaying in the wind. The monastery has an awe-inspiring atmosphere that attracts every visitor.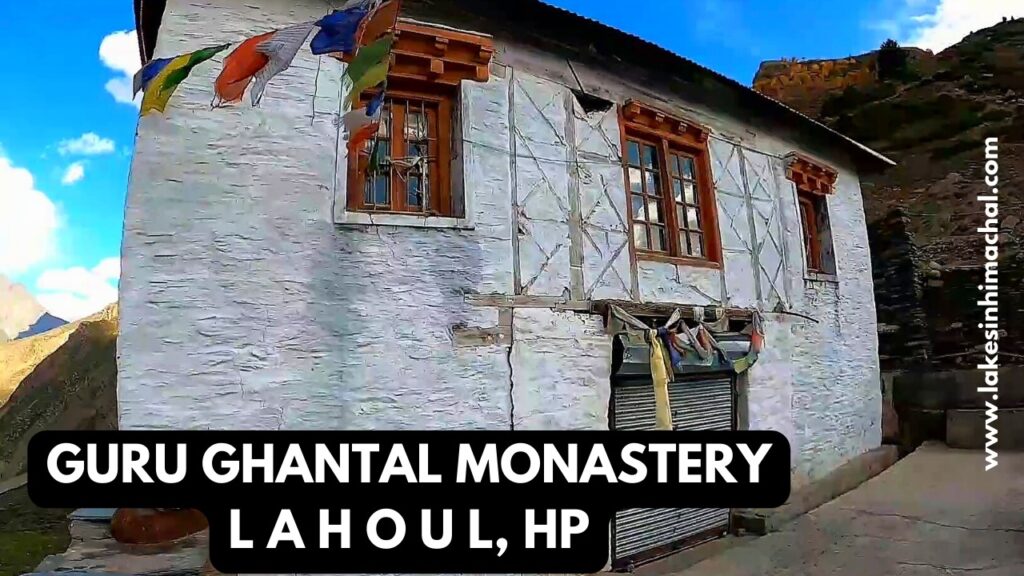 Guru Ghantal Monastery  Idols Made of Wood
Buddhist gompas serve as tranquil places of worship for followers of the Buddhist religion. Guru Ghantal Monastery differs from other gompas, whose idols are usually made of mortar and clay, by its characteristic wooden idols. In the monastery you will find magnificent wooden idols of Guru Padma Sambhava and revered deities such as Brijeshwari Devi. They represent spiritual development and enlightenment and invite people to embark on a journey of transformation within themselves. Gompas, also called stupas or lings, are built in a variety of styles and construction methods, from simple meditation rooms to elaborate structures that express the traditions and customs of each region.
Art, History and Treasures Inside Guru Ghantal Monastery
The Guru Ghantal Monastery was substantially altered in 1959 while retaining its beautiful appearance. The monastery has a collection of valuable artifacts, including clay sculptures as well as numerous statues dedicated to Guru Padma Sambova, Brijeshwari Devi and many other revered lamas. Among the most important items in the shrine are a black stone representation of Goddess Kali, impressive murals, exquisite paintings, and a white marble head of Avalokitesvara erected by the monks who founded the monastery. These artifacts provide a glimpse into the rich cultural heritage and reverence of those who belong to the Buddhist community.
Exploring other Monasteries and nearby Attractions
Sha-shur Gompa
Sha-shur Monastery is a place where you can immerse yourself in the tranquility of the 17th century Sha-shur Gompa and be surrounded by bright blue pine trees. The tranquil monastery provides a peaceful environment for contemplation or reflection.
Kardang Monastery
Explore the splendor of the region's largest Buddhist monastery, located in the village of the same name Kardang village which was once the capital of Lahaul.  From Kardang Monastery one can enjoy the view of snow clad mountain ranges, villages in the far distance and Keylong on the opposite side of the lake.  Also enjoy the breathtaking beauty of the Bhaga River, which flows gracefully nearby.
Tayul Gompa
Visit Tayul Gompa, which houses an exquisite statue of Padma Sambhava and his manifestations Singhmukha and Vajravahi. The monastery's extraordinary library at Kangyur adds to the pleasure.
Gemur Monastery
Ghemur Gompa is located 18 km from Keylong and offers a breathtaking spectacle of devil dance performed by lamas in July. Experience this captivating ritual and take part in the religious practices of the region.
How to reach Guru Ghantal Monastery
Guru Ghantal Monastery is located near Tandi Pull, 9 km from Keylong, the HQ district of Lahoul and Spiti district of Himachal Pradesh. The nearest city is Manali, from where Tandi Pull (bridge) is just 65 km away. Tandi is the place where two rivers, namely Chandra coming from Chandratal Lake and Bhaga coming from Suraj Valley Lake, join to form the great Chandrabagha River. This river becomes the mighty Chenab as it enters Jammu and Kashmir. From the Tandi Bridge, a path leads to a small monastery called Tupchiling Gompa, located a short distance from the Tandi Bridge. From Tupchiling Gompa, a strenuous trek to Guru Ghantal Monastery begins. The distance is about 7 to 8 km and takes about 4 hours.
Conclusion
Be enchanted by the splendor of Guru Ghantal Monastery, an ancient monastery that houses within its walls centuries-old wisdom from the spiritual world and art treasures. From its impressive wooden altars to its breathtaking to its stunning surroundings, this sacred place welcomes guests on a transformational journey to discover themselves. Explore the surrounding sites to further enhance your trip and let the peaceful atmosphere of this beautiful monastery leave a lasting impression upon your spirit. Take a trip into the Lahaul region and take a dive in the rich history of Buddhism which is reflected in the halls of reverence at Guru Ghantal Monastery.
If you like the post please give it a thums up !