Welcome to our comprehensive guide to Chandratal Lake, one of the most enchanting destinations situated in the Lahaul and Spiti district of Himachal Pradesh.  The location, the topography, and the natural beauty of this place will simply blow your mind away.  You would definitely want to spend a day or two here.   In this article, we will delve into the mesmerizing beauty, geographical significance, and unique experiences that Chandratal Lake offers. Discover why Chandratal Lake deserves to be on every traveler's bucket list.
Chandratal Nature's Wonder
Chandertal, chandratal or chander Tal, means "Moon Lake".  It is located at an altitude of 4300 m (14100 ft) above sea level in Lahaul & Spiti Valley, just 6 km west of Kunzum Pass. Chandratal Lake is 2.5 km wide in circumference and takes about 3 hours to cover this distance on foot. One very mysterious thing about this lake is that there is no visible source of water in this lake, however, it is possible that water to this lake comes from underground.  
The Origin of the Name: Chandertal
The name "Chandratal" is derived from the crescent shape of the lake, resembling the moon. The pristine waters of the lake reflect the clear blue sky, creating a surreal and tranquil atmosphere.  In olden times, this used to be a halting place for the night for traders from Tibet, Ladakh and Kullu.  Today, this freshwater lake is very popular with tourists and campers coming to this place from all across the world. This high-altitude glacial lake is a testament to the breathtaking grandeur of the Himalayas.
Chandratal Lake Trek
One of the most thrilling ways to reach Chandratal is through a trek that starts from Batal. The distance from Batal to the lake is about 14 km; whereas from Kunzom the trek is slightly more arduous, covering a distance of 8 km. Remember that the oxygen level at this altitude is very thin. The difficulty level of the trek is moderate to difficult but can be done easily.  You can also reach the lake directly in a hired jeep/taxi. About 2 km after crossing the Batal bridge there is a narrow road that goes to the left which will take you to Chandertal, 14 km from there. The right road goes to Kunzum La Pass and onwards to Kaza.  The construction of the road has made it more accessible for a broader range of travelers. Along the way, trekkers are rewarded with awe-inspiring vistas of the Spiti Valley and the Chandra River.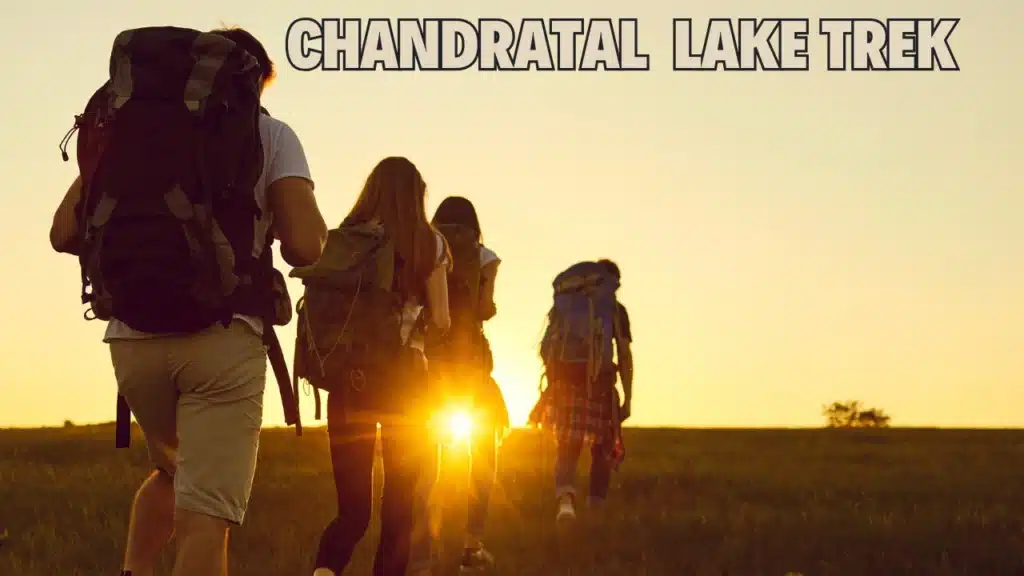 Chandratal Campsite
The vast flowerbed meadows on the banks of the lake are the camping sites.  There are enough places for a campsite.   One can camp either at the far end of the lake or North side of the lake.  Camping by Chandratal Lake is an experience like no other. One side of the lake has high mountain cliffs.  Now you have chosen your campsite and pitched your tent.  Imagine waking up to the melodious chirping of birds, with the crystal-clear waters of the lake just a stone's throw away from your tent. It's a paradise for nature enthusiasts and adventure seekers.  However, one thing to remember is that there are no restrooms or facilities for toilets.  Please remember while attending the call of nature, to go a bit far away from the lake and its water source.  We happened to spend 3 nights by the side of this beautiful moon lake. Before leaving the campsite, we collected our garbage and took it back to Manali for proper disposal. Would request the same from all nature lovers.
Recommended CAMPING TENTS FOR CHANDRATAL CAMPING
Options to Stay
Other than your own camping tents the options to stay are also limited in Chandratal. If you intend to camp here then no worries as the majority of the tourists prefer to stay in camp at Chandratal.  The options to eat are also limited in Chandratal. There are some dhabas at Batal and Kunzum Pass where food is available.  While we were at Chandertal we cooked our own food.
Biodiversity of Chandratal
Keep an eye out for the elusive Himalayan snow leopard, blue sheep, and a myriad of avian species.  However, it is rare to find any of these animals when humans are nearby.
The Chandertal wetland and its surrounding catchment area are situated within the Alpine zone, characterized by its distinctive lack of trees. The Lake is not just a visual delight; it's also a habitat for a variety of wildlife. The area around the lake is rich in alpine flora, adding to its ecological significance. This region is home to a diverse range of wildlife, including the Marmot (Marmota bobak), the elusive snow leopard (Panthera), the Red Fox (Vulpes vulpes), the Wild Chukar (Alectors Chukar), the sturdy Goat (Capara ibex), the Blue Sheep (Pseudois nayaur), the Snow Cock (Tetrogallus spp), the elegant Black Winged Stilt (Himantopus himantopus), the striking Brahminy Duck (Todorna ferruginea), and the majestic Golden Eagle (Aquila chrysaetos).  You may not find these animals in the immediate vicinity of the lake, but in the nearby areas or higher reaches, undisturbed by humans's watchful eyes.
Source: HP Govt
The Mythological Connection
Local folklore weaves tales of Chandratal into the fabric of ancient mythology. It is believed that this lake was created by the gods and is associated with divine blessings. Such stories add a layer of mystique to this already captivating destination.
The Changing Colors
One of the most intriguing aspects of Chandratal Lake is its ever-changing colors. Depending on the time of day and weather conditions, the lake can display hues ranging from emerald green to deep blue, leaving visitors in awe of nature's artistic prowess.  In the morning it can turn into deep aquatic blue while in the evening it turns greenish.  
Chandratal Trek Routes
Chandratal to Sarchu
Chandratal is a popular destination for trekkers and campers.  From Chandertal one can trek to Baralacha la and onward to Suraj Tal and further onward to Ladakh and Zanskar. The Chandra Tal to Bara Lacha trek can be done in 3 days. However, the level of difficulty is hard and therefore not for everyone.  
On the first day, you trek from Chandra Taal to Tokpo Gongma covering a distance of approx 15 km in 8 hours. The second day trek from Tokpo Gongma to Tokpo Yongma takes 6 to 7 hours covering a total distance of 10 to 12 km. The third-day trek is from Tokpo Yongma to Bara Lacha and takes 5 hours. Once, you reach the Manali-Leh highway, you can further trek 5 km and reach Sarchu. After a hot meal, you can decide either to return back to Manali or to further proceed towards Ladakh or Zanskar.
Chandratal Hampta pass
The Hamta Trek which takes you from Manali to Chandratal Lake through Hamta Pass is an odyssey through the Himalayan wonderland, where every step feels like a journey through a living postcard. As you ascend through the rugged Hamta Pass, you'll be greeted by panoramic views of snow-capped peaks, meadows adorned with a riot of wildflowers, and pristine streams trickling down the slopes. The trail weaves its way through the heart of this breathtaking landscape, and as you descend towards Chandratal Lake, the crescent-shaped jewel nestled in the high-altitude desert, you'll feel like you've stepped into a dream. The trek is not just a physical journey; it's a passage into the very soul of the Himalayas, where nature's grandeur and serenity envelop you at every turn, making it an adventure of a lifetime.  Chandratal Hamta Pass or Hamta to Chandratal Lake trek is one of the most popular trekking destinations in Himachal Pradesh.
Chandratal Weather
During winter the weather in Chandertal can be extremely cold. The chandertal temperatures can plummet up to minus 20 degrees and the place is cut off for tourists. Summers can, however, be pleasant with lush green meadows and flowers. This is the right time to come to this beautiful place.
Clothing and Shoes
When preparing for your journey, be sure to pack essential items such as comfortable walking or sports shoes, cozy woolen socks, and warm clothing like sweatshirts, pullovers, and snug hoodies. Opt for comfortable trekking or travel pants, ensuring ease of movement throughout your adventure. Additionally, it's wise to include a heavy woolen wind-proof jacket or parka in your luggage, as unpredictable weather can occur even during the summer months. These items will help keep you comfortable and prepared for any climate conditions you may encounter during your travels
Recommended  BEST TREKKING SHOES FOR CHANDRATAL AND ANY OTHER TREKS IN HIMACHAL PRADESH
Best Time to Visit
The best time to visit Chandratal is during the summer months, from June to September, when the weather is relatively mild, and the road to the lake is accessible, both from Manali and Shimla.  During this time, Chandertal turns into a paradise with lush green meadows, wildflowers growing everywhere, streams, and breathtaking views all around. This is the right to come to this beautiful place.
Respect for Nature
While visiting this pristine ecosystem, it is essential to follow Leave No Trace principles. Chandratal's fragile environment deserves our utmost respect and protection to preserve its natural beauty for generations to come. Do not litter, or throw garbage, especially bio biodegradable like plastic bottles and wrappers, polythene, etc.  Carry bio non – bio-degradable wastes back to cities for proper disposal.  This is a small way to pay back to nature.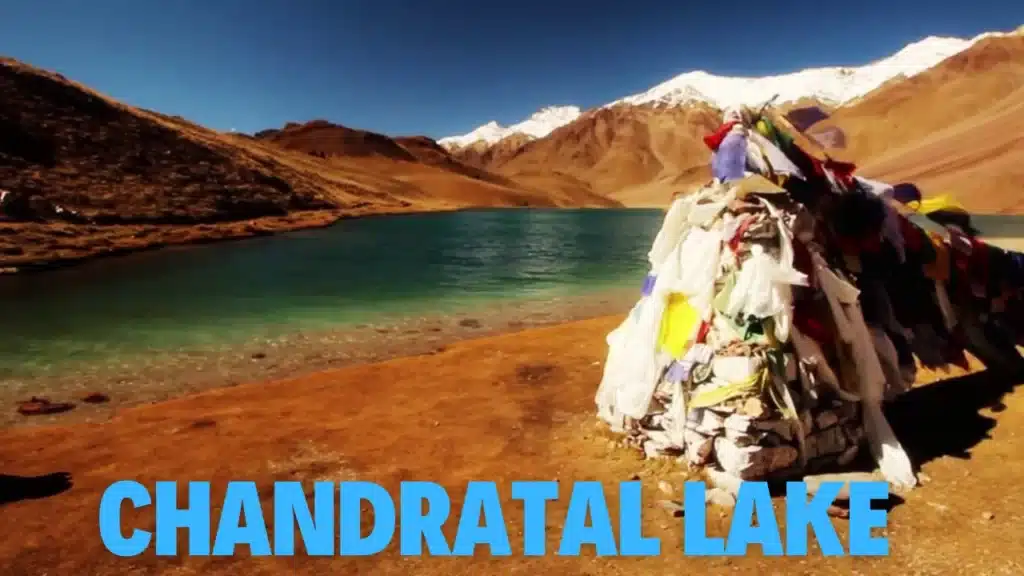 Acclimatization
Due to the high altitude, it's crucial to acclimatize properly before embarking on any trekking or camping adventure in the region. Altitude sickness can be a concern for travelers coming from lower altitudes.
How to reach Chandratal Lake
The Chandra Tal Lake can be reached by road easily.  If you are coming from outside Himachal Pradesh, there are two routes for coming to Chandratal Lake, the Delhi-Manali route or the Simla-Kinnaur-Spiti Valley route.  You can drive in your own vehicle and reach here or hire a taxi from the nearest major towns.
Delhi to Manali route to reach
There are frequent bus services from Delhi to Manali. One can easily reach Manali from Delhi or from Chandigarh. There are innumerable buses run by HRTC, Punjab Roadways, and even Haryana Roadways as well as private buses. Bookings can be done online. After resting a day or two in Manali, one can take an HRTC bus from Manali or a taxi for Chandertal and get down either at Batal or Kunzum Pass. From Batal one can trek up to the lake covering a distance of 14 km; whereas from Kunzom pass the trek is slightly arduous covering a distance of 8 km.  From Delhi, you can reach Chandertal in 2 days but would recommend a halt for a day or two at Manali. If you want to travel by HRTC buses, you can book your tickets in advance from the HRTTC website.  If you are interested to travel by private buses, the best site is Redbus.
Simla-Kinnaur-Spiti Valley route to Chandratal Lake
On this route, one can take a bus from Delhi or Chandigarh, and reach Shimla, the capital of Himachal Pradesh. From Simla/Narkanda there are buses for Reckong Peo, the headquarters of Kinnaur district. From Reckong Peo, you take a bus for Kaza and get down at Kunzum Pass from where Chandratal Lake is about a 9 km trek.  Simla to Chandertal may take more than 3 to 4 days.  If you are coming from Delhi and are on a visit to Spiti Valley and intend to visit Chandertal Lake, I would suggest a return journey via Manali.
Conclusion
Chandratal Lake stands as a testament to the natural wonders that the Himalayas have to offer. Its ethereal beauty, unique geography, and thrilling adventures make it a destination worth exploring. As you plan your journey to this hidden gem, remember to embrace the tranquility, respect the environment, and revel in the awe-inspiring experiences that await you at Chandratal Lake in Lahaul Spiti district of Himachal Pradesh, Bharat. Start your Himalayan adventure today and create memories that will last a lifetime.
Recommended Reading : Temples and Monasteries in Lahaul & Spiti