Himachal Pradesh, often referred to as Devabhoomi (the heavenly abode of the gods), is known for its numerous temples and shrines nestled amidst the majestic mountains. Among these temples, Bijli Mahadev temple stands out as an outstanding spiritual destination. Situated at an altitude of 2,438 meters in the picturesque Kullu Valley in Himachal Pradesh, Bijli Mahadev is not only revered locally but is also of great importance throughout India as a temple to Lord Shiva.
Bijli Mahadev Story
One of the main attractions of Bijli Mahadev temple is the 60-foot tall flagpole, which can be seen from as far away as Kullu. There is a fascinating story surrounding this impressive structure: it is said that the flagpole attracts lightning that shatters the sacred Shivalinga located in the temple. However, the temple priests restore the shivalinga to its original shape after each lightning strike with a mixture of butter, salt, roasted chickpeas and wheat powder. This awe-inspiring phenomenon gave the temple its name – Bijli (lightning) Mahadev (in reference to Lord Shiva).
The Majestic Entrance
Upon entering the Bijli Mahadev Temple, visitors are greeted by two statues of the Nandi bull, Shiva's celestial vehicle, guarding the entrance. The beautifully carved door frames add to the architectural splendor of the temple. Inside, a sacred stone Shiva linga awaits the devotees who offer their prayers and ask for blessings.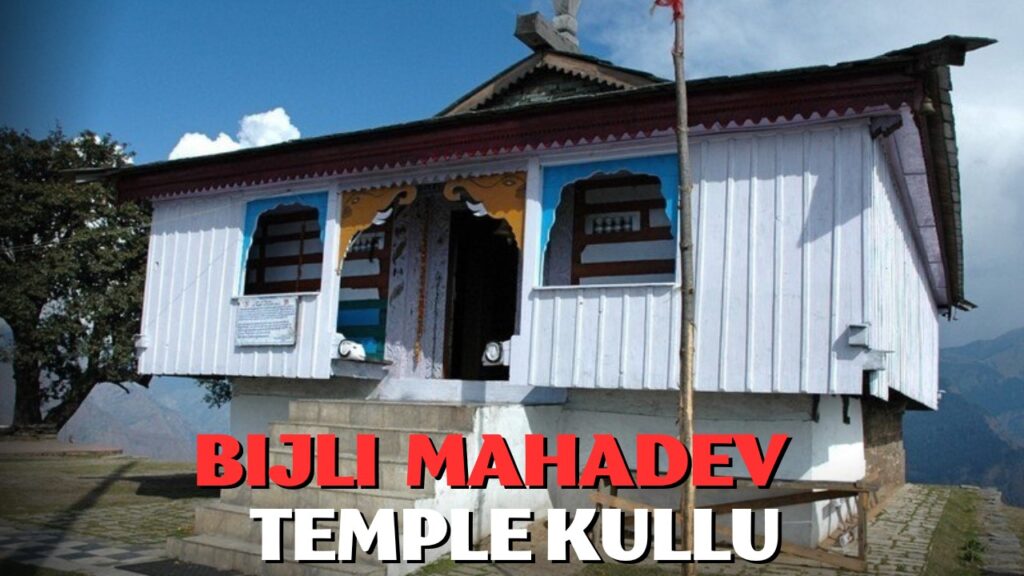 Legend and History of Bijli Mahadev
Apart from the captivating lightning saga, Bijli Mahadev temple is steeped in folklore. One legend tells the story of Rishi Vashishth, who asked Lord Shiva to absorb the tremendous energy of lightning to save the universe from possible destruction. According to popular belief, Lord Shiva heard the sage's request, and this momentous event occurred at the confluence of the Beas and Parvati rivers. Subsequently, a temple was built in this sacred place to commemorate the divine event.
A serene jewel in the midst of nature
Bijli Mahadev Temple is one of the most scenic and popular religious sites in Himachal Pradesh, attracting both locals and tourists from all over the country. Surrounded by vast deodar forests, the temple offers a serene and picturesque setting. If you have a penchant for sightseeing and enjoy visiting temples, Bijli Mahadev should undoubtedly be on your itinerary. Himachal Pradesh is blessed with numerous temples and pilgrimage sites where sightseeing and spiritual exploration blend harmoniously.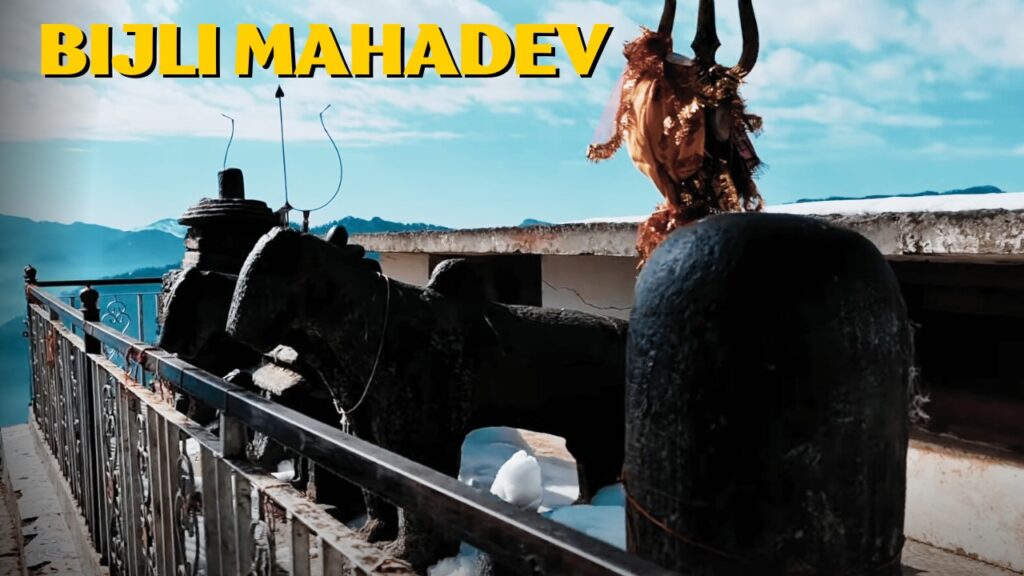 How to Reach Bijli Mahadev Temple
Bijli Mahadev is located about 20 kilometers from Kullu and can be reached via a 3 kilometer walk from Mansari village, which eventually leads to the temple. Once at the top of the hill, visitors are rewarded with a breathtaking panoramic view of the valleys of Kullu, Bhuntar and Parvati.  There are direct bust service from Chandigarh and Delhi for Kullu and Manali. It is always advisable to take the night bus as it is a long travel.  Bookings can be done both from HRTC website and Private Operators.
Other attractions in Kullu
Kullu and Manali are one of the most popular tourist destinations in India.  There are a number of attractions in Kullu besides the Bijli Mahadev temple.  Some of these are as follows.
Raghunathji Temple
This is a must visit place if you happen to be in Kullu.  Built by Raja Jagat Singh, the Raghunathji Temple in Kullu is dedicated to Lord Rama. Legend has it that in the 17th century, Raja Jagat Singh sought redress for his mistakes by sending his courtier to Ayodhya to procure a statue of Lord Rama. Thus was born the Raghunathji temple in Kullu.
Naggar
Naggar is a village and an upcoming town situated midway between Kullu and Manali located on the left bank of Beas.  If you are driving from Kullu to Manali, it is on the right side.  Naggar has great historical significance as it was the former capital of the Kullu region. The highlight of Naggar is Naggar Castle, an impressive wooden structure known for its unique architecture. Today, it serves as a hotel managed by Himachal Pradesh Tourism. Tourists can visit the castle and admire the paintings of Russian artist Nicholas Roerich, which are displayed in the castle's gallery.
Manikaran
Located on the banks of Parvati River, Manikaran is known for its natural hot springs. It is a major pilgrimage site for Sikhs and Hindus.  The famous Manikaran Sahib Gurudwara is located here. Legend has it that Parvati's earrings were snatched by a giant snake during a bath in the river, which led to the creation of the hot springs. The water from these springs is hot enough to cook rice and is believed to have healing properties. Manikaran also has some beautiful temples to offer, including the stone hut-style Raghunath Mandir and the exquisite wooden Naini Devi Temple. As you walk through Manikaran, look out for pots of rice and bags of potatoes being cooked in the chimneys and springs – a unique sight indeed.
Kasol
Kasol is located very near to Manikaran.  The distance from Kasol to Manikaran is only 4 km. This beautiful tourist destination has gained immense popularity due to its serene atmosphere, parvati river and dense forest with mountains all around.  The place is a popular destination for adventure sports activities like trekking, water rafting camping and parties.
Last Word
Immerse yourself in the divine aura of Bijli Mahadev Temple and explore the enchanting wonders that Kullu has to offer. From spiritual sojourns to architectural marvels and breathtaking natural beauty, this region of Himachal Pradesh promises an unforgettable experience for all who venture here.
Other Temples and Religious Places in Kullu