Rani Tal Lake is a hidden gem located in the picturesque town of Nahan in Himachal Pradesh, India. The lake is located in the middle of the town surrounded by lush green trees, shops, and houses all around. In this post, we'll examine the beauty and features of this beautiful man made lake called Rani Tal and provide helpful tips on planning your trip to this beautiful location.
Rani Tal Nahan History
Rani Tal is an artificial lake, which was constructed by the King of Sirmaur Maharaja Shamsher Singh in the 17th century in order to supply water to the town of Nahan. The lake's name is derived from the name "Rani", the queen of the king who used to bath in this lake. The lake is situated at 927m above sea level, and is spread over an area of about 20 acres. The king also constructed a temple and a garden called Rani Bagh.
Significance of Rani Tal Lake
In addition to it's natural beauty Rani Tal Lake also has a cultural significance. It is believed to be a holy place by the locals as there are numerous shrines and temples found nearby. The lake is also linked to many local legends and folklore as well as being considered to be the place where Lord Shiva mediated in ancient times.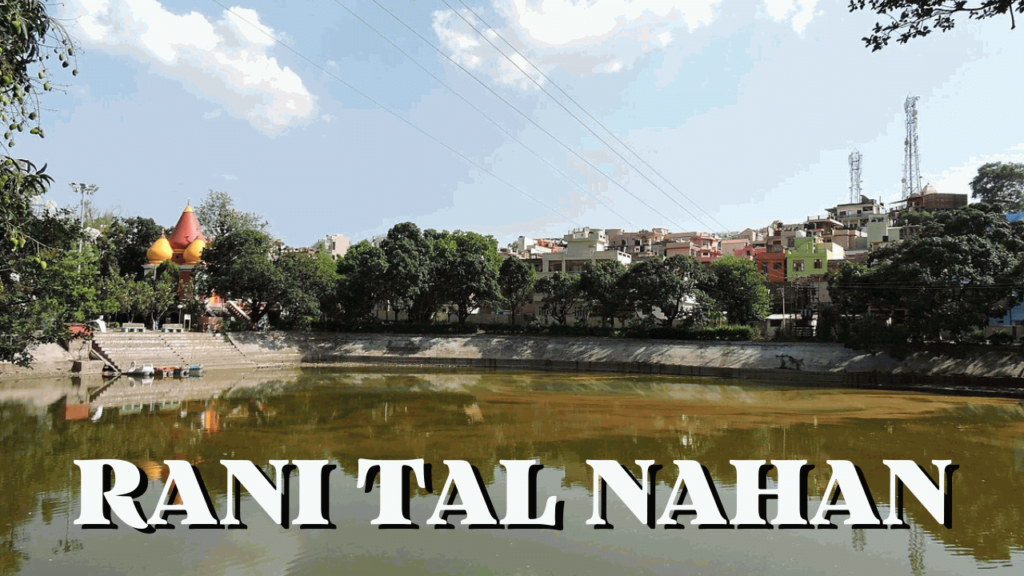 Activities and Attractions at Rani Tal Lake
Rani Tal Lake is a place where you can come to spend some quiet moment after a tiring day in the market. People come here to take a leisurely stroll along the sides of the lake, enjoying the natural beauty and peace of the surrounding area. Boating is also available here and visitors can enjoy paddle boating. As the lake is surrounded by lots of trees, the lake is also visited by cranes and wild ducks.
Best Time to Visit Rani Tal Lake
The ideal time to visit to Rani Tal and for that matter Nahan is from March to June, and from September to November, during which time the weather is pleasant and the surrounding area green. The monsoon season, which runs from July to August, is best to be avoided as the area gets heavy rains during that time.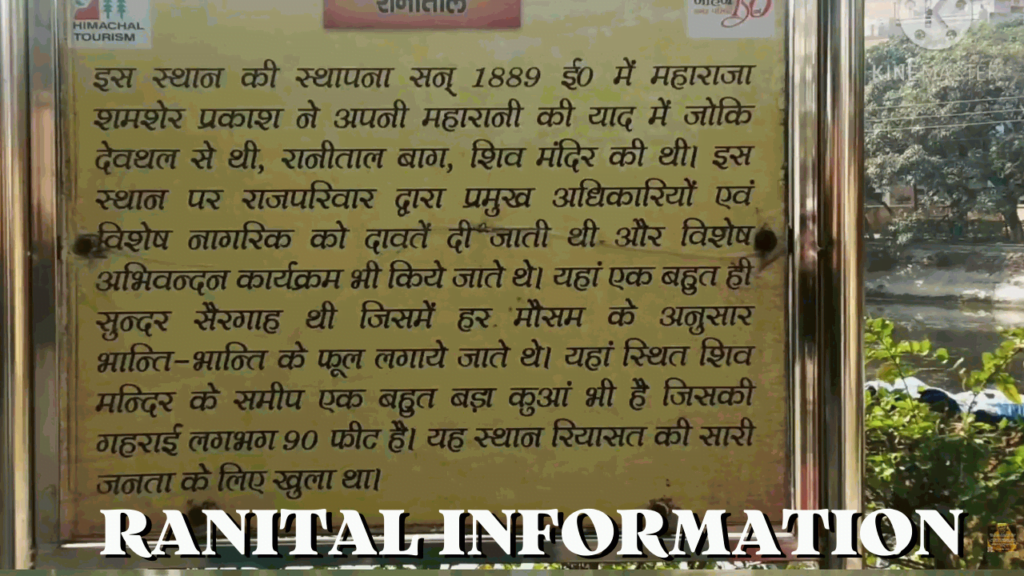 How to Reach Rani Lake in Nahan
Rani Tal Lake is located approximately 10 km far from Nahan town and can easily be reached. The closest airport to Nahan town is at Chandigarh Airport, which is approximately 90 km away. The closest railway station is at Ambala Cantt located around 80 km away. The lake is only 1 km from the Nahan Bus Stand.
Pakka Talab Nahan
Besides Rani Tal, there is another small man-made lake in Nahan called Pakka Talab. This lake is a favorite among the locals who come here to enjoy few moments relaxing on benches or on steps leading to the lake. The lake area has a small garden and the lake is surrounded by houses all around.
Pakka Talab Nahan : Features and Attractions
One main attraction of the lake is the well-maintained park which is an ideal location for picnics and leisurely walks. easy walks. People can also enjoy boating in the lake or just enjoy the serene atmosphere of the lake and surrounding area. Another attraction of Pakka Talab is the beautiful fountain in the middle of the lake. The fountain is illuminated during night and gives a stunning view of the lake.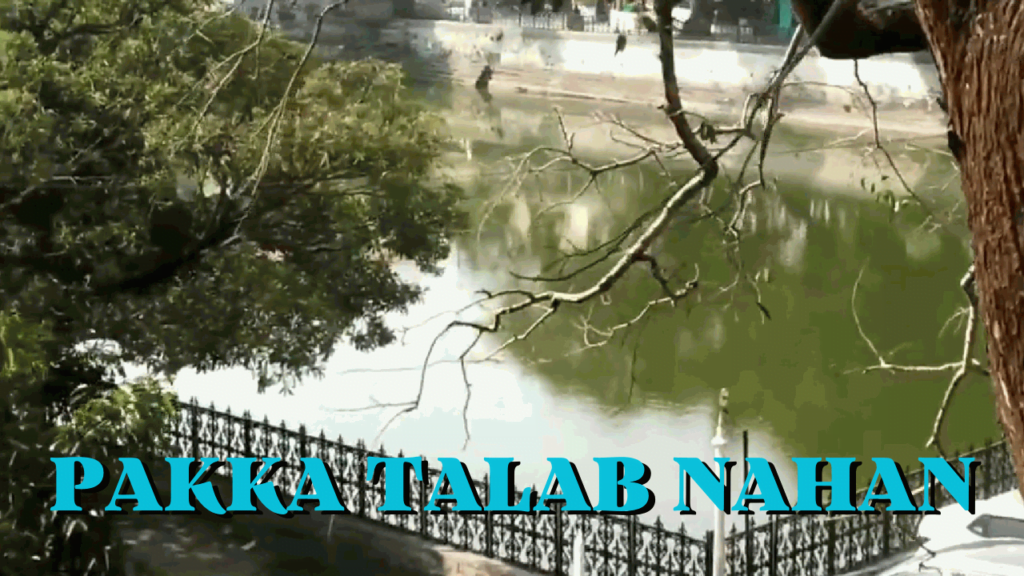 Near the lake there is an ancient Shiva temple and on the left side of the lake is Lakhdata Peer shrine. Pakka Talab area is also the place where two fairs take place, namely Gugga Peer Fair and Baman Dwadshi Fair.
Pakka Talab Locatin
Pakka Talab is located very near to Rani Tal at a walking distance of only 400 meters. Rani tal is about 1 km from the Nahan HRTC Bus Stand.
Other Attraction in Nahan
There are many other attractions besides Rani Tal in Nahan; one such attraction is Suketi Fossil Park, which contains fossils that date back to the prehistoric age. In addition, visitors can visit Renuka Lake, Paonta Sahib and few forts in Nahan and surrounding regions. Nahan also offers ample adventure activities like camping and hiking.
Suketi Fossil Park
Suketi Fossil park has many prehistoric fossils of plants and animals who lived in the region thousands of years ago. The park was created by Geological Survey of India and Himachal Pradesh Government. Visitors can go on an excursion inside the park, and also learn about the fossils and prehistoric period of this region.
Suketi Fossil park also has life-size models of prehistoric creatures made from Fibre Reinforced Plastic (FRP) which are displayed all over the park. The park showcases six sets of life-size models of Stegodonganesa (extinct grand elephant), Sivatherium, Colosschelys Atlas (giant land tortoise and chelonia), Paramachaerdus (Sabre Toothed tiger), Hexaprotodon-Sivalensis (hippopotamus with six incisors) and Crocodilia. The fossils and skeletons discovered by archaeologists have been were carefully preserved to study the diversity of the prehistoric era.
Suketi Fossil Park Location
Suketi Fossil Park is located about 25 km far from Nahan town. The timings for visiting the park is from 930 am to 5:00 pm, with Tuesdays and Public Holidays being closed.
Renuka Wildlife Sanctuary
Renuka Wildlife Sanctuary is a very popular spot for nature enthusiasts and wildlife lovers. The sanctuary houses many species of flora and fauna, which includes many endangered and rare species. Visitors can take part in wildlife safaris, bird watching tours, or nature walks within the sanctuary. Visitors can also visit Renuka Lake, considered the largest lake in Himachal Pradesh, and is also amongst most visited tourist destination near Nahan.
Paonta Sahib
Paonta Sahib is a famous holy site of Sikh pilgrims, situated only 45 km away from Nahan. The town is the home of the historical Gurdwara Paonta Sahib, which was founded in the name of Guru Gobind Singh, who was the 10th Sikh Guru. Visitors can find out about the history and the culture of Sikhism and enjoy the picturesque surrounding area. Paonta Sahib is located on the banks of Yamuna river and visitors can cross over the bridge and go to Dak Pathar town which is located in Uttrakhand and is a great picnic place as well as place to watch migratory birds.
Jaitak Fort Nahan
Jaitak Fort is another historic fort situated near The fort was built by the of rulers of Sirmaur State in the 18th century and overlooks stunning views of surrounding hills and valleys. The visitors can walk up to the fort to and find out more about the culture and history of the fort.
Trilokpur Temple is a popular pilgrimage destination for Hindus and it is located only 23 kilometers away from Nahan. Built by Raja Dip Prakash in 1573 it is dedicated to goddess Mahamaya Bala Sundri.
How to Reach Nahan, Himachal Pradesh
Nahan is popular hill station situated in the southern region of Himachal Pradesh.There are many ways to get to Nahan, Himachal Pradesh. Visitors can select the mode of transport that best suits their budget and preferences. These are the ways how you can reach Nahan :-
By Air
The closest airport to Nahan is Chandigarh International Airport, located about 70 kilometers away. From the airport, travelers can choose to take either a taxi or bus to get to Nahan.
By Train
The closest railway stations are Ambala Cantt Railway Station located at a distance of 60 km and Kalka Railway Station, which is located 85 km from Nahan. From the station, passengers can either hire a taxi or bus to get to Nahan.
By Road
Nahan is well connected to major towns and cities of Himachal Pradesh and neighboring states via an excellent and well-maintained road network. Tourists can travel by bus or taxi from nearby cities like Shimla, Chandigarh and Delhi to get to Nahan. Don't hesitate to travel by HRTC (Himachal Pradesh Transport Corporation) buses while travelling in Himachal Pradesh as they are excellent choice with well maintained fleet of semi deluxe and above buses.
By Self-Drive
Visitors can also get to Nahan by driving their own vehicles. Nahan is situated on National Highway 7, which connects major cities like Delhi, Chandigarh, and Shimla. The roads are well-maintained and provide breathtaking views of the surrounding valleys and hills.
Tips for Visitors
Visitors are advised to carry warm clothing while going to hill stations like Nahan as temperatures can decrease drastically during the night.
Carry insect repellent and sunscreen lotions.
Carry water bottle as mineral water may not be available at all places.
Always be respectful of the religious and cultural beliefs and sentiments of the locals.
Refrain from littering or damaging environment especially hill stations.
What is the history of Rani tal Nahan?
Rani Tal Lake is an artificial lake, which was constructed by the King of Sirmaur in the 17th century in order to supply water to the town of Nahan. The lake's name is derived from it's name "Rani", the queen of the king who used to bath in this lake.
Where is Rani Tal situated?
Rani Tal is situated in Nahan Himachal Pradesh.  There are however lakes by the same name in other places in India.  
Why is Nahan famous?
Nahan is a famous hill station in southern part of Himachal Pradesh. It is known for Suketi Fossil Park, Rani Tal, Jaitak fort and Mata Bala Sundari Temple besides many other attractions.
Is Nahan a hill station?
Yes Nahan is a hill station though not as popular as Manali or Shimla. This quaint little hill station serves as an ideal holiday destination with clean pollution free atmosphere and greenery.  The distance from the nearest city ie Ambala is only 65 km and from Chandigarh it is only 85 km.