The Dal Lake is situated in Srinagar, Jammu and Kashmir.  However there is another lake with a similar title that is located in Himachal Pradesh. This lake is a little mid-altitude lake, situated at an elevation of 1,775 m over sea level, close to the village of Tota Rani, 10 kilometers from Dharamsala in district Kangra, HP.  It's a 2 km walk out of Macleodganj Bazaar. Despite its modest size, Dal Lake Dharamshala boasts a breathtaking panorama of rugged mountains and towering deodar trees, creating a tranquil haven for nature enthusiasts.
Nature's Splendor and Tranquil Moments
Dal Lake captivates visitors with its lush greenery and blooming trees, providing the perfect backdrop for leisurely hours with loved ones. One can immerse oneself in the lap of nature here and witness various fish species in their undisturbed habitat. For those seeking tranquility, watching the fish glide beneath the pristine waters offers a profoundly peaceful experience.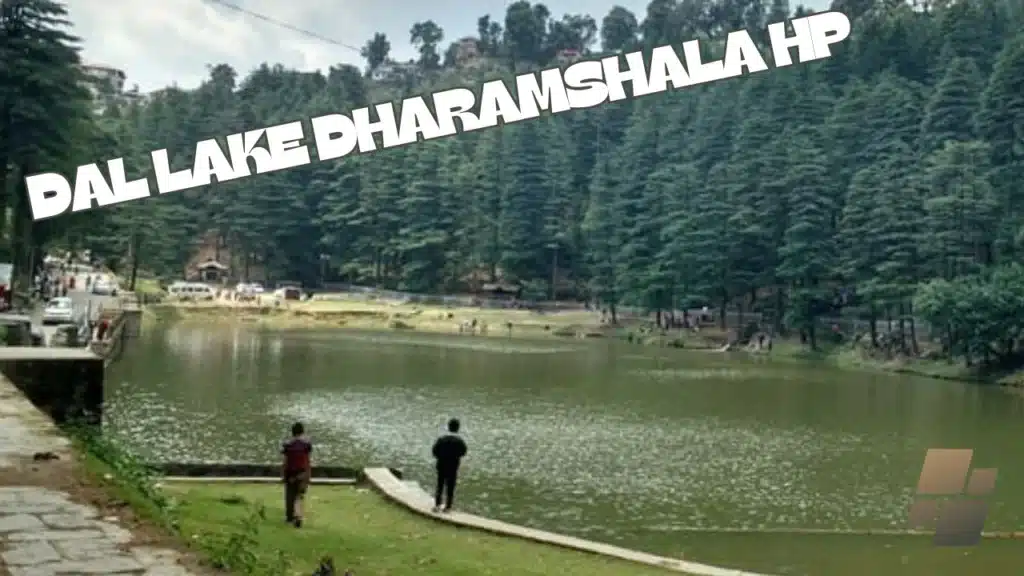 Location
Dal Lake is situated in Mcleodganj, Himachal Pradesh, at an elevation of 1,775 meters near the village of Tota Rani. It is nestled in the Kangra district, drawing its name and charm from the renowned Dal Lake of Srinagar. This small yet captivating lake is cocooned by rugged mountains and a canopy of towering deodar trees, creating a tranquil haven for nature enthusiasts.
Scenic Beauty
The lake boasts breathtaking lush greenery and blooming trees, making it an ideal spot to spend leisurely hours with loved ones while immersing in the lap of nature. The pristine environment invites visitors to observe various fish species in their natural habitat, adding to the lake's allure.
Activities
Visitors can partake in an array of activities, including picnics amidst picturesque surroundings, trekking expeditions around the lake, and capturing the beauty of the hills, forests, and skies through photography. During winter, the lake area transforms into a snow-covered wonderland, offering mesmerizing views of nature's splendor.
For those seeking tranquility, spending a quiet afternoon beside the lake, watching the fish, is one of the most peaceful activities one can engage in.
A small yet beautiful Shiv Mandir (temple) graces the lake's vicinity, and an annual fair is celebrated here. This fair holds great significance, celebrating the presence of Lord Shiva and drawing a large crowd from the Gaddi Tribe.
Boating on Dal Lake during sunset provides a truly enchanting experience, with the hills serving as a dramatic backdrop.
Fishing is another option for those with permission from the authority, adding diversity to the range of activities available.
Sunset Magic and Fishing Delights
Boating on Dal Lake during sunset is an enchanting experience, with the hills providing a dramatic backdrop. Fishing is also an option for those with permission, adding diversity to the range of activities available. Diverse aquatic life calls Dal Lake home, where its waters wear a soothing greenish hue.
Naddi Village Exploration
Just a kilometer from Dal Lake lies Naddi Village, a natural wonder in itself. Known for its stunning beauty and serene ambiance, it offers a 3 km trekking expedition for adventurous souls. Summers bring festivals to the village, allowing visitors to taste various culinary delights and interact with the local community.
Cultural and Spiritual Significance
There is a charming Shiva temple in the lake's vicinity where an annual fair is held in honour of Lord Shiva. This grand fair is held in the month of September.  This vibrant celebration, marking the presence of Lord Shiva, draws a substantial number of Gaddi Tribe members and adds a cultural dimension to the natural beauty. On this occasion, devotees take holy dips in the Dal Lake during this festival. One can enjoy the local mela bazaar and buy souvenirs and enjoy local cuisines. One thing which is a must see is the cultural programme with music and traditional dances.
Legends and Mystique
Dal Lake weaves its own tapestry of legends. The fish in its waters are never caught or eaten, as the lake is believed to be cursed. Yet, paradoxically, it's also considered sacred, with a small temple dedicated to Lord Shiva on its banks.
Best Time To Visit Dal Lake
The best time to visit is between May to October as, during this time, the weather conditions are quite favourable and pleasant. During the winter, the place is filled with snow and it becomes quite difficult to spend peaceful time here. The boating is also closed during the winters. If you can, plan a trip to the Dal Lake in the month of September, you can witness the amazing fair that takes place there.  However, if Dharamshala is on your radar, one can visit anytime of the year.
Dharamshala Weather Conditions
The weather in Dharamshala is pleasant most of the year but as in all hill stations, it is best in summer.  If you happen to be here in the month of September, you can witness a local fair in Dal Lake where a substantial number of people, largely the gaddi tribe arrive at the location and observes the festival in honor of Lord Shiva. There's the belief by locals that a dip inside this lake may cleanse you from all sins. Additionally, it is considered that anyone who is unable to stop by Manimahesh can have a dip and be purified of sins since the very water out of Manimahesh trickles down from beneath this lake.
Recommended Reading : The Holy Manimahesh Lake and Yatra
How To Reach Dal Lake Mcleodganj
The Dal Lake is located in the Kangra district and is just 2 km away from the main market. You can take an auto from the bus stand to reach the lake. For those who are coming from the Naddi Village to see the lake, the Dal Lake is just a km away and can be reached by walking and enjoying the scenic views.
Neglect by the Authorities
Regrettably, over the decades as a result of anthropogenic and silting from the neighboring mountains, the lake has been swallowed off by a massive load of silt. Over 30 percent area of the lake has shrunk and turned into a meadow. Records show that in the past the area of the lake was 12,200 sqm. Unfortunately, as a result of silting, it's been reduced to half. The depth of the lake was about 10 feet, which has also been decreased. Coupled with this, the natural method of purification of this lake also has got upset. The congestion of lake waters has adversely affected the natural cleansing system of this lake.
Conservation Efforts
The Kangra district administration has started a mammoth initiative to conserve the Dal Lake which's a natural water system and is essential for its ecosystem of the surrounding mountains. A huge operation with the assistance of the local people was started for resurrecting the lake. The silt which has been taken was utilized to make a parking lot close to the temple area. The natives volunteered for the task since the lake is sacred to them. But until check dams are built in the surrounding hills to halt the silt from flowing to the lake, the degeneration can't be stopped. The initiative by the Kangra District administration and most of those involved, in the preservation and restoration of this beautiful natural lake, is both laudable and praiseworthy. Wish a comparable initiative is also taken in respect of some other ailing lakes in Himachal Pradesh notably Khajjiar Lake in Chamba.
Places of Interest Nearby
There are many places to visit in Dharamshala.  The distance from Dharamshala to some of the nearby tourist places are as under:-
Baijnath Shiv temple –  54
Bhagsunag falls         –  11
Bir     –  65
Chamunda Temple  –  15
Dharamshala Cricket Stadium  –  3
Dehra Gopipur  –  52
Dharamkot    –  11
Jawalamukhi Temple  –  54
Kareri Lake    –  22
Masroor   –  42
Nurpur   –  66
Palampur  –  45
Trilokpur   –  41
Triund   –  16
How to Reach Dharamshala
Reaching Dharamshala is an adventure in itself. This famous tourist destination which is also the home of HH The Dalai Lama is easily accessible by road and air.
Dharamshala By Road
Dharamshala can be easily reached by well-maintained road networks that wind through stunning vistas. Bus services operate from nearby cities like Pathankot, Delhi, and Chandigarh, offering an exciting journey through the lush terrain of Himachal Pradesh.
By Train : Kangra Valley Railway
This is a less preferred mode of travel.   Nevertheless, the Pathankot Junction, approximately 90 kilometers away, is the nearest major railway station. From there, the Kangra Valley Railway takes visitors on a memorable journey, giving them glimpses of the region's natural splendor in Kangra valley. For detailed timetable please visit Indian Railways.
By Air : Kangra Airport
Dharamshala airport or the Kangra airport is located at Gaggal which is just 8 km from Kangra and 15 km from Dharamshala. Dharamshala is easily reachable from all the significant cities in India. Air India and SpiceJet have many flights connecting Dharamshala with other cities such as Delhi, Mumbai, Chandigarh, Kolkata, Bangalore, Chennai, etc. If you are coming to Dharamshala from outside India, you need to catch a flight to one of those cities and board a connecting flight to Dharamshala.
Epilogue
Dal Lake emerges as a must-visit destination in Dharamshala, particularly from May to October, with September being an exceptional month for reveling in the local festivities.  The article also underscores the broader significance of water and lake conservation, advocating responsible tourism and environmental stewardship. Accessing Dal Lake is convenient, and nearby attractions include the charming Naddi Village and the captivating Strawberry Hills. For travelers planning their visit,  the article also provides valuable information on the best times to visit Dharamshala and the distances from nearby cities to this enchanting region.
Most frequent questions and answers
We can preserve Dal Lake by reducing pollution, controlling waste, and promoting responsible tourism.
Environmental concerns include pollution, encroachment, and declining water quality.
Yes, Dal Lake is a designated protected wetland.
Lake conservation is vital to maintain biodiversity, water sources, and ecological balance.
जल संरक्षण को बढ़ावा देने के लिए सभी को जागरूक करें। लोगों को इस खूबसूरत झील के जीर्णोद्धार और संरक्षण के लिए हिमाचल प्रदेश सरकार पर दबाव बनाना होगा।