Key Monastery is a spectacular Buddhist Jewel in the Spiti Valley of Himachal Pradesh.  This monastery is also spelled as Kye Gompa or Ki and Kee Monastery, located in the fascinating Spiti Valley in Himachal Pradesh, India. This Buddhist monastery is perched on a picturesque hill at an altitude of 4,166 meters, offering visitors a unique and enriching experience.
A Glimpse into History: The Origins of Key Monastery
With a history dating back to 1100 CE, Key Monastery is an ancient treasure. Founded by Dromtoen, a disciple of the famous teacher Atisha, the monastery has stood the test of time and survived numerous challenges. It serves as a religious training center for about 250-300 lamas, who are spiritual leaders of Tibetan Buddhism. The monastery belongs to the Gelug sect and represents a rich and vibrant cultural heritage.
Architectural Wonder: Awe-inspiring Design and Art
As you approach Key Monastery, you'll be mesmerized by its stunning architecture. The walls of the monastery are adorned with captivating murals and paintings depicting 14th century monastic architecture influenced by Chinese culture. Inside you'll find a fascinating collection of rare manuscripts, unique wind instruments, Buddha idols and weapons that were used to protect the monastery from invaders. Each prayer room of the monastery has its own distinctive design, and the labyrinthine corridors enhance the sense of mystery and wonder.
Majestic Landscapes and Beauty
Key Monastery is set amidst the majestic snow-capped Himalayan mountains, surrounded by glaciers and charming villages. The tranquil location offers a peaceful and meditative atmosphere that attracts devotees and tourists from all over the world. The long winding roads and scenic views are an unforgettable experience that will immerse you in the beauty of nature and spirituality.
Cultural Celebrations at Key Monastery
One of the highlights of a visit to Key Monastery is attending the lively Cham Festival, which takes place every June or July. During this festival, Cham dancers perform traditional masked dances, and lamas take part in a grand procession dressed in colorful robes. The festival offers a captivating glimpse into the rich cultural traditions and rituals of the monastery.
Exploring Key Monastery: Tips and Recommendations
To reach Key Monastery, it's recommended to take a bus or hire a private cab from Manali to Kaza, as driving in mountainous terrain can be challenging.
Make sure you have enough cash with you as there are few ATMs in Kaza.
If you plan to stay overnight at the monastery, make arrangements in advance and be sure to try the refreshing herbal butter tea, a specialty of the region.
Pack warm clothes and sturdy shoes to brave the chilly weather, and be prepared for the steep climb up to the monastery.
Places of Interest near Key Monastery
While visiting Key Monastery, be sure to also explore nearby attractions that will enhance your experience in the Spiti Valley. The village of Kibber, known as the highest passable village, offers a glimpse into the local way of life and is home to the Kibber Monastery and the Kibber Wildlife Sanctuary. The Spiti Valley itself, often referred to as "Little Tibet," is a trekker's and adventurer's paradise with its unexplored routes, breathtaking landscapes and hospitable locals. Don't miss the opportunity to visit Kunzum Pass, one of the highest mountain passes passable, and the enchanting Chandra Valley Lake with its pristine beauty.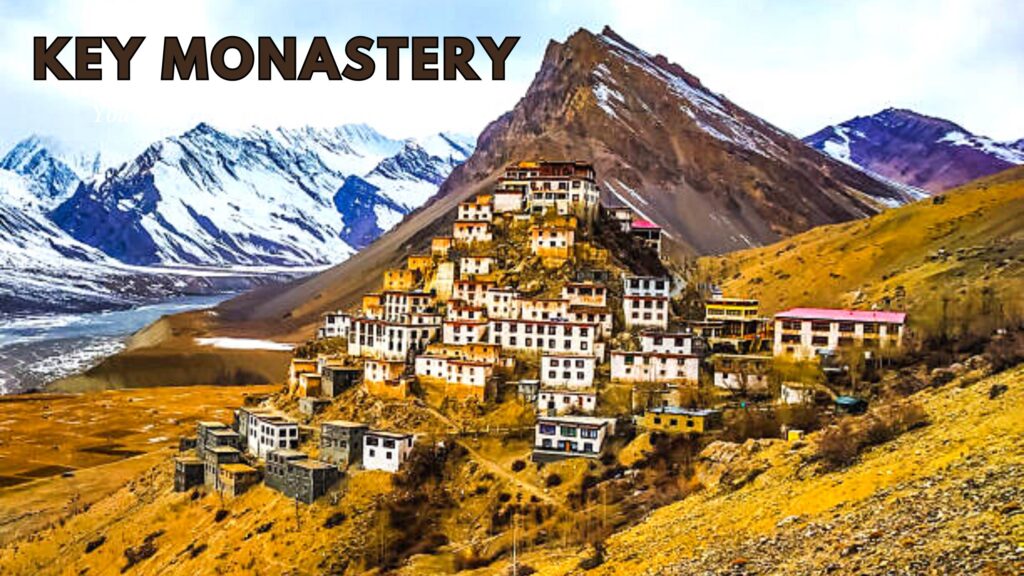 Reaching Key Monastery
The journey to Key Monastery is an adventure in itself, as this enchanting destination can only be reached by land. Let's explore the different routes that will take you to this sacred Buddhist gem in the Spiti Valley.
Shimla-Kaza Route: The Scenic Passage
If you prefer a scenic drive, the Shimla-Kaza route is for you. Begin your expedition in Shimla and be prepared for a two-day journey with an overnight stay in the charming town of Reckong Peo. On the way to Kaza, the gateway to Key Monastery, you'll be rewarded with breathtaking views and impressive landscapes.
Manali-Kaza Route: Adventure Awaits You
For those looking for an adventurous road trip, the Manali-Kaza route is the ideal choice. Start your journey in Manali early in the morning, and by evening you'll be in Kaza, ready for the next leg of your expedition. This route offers an adrenaline-pumping experience, with winding roads and scenic views that will leave you spellbound.
By bus: a journey through the countryside
To experience the fascinating landscape on the way to Key Monastery, take one of the daily busses from Shimla or Manali to Kaza. The bus journey from Shimla takes two days, with an overnight stay in the charming town of Reckong Peo, so you can enjoy the journey at your leisure. Alternatively, the bus departs from Manali early in the morning so that you reach Kaza in the evening, ready to immerse yourself in the spiritual realm of Key Monastery. Detailed schedules and information can be found on the HRTC website.
By Air: With Wings to the Mountains
If you prefer a faster mode of transportation, you can fly to either Shimla or Bhuntar (near Manali), the closest airports to Key Monastery. Keep in mind that flight options to these airports are limited, so plan your itinerary accordingly. Upon arrival, you can conveniently hire a private cab or board a bus to continue your journey amidst the breathtaking Himalayan scenery.
By Train: A Scenic Rail Odyssey
Although there are no direct train services to Kaza, you can reach the nearest train stations in either Kalka or Chandigarh. Although rail travel offers a scenic odyssey, it is not the most common choice among travelers exploring Himachal Pradesh. Busses or private vehicles offer a more comfortable and flexible way to traverse the mountainous terrain.
Reaching Key monastery from Kaza: The final leg
Once you arrive in Kaza, the final leg of your journey to Key Monastery awaits. Embark on a quiet drive along the Manali-Kaza Highway, overlooking the picturesque village of Kibber. Follow the road and soon you will bask in the serenity of Key Monastery, where tranquility and spiritual enlightenment combine.
Conclusion: A Spiritual and Scenic Journey
Key Monastery, with its rich history, stunning architecture and tranquil location, offers a spiritual retreat for those seeking tranquility and cultural exploration. Immerse yourself in the unique blend of Tibetan Buddhism and Indian Himalayan culture as you discover the monastery's treasures. The captivating scenery of the Spiti Valley and the enchanting attractions in the surrounding area will make your trip even more interesting. Whether you are drawn to the monastery's ancient relics, fascinated by its artistic masterpieces, or seek solace in the surrounding natural beauty, a visit to Key Monastery promises to be an unforgettable and enriching experience that will linger in your heart and mind.