Gurudwara Paonta Sahib in the town of Paonta Sahib, Himachal Pradesh, is a revered Sikh shrine of great spiritual, historical, and cultural significance. It is closely associated with Guru Gobind Singh Ji, the tenth Sikh Guru, and is a popular destination for tourists and pilgrims alike.
Historical significance
Gurudwara Paonta Sahib is an example of the significant influence of Guru Gobind Singh Ji on Sikhism. It is believed that the Guru lived at Paonta Sahib for a few years of his time and the Gurudwara was built to honour his teachings and presence. The walls of the Gurudwara continue to tell the myths and stories about Guru Gobind Singh Ji. and encourage devotees to devote themselves to their spirituality.
Architecture and Design
The design of the Gurudwara Paonta Sahib beautifully combines traditional Sikh style with modern elements. The gateway leading to the Gurudwara, called the "Deori," features intricate wood carvings depicting Sikh theology and history. Inside the main prayer hall, also known as the "Darbar Sahib"," there are beautiful frescoes and paintings depicting some of the events in which Guru Gobind Singh was involved. The main element of the hall is the "Takht"," a raised platform where Guru Gobind Singh Ji Guru could sit and speak to his followers.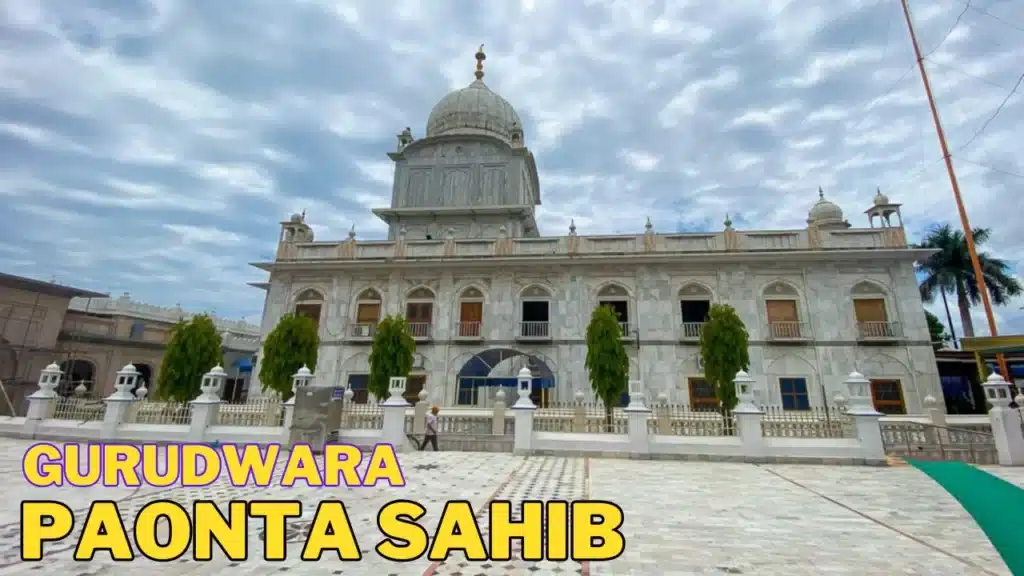 Spiritual and Cultural Significance
The Gurudwara Paonta Sahib serves as a spiritual centre and is a place where people from all walks of life are welcome. Daily prayers and rituals take place at the Gurudwara, and it provides a quiet space for contemplation and meditation. The peaceful recitation of Gurbani, the sacred hymns that are part of the Guru Granth Sahib, fills the air and creates a sense of spiritual harmony. In addition, the Gurudwara is celebrated with great fervor on important Sikh holidays such as Vaisakhi and Gurpurab, attracting many devotees.
The Langar Tradition
The place of worship is Gurudwara Paonta Sahib, the Sikh tradition of Langar is faithfully followed. Langar is the name given to the community kitchen where everyone, regardless of caste, religious belief or social status, receives a free meal. Volunteers cook and serve vegetarian meals to a variety of guests each day. Eating at the Langar is not just about satisfying hunger, but also about fostering an understanding of humility, equality, and a sense of harmony in the community.
Rooms in Paonta Sahib Gurudwara
Most of the gurudwaras normally have a facility for staying on their premises.  However, there is no information regarding rooms in Paonta Sahib Gurudwara available for stay. 
Visitor experience
Gurudwara Paonta Sahib is a warm welcome to visitors of all religions. The tranquil atmosphere, uplifting music, and fragrance of incense make for an engaging experience. The Gurudwara offers a range of services, including accommodations for visitors, libraries, and a museum focused on Sikh culture and history. Many visitors experience a sense of spiritual awakening and a new connection to their souls after traveling to this sacred site.
Nearby attractions
Paonta Sahib is famous not only for its Gurudwara but also for its natural beauty and historical sites. Visitors can also explore the nearby Yamuna River, which flows quietly through the city and offers tranquil spots for picnics or meditation. The Kavi Darbar, a historic site where Guru Gobind Singh Ji held poetry symposiums, is worth a trip. The adventurous can hike in the nearby hills and enjoy the beautiful scenery.
How to Reach Gurudwara Paonta Sahib
Gurudwara Paonta Sahib is easily accessible by road, rail, and air.
By Road
Paonta Sahib is well-connected by road to major cities and towns in the region. The best way to travel within Himachal Pradesh is by HRTC buses, which offer excellent service. Some of the approximate distances from nearby cities are:
Nahan: 125 km
Dehradun: 98 km
Haridwar: 117 km
Shimla: 135 km
Chandigarh: 120 km
By Rail
The nearest railway stations are Ambala and Dehradun. From either station, you can take a bus or taxi to reach Paonta Sahib.
By Air
The nearest airports are Chandigarh and Dehradun, located at a distance of 98 km and 120 km from Paonta Sahib, respectively. From either airport, you can hire a taxi or take a bus to reach Gurudwara Paonta Sahib.
Additional Tips
If you are traveling during peak season, it is advisable to book your transportation in advance.
Be sure to negotiate the price of your taxi before getting in.
If you are traveling by bus, be aware that there may be delays, especially during peak season.
I hope this information is helpful. Have a safe and enjoyable journey to Gurudwara Paonta Sahib!
Where to Stay
Paonta Sahib offers a variety of accommodation options to suit all budgets and tastes, from budget guesthouses to luxurious hotels. Whether you are a pilgrim or a tourist, you are sure to find a comfortable place to stay.
To find a suitable place to stay, simply search "Where to Stay in Paonta Sahib" online. You will find a variety of options to choose from, including:
Budget guesthouses. These guesthouses offer basic but comfortable accommodations at an affordable price.
Mid-range hotels. These hotels offer more amenities than budget guesthouses, such as private bathrooms and hot water.
Luxury hotels. These hotels offer the highest level of comfort and amenities, including swimming pools, restaurants, and spa services.
When choosing a place to stay in Paonta Sahib, consider your budget, the amenities that are important to you, and the location of the hotel. If you are on a tight budget, you may want to consider staying in a budget guesthouse or mid-range hotel. If you are looking for a more luxurious experience, you may want to consider staying in a luxury hotel.
Here are some additional tips for choosing a place to stay in Paonta Sahib:
Read reviews. Before booking a place to stay, read reviews from other guests. This will help you get a better idea of what to expect.
Book in advance: If you are traveling during peak season, it is important to book your accommodation in advance.
Negotiate the price. In some cases, you may be able to negotiate the price of your accommodation. This is especially true if you are staying in a guesthouse or budget hotel.
Conclusion
Gurudwara Paonta Sahib is more than just a place of worship, it is a place of spirituality that provides peace and insight to visitors. Its rich cultural and historical heritage, coupled with its tranquil surroundings, make it a must-visit destination for those who want to learn more about Sikhism and connect with their inner spirituality. Visit the Gurudwara Paonta Sahib and immerse yourself in the divine and peace it offers.
Paonta Sahib is a place that can be visited all year round, but the months from October to March are pleasant for exploring the area.
There are no entry restrictions, and visitors of all faiths are welcome. However, it is customary to dress modestly, cover your head, and remove your shoes.
Yes, Gurudwara Paonta Sahib welcomes guests of all faiths. It provides an opportunity to educate people about Sikhism and share in its living traditions.
Yes, Gurudwara Paonta Sahib encourages volunteers to participate in various tasks, such as preparing and serving langar and washing utensils.
Donations for the langar or other charitable projects are accepted directly to the Gurudwara or through online platforms approved by the management.